Cowboys' Collins suspended five games for drug policy violation
Dallas Cowboys starting right tackle La'el Collins has been suspended without pay for five games for violating the NFL's policy on substance abuse.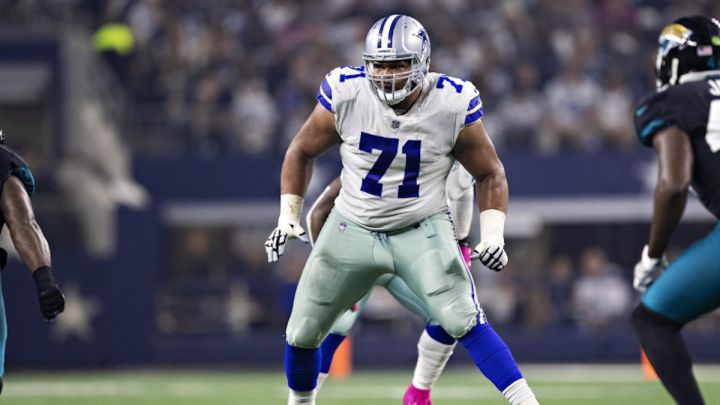 Collins' suspension strikes another blow to the Cowboys' offense, following All-Pro starting right guard Zack Martin's inclusion in the Covid/Reserve list after testing positive for coronavirus.
This latest development also comes on the heels of reports that Dallas wide receiver Michael Gallup had suffered a calf strain that could put him on the sidelines for three to five weeks.
One game in and already Cowboys OT La'el Collins has been suspended five games for violating the league's substance abuse policy, while Dallas WR Michael Gallup is sidelined with a calf strain. https://t.co/YkI2msT7nC

— USA TODAY Sports (@usatodaysports) September 10, 2021
Martin might be able to play for the team's game against the Los Angeles Chargers for Week 2, but Collins' suspension without pay could keep him off the field through Week 6.
Collins will be eligible to play on Monday, Oct.18, the day after the team goes up against the New England Patriots.
Collins appealing suspension
His lawyers are still appealing the decision, and an arbitrator will be the one to decide whether the suspension will be overturned or reduced.
The league claims the right tackle missed mandatory drug screenings, and did not actually say he was positive for an illegal substance.
Collins' agent criticized the way the league handled the case, and claimed the NFL had trampled on the player's rights.
The right tackle will lose around $2 million due to the suspension, and will not be able to avail of the injury guarantee worth $6.48 million in his salary for next year.
If he sits out all five weeks, the Cowboys would have gone at least 22 straight games without their top three linemen all together in the squad.
Collins delivers in season opener
Collins had a spectacular performance in their 31-29 loss to the Tampa Bay Buccaneers at the season's opening with a 451-yard showing.
He has been a big part of the Cowboys' offensive line, although he had to sit out the whole of last season due to hip surgery.
If Collins is indeed out until mid-next month, Dallas may lean on Ty Nsehke and Terence Steele who started 14 games last year. Steele took Collins' spot the most number of games last season.
This is Collins' third year on his five-year, $50 million deal. It is his third contract with the Cowboys.