California Gubernatorial Recall Election 2021
Who is Larry Elder and could he become the next governor of California?
The conservative radio host is the head of the Republican campaign in the state but his chances of beating Gavin Newsom at the polls are low.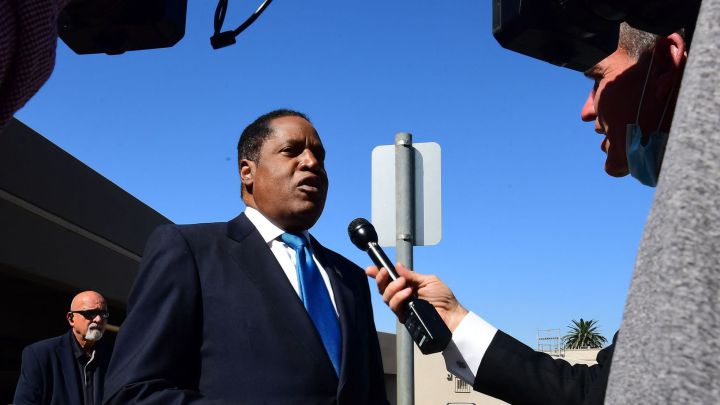 What is his background?
Born in 1952, Elder grew up in South Central Los Angeles. He studied at Brown University and after at the University of Michigan Law School.
He then wrote several books and started his own law firm before becoming a radio host. Despite initially beginning on local airwaves, his radio show was broadcast nationally by ABC from 2002 to 2007.
Elder has never run for public office before. He is a big supporter of the Trumpist wing of the Republican Party.
What does he believe in?
Business Insider has a list of positions he has previously held, including:
"The ideal minimum wage is $0," he said in an August interview.
"Medicare should be abolished," according to a 1996 radio ad.
Children should have had the choice to attend school in person since they weren't at "grave risk" of covid-19, according to his campaign website.
Newsom's lockdown process following the onset of the coronavirus pandemic is "draconian."
He is pro-life.
He doesn't believe in climate change.
Elder is no stranger to controversy, having previously made inflammatory statements about women and well as immigrants and African-Americans. So much so that the leader of Black Lives Matter in Los Angeles came out against Elder, saying he would be a detriment towards equality in California.
Can he win?
Newsom is expected to win without the ballot going to the second round. A low turnout is good for Newsom, and with a day to go, barely over a third of eligible voters have cast their ballot. Elder needs a big turnaround, but at this late stage it is unlikely.
GOP strategist Rob Stutzman on @OutFrontCNN: "Fraud is not happening" in the California recall. And Larry Elder "is just trying to be the most popular Republican in a state where it doesn't really mean anything to be the most popular Republican..." pic.twitter.com/DHVNuPjHdh

— Brian Stelter (@brianstelter) September 14, 2021
In an intriguing development, and surely one which will continue to dominate headlines after September 14, is Elder's website. There is a button at the top which takes the user to a webpage to report fraud in the election. As of publication, the website already discusses Newsom's victory and how it was won through fraud.
The Republican strategy, as in the presidential election, has been to cast doubt on election integrity, and in California it is no different.
If it were to go to that second stage, however, Elder is expected to carry the vote.