Apple event 2021 summary: new iPhone 13, Watch Series 7, colors, features and more
Apple iPhone 13 launch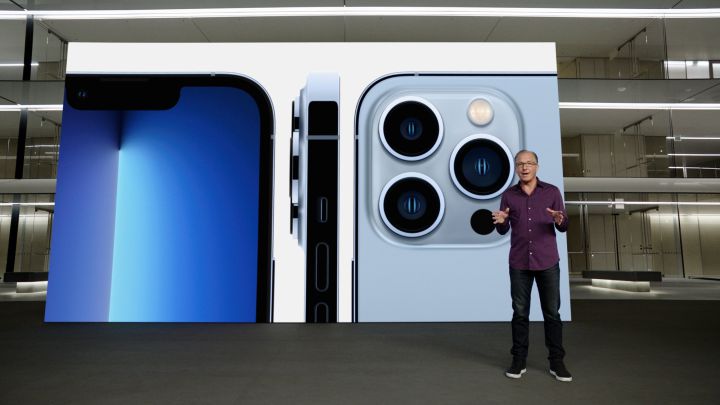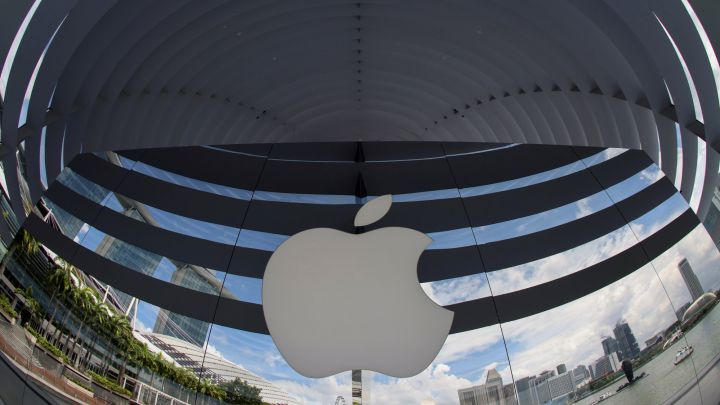 Well, that was rather a damp squib. Pretty much everything was already out there, and the big rumour of Always-on Displays didn't come to pass.
That said, it's a series of nice upgrades across the board for the products announced: on the iPad and particularly the iPad mini; the Watch has a hefty new screen, though the industrial design has gone softer and rounder rather than sharper and squarer; and the new iPhones all maintain their price points and pick up some solid features but nothing that wasn't expected or mind-blowing.
As happens most years at the moment, the camera is where the biggest advancements are happening, in terms of impact on real life use. The new cinematic features, if they work as promised, could let amateur film-makers produce some pretty funky video.
The promised battery life across all models will be closely scrutinised.
Of course, while there will be lots of criticism of Apple that there wasn't some stunning new technological leap in today's presentation, the reality is that the modus operandi of the California-based gadget maker is to be constantly iterating and improving year on year, forever polishing and improving. Which is why you look back five years and can't believe how much things have advanced, despite not remembering any one utterly stand out, 'wow' moment.
Nope, no 'One more thing', that's it from Tim Cook and Apple in California.
Back to Tim Cook, who is summing up. One more thing, anyone?
iPhone 13 Pro starts at $999
iPhone 13 Pro Max starts at $1099
New 1 TB storage option. 128GB, 256GB, 512GB or 1TB.
Preorder Friday, available September 24th
Battery life! More efficient chip and OS plus larger batter means one and a half hours more in 13 Pro and two and a half hours more in Pro Max, compared to their 12 counterparts.
ProRes video, coming later this year.
Being able to choose focus after the event when recording video (like in portrait mode on still shots) is a powerful tool.
Will be really interesting to see how good the automatic features are, and how good the machine learning is at working out where focus should be.
Kathryn Bigelow has shot some movie scenes on the new iPhone. She's unsurprisingly a fan.
Three cameras: 3x telephone, ultrawide and wide. Bigger sensors.
Macro on ultrawide.
Night mode on all three cameras.
Dolby Vision HDR recording.
Biggest camera advancement ever say Apple.
6.1 inch and 6.7 inch for the Pro and Pro Max.
New Super Retina XDR display. 1000 nits brightness. And PRO MOTION. 120hz (finally!), so smoother scrolling. But it can also go as low as 10hz, so frame rate can be lowered to save battery life.
A15 Bionic chip on the Pro and Pro Max, but the Pro models get a faster GPU. Fastest graphics performance in any smartphone ever, reckon Apple.
The notch is 20% smaller, just like in the standard iPhone. IP68 water resistance. And again redesigned on the inside. New camera system and new screen...
"The most Pro iPhone ever", says Tim.
Indeed! It's the Pro lineup!
And that's the iPhone 13. Which means iPhone 13 Pro is likely next.
iPhone 13 mini starts at $699 and iPhone 13 at $799.
And storage up across the board: 128GB and 256GB with a new 512GB option.
Boasting about MagSafe (which still pains those of us who enjoyed the MagSafe charging on Mac laptops in the pre-USB C days).
Big battery upgrade touted by Apple for the iPhone 13... let's see the real world use, as always.
Video has a "cinematic mode". Talking about rack mode in film making, saying it's coming to the iPhone, in a "simple intuitive way."
Lots of smooth focus changes in their little demo movie, "Whodunnit". Focus transitions happen automatically in real time. Focus moves to whoever is the protagonist.
iPhone 13 camera is Apple's most advanced dual camera system. Larger pixels in the sensor, and a bigger sensor.
Optical image stabilisation, which was previously only on the iPhone Pro Max. That's a nice upgrade.
It's a standard camera and an ultra-wide in the package.
Machine Learning capabilities are enhanced with the faster chip, making lots of apps run better, from identifying plants to tracking shots in tennis.
Chip in iPhone 13 is the A15 Bionic. Apple saying competition still struggling to catch up with their chips from two years ago.
15 billion transistors. Machine learning accelerators improved, so better Siri. 50% faster than what Apple say is the leading competition.
30% faster graphics than the competition reckon Apple.
iPhone 13
"Sleek flat-edged design", just like iPhone 12. IP68 water resistance.
Diagonal cameras. Five new colours. Pink, blue, midnight, starlight and Product Red.
Smaller notch. 20% more petite.
Inside it's been redesigned to get a bigger battery in. New Super Retina display, brighter. More efficient.
Focusing on the new diagonal camera arrangement in the intro. Notch looks smaller.
Next generation of iPhones... iPhone 13!
Back to TIm..."Let's talk about iPhone!"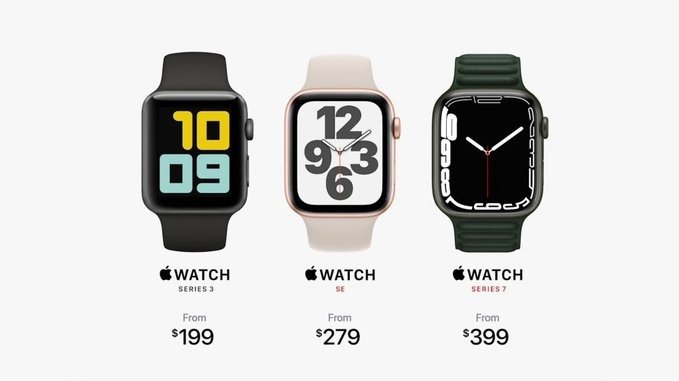 Series 7 starts at $399, but will only be available later this fall. The rumours of production problems pan out.
Fitness + is coming to 15 new countries in addition to the original six. In English, with subtitles in 6 languages. That's been one of the weaker points of Fitness globally so far.
Meeting some of the trainers. Pilates, guided meditation, workouts, group workouts.
Summary of Apple Fitness + going on now. All built around Apple Watch.
Series 7 starts at $399, but will only be available later this fall. The rumours of production problems pan out.
Five new colours of watches, and lots of new bands and colours. Series 7 compatible with previous bands.
Apple say they've upped durability. More crack resistant. More dust proof and just as waterproof as series 6.
Faster charging. 45 minutes to go to 80%. Battery goes 18 hours.
On screen buttons are bigger, making it easier to tap them. Bigger screens are easier to use, who would have thought.
There's even an onboard screen. The guys at RIM circa 2007 are screaming at that.
Rocks falling onto a humongous watch. Ah, it's a cyclist who's fallen off.
Watch Series 7.
Largest display. 20% bigger than series 6. Borders 40% thinner than series 6.
Softer more rounded corners on the new watch, so that's the opposite of what a lot of people were saying, thinking it was going squared off.
Jeff Williams, Chief Operating Officer, here to talk about new features. Watch OS 8 can spot when you are cycling and when you've fallen off. And supports e-bike riding.
"Everything on Watch is bigger and better"
So, the series 7 coming up...
All iPads now feature 100% recycled aluminum enclosures.
iPad mini starts at $499 and comes in either wi-fi or cellular.
Order today and receive next week.
New iPad mini is a pretty compelling package.
iPad mini gets a USB-C port. 10x faster data transfers. So only the iPad is left with the lightning port. Little by little Apple is moving to USB-C.
And the mini also gets 5G connectivity. Which is great, the fly in the ointment is always how much your mobile provider wants to let you use the functionality.
12 MP camera, with F1.8 aperture, smart HDR, so a big old camera upgrade. 4K video too. 12MP ultrawide camera on the front and that means it can support Center Stage, which Apple have clearly decided they want to push out.
iPad mini now also supports second generation Apple pencil.
The mini is now well ahead of the standard iPad on a number of features.
New mini gets a 40% jump in CPU performance and 80% jump in GPU performance compared to previous model. Appears Apple are not saying which chip it is. Maybe it's the A15 and they don't want to mention it before the iPhone presentation.
All-new iPad mini. Let's see how much of an upgrade it is...
New design and smaller bezels around the screen. 8.3" screen but same size of iPad. That's nice. Touch ID has gone to the top button.
$329 for the 64GB version (that's up from the 32GB of the last version, but still tight)
$299 for schools.
Cellular models too.
Can order today, shipping next week.
iPad will have Center-Stage. With so many people now at home more often thanks to covid-19, this is a powerful feature.
Supports the 1st gen. Apple pencil.
The new iPadOS 15 on the new iPad.
A13 chip, so it's two years behind the new iPhones. Still 3x faster than 'best-selling chromebook' and 6x faster than 'best-selling Android tablets'. Of course we'd need to check which devices Apple have compared it to, though there's no doubt the in-house chip team at Apple are working wonders.
Standard iPad first, as expected. The new iPad. Melody is going to tell us all about it. Melody Kuna, Senior iPad manager.
Tim is boasting about the lovely screens and fast chips. But which iPad is getting an upgrade TIm, come on!
iPad is the first product up.
Apple TV+ is first up. Apple Original Series and their nominations and wins at awards series around the world.
"We're just getting started", says Cook.
We're going to look at the series premiering this fall. Trailer time. Whole heap of shows to watch.
Here's Tim Cook! He's talking about their love for California. A place for big ambitions and big dreams. A place where people want to make things to change the world...
Stunning cityscapes to impressive landscapes. California indeed.
It's a homage to California, 'California Soul' no less.
We fly into the logo and out over the desert by the sea, where a lady is playing a violin.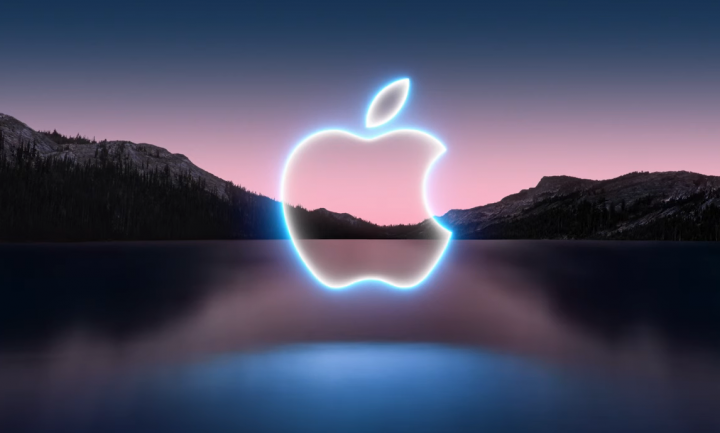 The water is gently rippling too.
Music! We've got some fairly relaxing lounge-esque music to chill out to for the last minute before the event starts. The camera is panning over the lake, while birds fly behind the Apple logo...
More storage
The iPhones 13 Pro are rumoured to be going to support a full 1TB of storage for the first time. Max in the 12s was 512GB.
iPhones 13
So what are we expecting that's new and funky from the iPhones 13. Outwardly, not much. The industrial design is pretty much identical to the 12s, with it's tasty squared off sides though you might get a few mm bigger or smaller in any direction. But don't expect to be wowing the crowds as an early adopter - it'll be hard to tell you're rocking one of these new models (new colours notwithstanding).
The line-up too is going to be identical: 5.4 inch iPhone 13 mini; 6.1 inch iPhone 13; a 6.1 inch iPhone 13 Pro and 6.7 inch iPhone Pro Max. The Pro screens will be nicer than the standard models, naturally.
New camera modules
Some of biggest differences on the outside are going to be the cameras. The standard iPhone 13 and the mini are going to have their cameras arranged diagonally, rather than linearly in the 12, and the Pros are getting a bigger camera bump. The further the lens is from the sensor, the better your pictures, generally. It's simply incredible mobile phone cameras can take the photos they do with such a small gap between lens and sensor - making that bump a tiny bit bigger can have solid rewards, and it seems people can cope with their phone not sitting quite flat. Almost everyone uses a case anyway, which tends to minimise the effect of the bump.
New chips
As ever, Apple's in-house chip team have a new processor for the new iPhones, which should be called the A15, with 5-nanometer technology. Expect utterly eye-watering numbers of how many trillions of calculations it can do in the blink of an eye. In real world terms it will mean a smoother, buttery experience and, in particular, faster processing of photos, which is all important. Mobile phone cameras produce the amazing results they do thanks to on-board processing, so a faster chip means, in general, better photos.
Screen updates
The pro line are expected to get 120Hz refresh rate, which means a far smoother experience. Apple have been holding off putting in these screens for a while now, while many competitors include them. There's a hit to battery life, but for many worth it for the upgrade in visuals. As mentioned below, the iPhones 13 (definitely the pro) are possibly getting Always-on Displays, meaning they display information, such as date, time, weather, sports scores, all the time.
The notch at the top of the screen, which houses the front facing camera and the speaker, is rumoured to be getting smaller, with the speaker possibly heading out of the notch all together. Some people loath, despise and detest the notch, many appear to get used to it fairly quickly and barely notice it in everyday use. But it would be nice for it to shrink, and hopefully in a few years, disappear.
That's the tweet. As in, that's the only tweet on the Apple Twitter account. You also have to somewhat enjoy them just refusing to follow any other account at all. "Apple doesn't follow anyone," sniffs their social media team.
Rumour: Always-on display for iPhones 13
A pretty potent rumour is that the iPhones 13 could feature Always-on display technology (AOD) just like the current Watch line up, meaning they display information at all times, rather then fading to black after being left alone for a while. That information is likely to be time, date, notifications, but could also include widgets to show the weather, sporting results, photo galleries and a heap of other information.
Why AOD now? Basically, a screen that's always on uses power, and the main design issue with mobile phones is trying to get the battery to last as long as possible within the expected performance envelope. So if Apple are happy moving to AOD it means they've managed to either increase the battery size, or reduce the power consumption of the components involved, or, more likely, a combination of both.
There are rumours of LTPO (low-temperature polycrystalline oxide) displays on the iPhones 13, which use less power (and is found on Apple Watch, allowing AOD there), and would potentially allow the screen to constantly show information, without excessively draining the battery.
What's in a name: California Streaming
Today's event goes under the title 'California Streaming' with a transparent Apple agog over a dark backdrop of lake and mountains. Cryptic, eh, Apple. (California Dreaming of course is the classic Mamas and Papas song, written by John Phillips and Michelle Phillips although actually first recorded by Barry McGuire).
At it's most basic California Streaming likely refers to the fact this is a streamed event, coming from California, though the most recents events which have taken place during the covid-19 pandemic have all been streaming only, so it would seem funny to pick that out as the main take away. More likely is that there's a focus on streaming services - Apple Music and TV, or even the streaming capabilities of the new gear - enhanced live streams from the new iPhones 13, making use of new chipsets and mmWave 5G.
All ways round, whatever it references, it's always good to have an excuse to dust down the ol' Mamas and Papas classic and give it spin…
Hello and welcome to our live coverage of Apple's September Event: "California Streaming". Proceedings get underway at 1pm ET, 10am PT, with CEO Tim Cook likely chatting to us from some part of the Apple Campus.
It's no secret that today's event is to announce the new iPhones, almost certainly going under the 13 moniker, though there is still a chance they could be named 12S. The new Apple Watch Series 7 will also be announced, along with likely some other goodies.
Don't expect new Macs today - they are likely coming in an event later this fall, but we might possibly get new iPads, though definitely don't count it.