NFL
Jets lineman Becton out for 4-6 weeks after dislocating kneecap
New York Jets left tackle Mekhi Becton will miss four to six weeks after dislocating his right kneecap in Sunday's Week 1 defeat.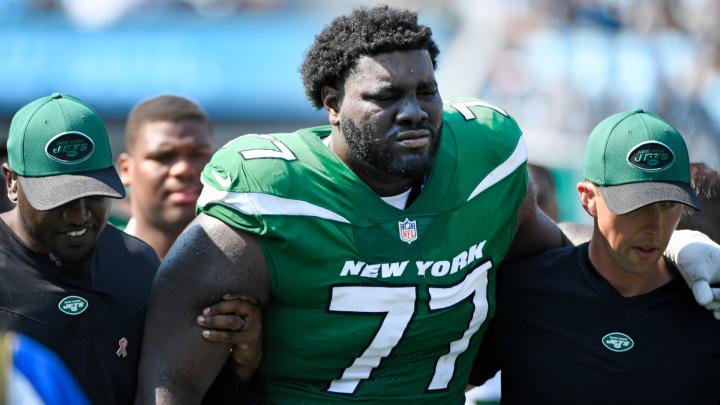 New York Jets left tackle Mekhi Becton has endured a string of injuries over the past year and is sidelined once again after dislocating his right kneecap in Sunday's season-opening defeat.
The man charged with protecting rookie quarterback Zach Wilson's blind side is expected to miss at least four to six weeks, forcing the Jets to shuffle their offensive line after their Week 1 loss at the Carolina Panthers.
ESPN reported Becton will have arthroscopic surgery to repair cartilage damage, but Jets head coach Robert Saleh told reporters the tackle will seek another opinion before deciding on surgery.
While the 6-foot-7, 363-pound Becton will be difficult to replace, the Jets' other tackles had plenty of reps during training camp when the second-year player missed two weeks with a concussion.
George Fant will move from right tackle to start on the left side, while veteran Morgan Moses will start on the right.
Saleh: Mekhi is a heck of a player

"We feel very fortunate, we feel we have three legitimate starting tackles," Saleh told reporters on Monday. "Getting George over there to the left and Morgan over there to the right.
"Obviously Mekhi is a heck of a player and a heck of a talent, but to have two veterans who know how to play this game, getting them in there so they can get into a groove is beneficial."
Becton was carted off the field during the third quarter of Sunday's game at Carolina after 305-pound Panthers defensive lineman fell on the back of the tackle's right leg.
It was a cruel blow for a player who has had trouble staying on the field in just over a year in the league.
Becton missed all of the Jets' off-season activities due to plantar fasciitis after battling a shoulder injury for several weeks during his rookie season last fall.
Despite the latest setback, Becton sent out an optimistic tweet Monday: "Positive vibes only! I'll be good!"