Real Madrid's Vinicius: "I knew the goals would eventually come"
The Brazilian winger and new Bernabéu hero spoke to AS about his rich vein of form, his link-up with Benzema and states that he is a "fan" of Mbappé.
560 days elapsed since the Saniatago Bernabéu last hosted a Real Madrid game with fans present and Brazilian Vinicius was the toast of the 30,000 supporters who watched Ancelotti's men come from behind on Sunday night with the Brazilian instrumental in the win against Celta. The former Flamengo man talked to AS about his current form and his development with Real Madrid.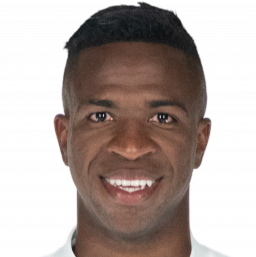 It really was a special night. We knew that the fans would be behind us from the off and to be honest their support was key in us turning things around when we were 1-2 down. Their encouragement was vital and instrumental in securing the win.
-In the past 18 months, you've played games behind closed doors at the Di Stéfano stadium in Valdebebas. The silence there must have been difficult. How key is the presence of fans in helping a player deliver his best?
Yes, Valdebebas was difficult for us and especially for myself as I love playing in front of a big crowd as I'm used to playing in front of passionate Brazilian supporters. You feel the presence of the fans and it's a unique thing. We genuinely feel that having fans back in the stands will help us in our quest to win titles this season.
-Back in 2018, you were the toast of the Bernabéu. Now in 2021 it's happening again. In this stadium, the likes of Zidane or even Cristiano have been whistled at. To what do you attribute your excellent relationship with the Bernabéu crowd?
This is something that I'm highly proud of. I do believe that my style of play has much to do with it. I like to take players on and if I mess up, then I'll try again. I hope this good relationship for many years to come.
- Does your style of play originate from your neighborhood and the beach when you were growing up?
Here I like to play as if I was at home, as I did in Brazil. I like to play with happiness and with the help of the fans support, it's a style I plan to keep using. We play to keep the supporters happy.
It was a moment of many emotions and the fact that we were playing once again with fans present had much to do with it. I let myself go a little it's true, as it was the goal that made it 3-2 on the night and to be honest, I don't know any of the fans in that sector. It was a hug for all Real Madrid fans who have stayed by our side in these times.
-What did Ancelotti say to you over the summer months to give you this added level of confidence that you appeared to lack previously?
He talked about taking less touches before shooting. The coach has spent plenty of time working with me at Valdebebas and has been instrumental in helping me improve my game.
-I have a statistic that I'm sure you're going to like. In these four games, you've bagged four goals from ten shots on goal, that's almost a goal per two shots...
Confidence is key to any strikers numbers.
- How is your life in Madrid?
I live with my family and my little brothers and really like living in the city, I feel very much at home in Madrid. My physio also lives with us and we work together many evenings and he ensures that my diet is health. He really looks after me.
-Many Real Madrid fans feel that Mbappé coming to the club next summer is a good thing as it will give you more time to develop...
Mbappé is a fine player and I'm a huge fan of his. I'm sure he'll have a great season with PSG and do well. As to his future, we'll just have to wait and see I guess.
Even this summer many people recommended that you be loaned out to a good Primera team where you could start every weekend and thus return triumphant. But you were always clear about staying and rejected that option.
I just wanted to succeed at Madrid, for my president and for the fans that have always given me unconditional support. My family and I want to spend many years in Madrid and I don't want to have another experience. There are players here who have been around for many seasons and have won a lot. I want to be like them
In the club you have a compatriot who is a legend like Roberto Carlos. And in the dressing room I know that Casemiro advises you a lot, and there are young people like Militao and Rodrygo who support you. Does it help to be with so many compatriots during this time of integration?
Yes, that mix of young and old always helps me. Now (Eduardo) Camavinga has arrived, very young and a good player, and there is Fede (Valverde), Rodrygo, Miguel (Gutiérrez)… They all ensure the future of Madrid.
But you are already a 'veteran' of 21 years. You are in your fourth season at Madrid and have played 122 games. In reality you are already an example for the young players who are coming into the team.
I arrived when I was a boy at 18 years old, but my head was calm and I was convinced that I would end up playing for many years like Marcelo, Sergio Ramos, Karim (Benzema) … I wanted to succeed like them. There is a very bright present and future for us. The young players must learn from the veterans and that is what works.
The proof that Ancelotti trusts you is that he started you against Celta on the left, as is your natural profile, while Eden Hazard went to the right.
The coach is trying to get the best out of all of us, giving us confidence where he knows we can give more. With Eden and Karim, we combined a lot against Celta and that was key to the good victory we achieved against the Galicians.
You scored against Celta with astonishing serenity, finishing as if it were a 'pass to the net' and with your head raised. The same thing happened against Levante.
With the confidence I have in myself, everything is easier. We had trained that play and at halftime I told Karim: "The first one that comes to you, send it to me, I'm going to score." I was calm, I faced the goalkeeper, I waited and I put the ball in the net.
Talking about Karim. Now the two of you are in tune and post photos of yourselves together on social media. But last year there was a serious problem with that recording of Benzema talking to Mendy in which he criticizes you. How did you fix things up?
Playing with Karim is amazing. I have always been a big fan of Karim since I was a kid. It is a pleasure to play next to him. He always helps me. He is one of the best players in history. I really like to play with him. He always talks to me on the field and off it. He helped me even when it was not known if I was going to succeed. In the field we talk a lot. Before the game he told me that I was going to help him score a goal and I did it with the penalty I won. So when they awarded the penalty, I looked at him. I knew he would score it.
Like you, Marcelo came here from Brazil as a boy of 18.
He always knows how to advise me when I am good or when I am bad. That confidence with his experience helps me a lot. He already told me that I was going to play here for a long time, like him. Hopefully it will be like that.
Over these past few years you have received very harsh criticism, and even sometimes been the subject of cruel and intolerable mockery. Do you feel you have quietened those critics? Do you hold a grudge against them and want to put them in their place?
I handle it well. From the first day I arrived I felt the pressure of having cost €45 million or the pressure of playing for Real Madrid itself. But I only listen to the people close to me and those who I really trust. I play for our fans, for myself, to be happy and content with myself and the club, not focusing on shutting the critics up.
You are already 21 years old and already have the Bernabéu at your feet. What are your ambitions as a player?
My dream is to play for many years at Madrid and win many Champions Leagues, and also some Leagues, some Cups.
The Champions League begins at the San Siro against Inter Milan, the Italian champions. But you already beat them there last year. What does the Champions League have that makes all opponents fear you?
That happens because we are the best team in the world, the players here are winners and we want to return to that momentum. The fans believe in that. We are going to fight hard to try to win everything.
With the galactico signings they have made, many believe that PSG is almost obliged to win this season's Champions League.
Winning the Champions is very difficult. City were the best team last season and they didn't win it either. We have to focus on ourselves and think that things are going to turn out well for us. Here almost all of the players have won four Champions League titles. Everything is ready for us to try to win and go further than last season. We already have our heads up after that painful elimination against Chelsea.
Will you dare to contest Benzema for the Pichichi?
I hope to keep scoring a lot of goals, but I'm going to help him score a lot too (smiles).
Let's go back to Sunday. In recent seasons, this team had a hard time coming back in games. Against Celta there was a tremendous union between the players and you had a great second half.
We are working hard in training and we are doing things perfectly so as not to fail like last season. It is very difficult in Madrid to deal with a season without titles, as we did last year. Now we have to win titles again.
Florentino Peréz has declared himself a fan of yours, personally and publicly. On TV recently he said that "Vinicius is not for sale". Where does the president's predilection for you come from?
Before my arrival in Madrid he had already told me that he liked me. I arrived here with the confidence of the president and then that of the fans and my teammates. That makes everything easier to succeed.
I have been told that you now have the lowest percentage of body fat since you arrived in Madrid.
It's true. I have worked a lot during the holidays to be as I am. I am eating well and taking care of myself. That shows when you get to the games. I am doing the right things to have a great season after three years here. I am going to triumph and fight for what I want to achieve.
Have you got a final message for your fans?
I really appreciate the love you give me. They are always by our side. And I want to let them know that the best is yet to come.