NFL
Chandler Jones' five sacks force Arizona Cardinals to respond to speculation
The Arizona Cardinals' Chandler Jones made a stunning start to the 2021 NFL season as he bids to secure a lucrative contract.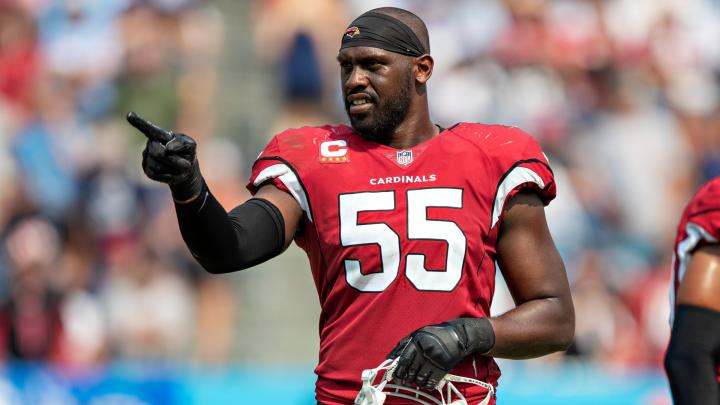 Chandler Jones started 2021 in amazing fashion, recording an astonishing five sacks as the Cardinals opened with a big 38-13 win at the Tennessee Titans.
And that forced Arizona Cardinals general manager Steve Keim to insist his team are "not in the business of getting rid of good players", amid speculation over the future of the player.
Former New England Patriots pass-rusher Jones sat out OTAs and minicamp as well as reportedly requesting a trade as he entered this season, the last of his current contract.
Last season, three-time Pro Bowler Jones suffered a torn bicep in Week 5 ending his campaign early.
New contract for Jones?
Ahead of the Cardinals playing the Minnesota Vikings on Sunday, Keim was asked whether the team would be able to tie Jones down to a new deal.
"We are not in the business of moving on and getting rid of good football players," Keim said to Arizona Sports 98.7 FM.
"You always want to get good players under contract, but there are always a million different moving parts.
"I have to continue to look at the roster moving forward, generally from a three-year standpoint."
Only eight five-sack showings this century
Per Stats Perform data, Jones' five-sack showing was just the eighth time this century a player has recorded that number in a single game.
The last player to achieve the feat was in fact Haason Reddick, also for the Cardinals, in Week 14 of last season against the New York Giants.
Reddick has since moved on to the Carolina Panthers, but having Jones back with a point to prove should be of huge benefit.
While Jones is focused on what takes place on the field, he acknowledges the contract situation is hard to ignore entirely.
"I'm just playing football, honestly," Jones said. "I just let my agent take care of that – the contract situation – but it is the last year of my contract and I just let that take care of itself.
"Is it something that, I mean, [I think about] off the field? Yeah, I mean, of course. I don't know where I'm gonna live next year.
"But in the same situation, I think, when the season starts, I tell my agent let's put all that to a side, you take care of that.
"If you want to talk about it, you talk about it. As far as for me, I'm going to play, and I'm going to play my best football, and we'll see what happens then.
"When it comes to the season, I think doing your job is essential, putting the team first, ignore the noise and just managing expectations.
"I think I play best when I don't go in thinking about the deal or the contract."
Big win for the Cardinals
The Cardinals' Week 1 win was their second largest victory since Kliff Kingsbury became head coach in 2019.
They play a Vikings team who suffered a disappointing overtime defeat to the Cincinnati Bengals to begin the season.