NFL | CHIEFS @ RAVENS
Patrick Mahomes explains what cost Chiefs win in Baltimore
Patrick Mahomes threw a costly interceptions as the Kansas City Chiefs lost to the Baltimore Ravens in Week 2.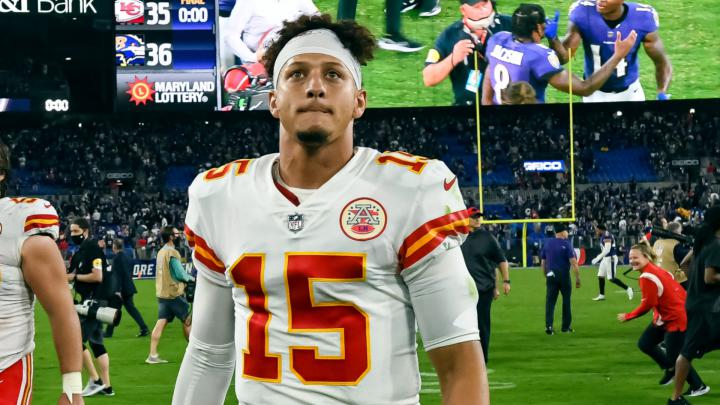 Patrick Mahomes acknowledged he threw a "dumb" interception in the Kansas City Chiefs' 36-35 loss to the Baltimore Ravens on Sunday.
"Dumb" interception from Chiefs' Mahomes
With just over two minutes to play in the third quarter, Tavon Young picked off Mahomes' pass to Travis Kelce – the first interception the Chiefs quarterback has thrown in September in his NFL career. Check out the player ratings from Chiefs-Ravens.
Lamar Jackson, who starred for the Ravens by passing for 239 yards and running for 107, charged over for a two-yard touchdown, and then ran it in again from one yard out the next time Baltimore had the ball to give the Ravens the lead.
Quarterback Jackson became the first player ever to record five games with at least 200 passing and 100 rushing yards as he also celebrated his first career win over Mahomes at the fourth attempt.
Reflecting on the interception, Mahomes told a news conference: "We were executing, they made a play and you lose games when teams make plays like that.
"I should have just thrown to D-Rob [Demarcus Robinson] in the flat. I thought I could get my leg down. He kind of spun me and it's just a dumb interception, probably one of the worst interceptions I've ever had.
"The interception was not only dumb in the sense that it was a bad throw, not even close to the receiver, but it was dumb at that point of the game.
We gotta just keep building… keep finding ways to improve!! I love this team, this game will only make us better! #Chiefskingdom

— Travis Kelce (@tkelce) September 20, 2021
"Even if I throw to the flat, he doesn't get the first down, we could get a field or punt to try and pin them back, so there's just a lot of things like this in games that form to get losses in the end."
Fumble from Edwards-Helaire
Another error cost the Chiefs late on. Clyde Edwards-Helaire made his first fumble to allow Ravens rookie Odafe Oweh to strip possession with 1:20 on the clock, allowing Jackson to seal the win.
"We'll need him the entire season. Don't let one play define you," was Mahomes' message to Edwards-Helaire.
"It's a long season, obviously we lost, it's a good football team that we played at their place, but it's a long season – and if we want to be great, if we want to have a chance to make another run, he's going to be an important part of it."
Coach Andy Reid warned the Chiefs must learn from their mistakes.
"Turnovers, they kill you in this league," Reid told reporters.
"We had two of them down the stretch in crucial times. We have to do better, we have to learn from that. Guys played hard, it's just the other group took advantage of the turnovers."