NFL
Colts' Wentz doubtful for next week's game against the Titans
After an ankle injury that required surgery during the offseason, Carson Wentz's woes with injuries continued yesterday with another sprained ankle.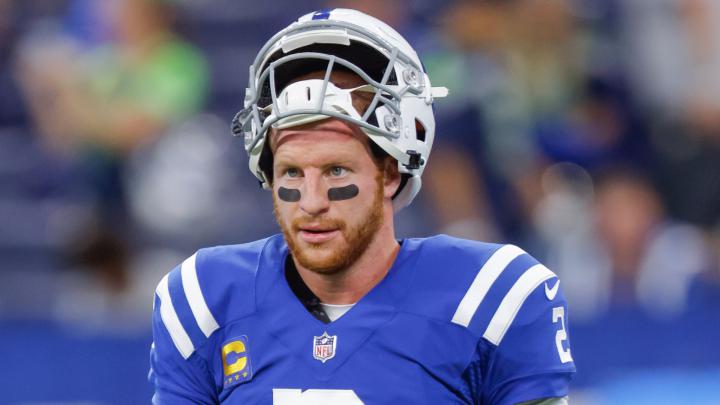 In Sunday's loss to the Rams, quarterback Carson Wentz had to exit after his right ankle got rolled up on when defensive tackle Aaron Donald hit him in the fourth quarter.
Indianapolis Colts quarterback will undergo further evaluation before a final decision on Monday for his availability against the Titans next weekend.
The Colts fell to 0-2 for the 2021 season after a narrow 27-24 loss to the undefeated Rams.
Wentz arrived at the Colts in a trade with the Philadelphia Eagles and had a disrupted offseason due to a foot injury that required surgery.
And a frustrating start continued as backup Jacob Eason ended up finishing the game for the Colts after Wentz went down in the fourth quarter.
"He rolled it up pretty bad," said Colts coach Frank Reich, per ESPN. "I had a sense when he walked off the field. It didn't look good.
"Sometimes if you go back in right away when it's still warm you can maybe gut out a few more plays.
"The longer we were off the field, it stiffened up and he tried, but there was no chance."
Indianapolis are on the road against AFC South rivals the Tennessee Titans in Week 3, and they will be looking to avoid their first 0-3 start since 2011.
Eason is expected to step in for Wentz – who completed 20 of his 31 passes for 247 yards, one touchdown and one interception against the Rams – if the starter is not fit to play.
"Felt it right away," explained Wentz, already sacked six times this season, after the game.
"I tried to tape it up and do everything I could to finish the game. I've sprained my ankle probably 100 times since I was a kid. This one I just couldn't play on it.
"There was not enough stability to get out there and go. It was definitely not fun to watch the last two-minute drives."
As well as the Titans, there are testing road games against the Miami Dolphins and Baltimore Ravens to come in a pivotal stretch for the Colts.
One positive from the Rams loss for the Colts was the play of second-year wide receiver Michael Pittman, who caught eight of his 12 targets for 123 yards, with five of those catches going for first downs.
But Cooper Kupp was the difference maker for the Rams, with nine catches for 163 yards giving him back-to-back 100-yard games.