PREMIER LEAGUE
The Man City middle muddle: Can Guardiola get it right to stop a fourth straight defeat to Chelsea?
Manchester City will have to get their midfield right if they are to avoid a fourth straight defeat to European champions Chelsea.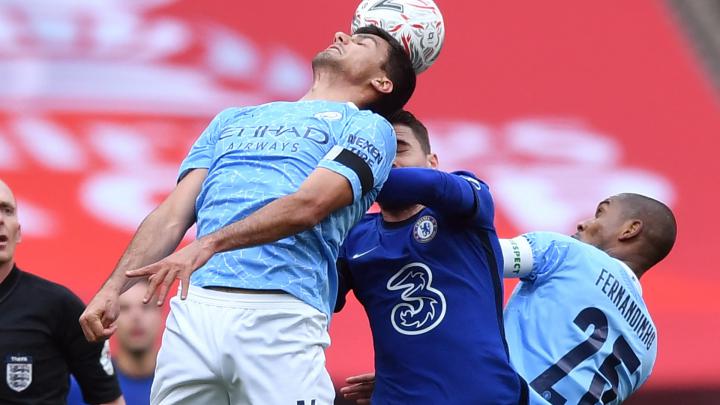 Pep Guardiola faces a midfield dilemma as he prepares for what is shaping up to be a mammoth early-season match for Manchester City at Chelsea.
Champions City were fortunate to escape with a draw from their previous Premier League game at home to Southampton and have fallen three points off the pace set by the Blues.
A trip to Stamford Bridge – at the start of a brutal stretch that takes them to Paris Saint-Germain and Liverpool in succession – is pretty much the last thing Guardiola needs.
Since Thomas Tuchel arrived in England in January, Chelsea have faced City three times and beaten City three times.
These were particularly damaging defeats for Guardiola, too, with Chelsea dumping City out of the FA Cup in April, delaying their title celebrations in May and then, most notably, beating them to the Champions League later the same month.
Guardiola has lost more often to the Blues (eight times) than any other opponent, while they could become the first team to defeat the City manager in four straight matches.
Tuchel, having failed to win in their first five meetings while at Mainz and Borussia Dortmund, has now gained the upper hand over Guardiola.
But it is in the middle of the park, rather than on the touchline, where the previous three clashes have been decided – and the same could well be true on Saturday, when Guardiola must make the right call.
Third time's no charm
Since the beginning of last season, City have started 41 games with Rodri alone at the base of the midfield, 16 with Fernandinho in that role and nine with the two paired. On three occasions, neither holding player has made the XI – including in the Champions League final.
Guardiola arrived at that decision having seen two alternative line-ups fail to get the better of Tuchel's men.
In the FA Cup semi-final, Rodri and Fernandinho were drafted in as protection for the defence, as full-backs Joao Cancelo and Benjamin Mendy pushed on from either side, only to be torn apart on the counter-attack – the midfield duo's lack of pace horribly exposed.
Chelsea effectively broke time and again from a deep average starting position 35.7 metres from their own goal. The Blues only had five attempts, but they had an average worth of 0.25 expected goals, while two of their four offsides saw efforts struck off. The goal that counted was a simple one, with Timo Werner in behind to square for Hakim Ziyech in front of an open net.
Seemingly then turning his focus towards the Champions League final but also seeking to avoid a repeat, Guardiola changed his system entirely when City hosted Chelsea in the league three weeks later.
An odd 3-1-4-2 formation, with forwards Ferran Torres and Raheem Sterling in midfield, had only Rodri holding the fort.
The switch allowed Chelsea, on the back foot at Wembley, to have 51.7 per cent of the ball. Of the 11 examples of Guardiola's City having less possession than their opponents without having a man sent off, Chelsea have accounted for three – after two defeats under Frank Lampard, Tuchel oversaw a 2-1 victory having trailed at half-time.
This City set-up was the outlandish sort of selection associated with Guardiola's biggest European games in Manchester, but he moved in yet another direction for the Porto final.
Top scorer Ilkay Gundogan and creator Bernardo Silva operated in the centre of the pitch and City made only eight tackles, comprehensively losing the midfield battle once again as Mason Mount's penetrative pass teed up Kai Havertz's winner.
Fernandinho the fix?
Having swung from one extreme to the other and failed to get the better of Tuchel, Guardiola must strike a balance and find the middle ground. His usual set-up, with one defensive option in midfield and a back four, seems to fit the bill, but who City might pick for that role is another matter.
City have won 14 of their 19 games in which Rodri has not started since the start of last season, although one of their four defeats was the Champions League final.
Fernandinho is the more experienced choice, but he was shaky last time out in the draw with Southampton, substituted after 63 minutes having given the ball away with 20.6 per cent of his touches.
City cannot afford that sloppiness; since the beginning of 2020-21, they have lost three of the five games in which Fernandinho has started and ceded possession with a greater share of his touches than he did against Saints – one of those being the FA Cup semi.
If the City captain cannot keep pace with Southampton, what hope does he have against the Chelsea midfield?
Tuchel's two settled
Chelsea certainly do not have the same issue as City, having settled on a 3-4-3 formation and, seemingly, a preferred central duo.
N'Golo Kante and Jorginho may have only started 11 games together under Tuchel, but these have been many of their biggest fixtures: Liverpool away twice in the league, Leeds United away, West Ham away, a crucial clash with Leicester City in the race for Champions League qualification, both the FA Cup semi-final and final, and their final four Champions League matches last season.
From a daunting list of matches, the Blues have been beaten only twice – by Leicester in the cup final and against Porto, whose last-minute winner did not alter the outcome of a two-legged tie. They have conceded five goals across those 11 outings.
With Kante's energy and Jorginho's passing ability, Chelsea are able to hold their own with just two in the middle of the pitch, creating overloads elsewhere.
Six of their 10 goals in those 11 matches have been scored by one of the two attackers playing off the central striker, with both combining in Porto as Mount and Havertz found space behind a City midfield occupied by Kante and Jorginho.
A succession of minor injuries have kept Kante from featuring as often as Tuchel would like, but he was back fit and firing at Tottenham last week, emerging off the bench at half-time to form a midfield three alongside Jorginho and Mateo Kovacic.
The trio had only appeared together for 91 minutes under Tuchel previously – in which time Chelsea scored one and conceded none – yet Kovacic teed up a deflected strike for Kante en route to a 3-0 second-half win in another show of strength from this midfield unit.
After 30 starts as a three prior to Tuchel's arrival, but none since early last season, the Spurs game hinted at an alternative approach.
Surely Chelsea will not tweak their shape to accommodate all three this weekend, though. There is no need to change a winning formula against City, with Guardiola instead the man to ponder team selections again.