PSG's Achraf Hakimi: Zidane had nothing to do with Real Madrid exit
In an interview with L'Équipe, Paris Saint-Germain full-back Achraf Hakimi has discussed his departure from Real Madrid in summer 2020.
Paris Saint-Germain full-back Achraf Hakimi, who joined the Ligue 1 club from Serie A champions Inter Milan in the summer, has given an interview to French newspaper L'Équipe in which he discusses his new team-mates Kylian Mbappé and Lionel Messi, and his decision to join PSG.
The Real Madrid youth product also talks about his beginnings at the LaLiga giants, his relationship with former Madrid boss Zinedine Zidane, and his departure from the Estadio Santiago Bernabéu.
Here are selected excerpts from Hakimi's conversation with L'Équipe:
Being described as the best right-back in the world:
"That makes me feel happy and proud, and spurs me on to work hard to improve, establish myself at the top and give people reason to keep on saying nice things about me."
The day in 2017 when he was called up to the Real Madrid senior squad for the first time:
"I was with a few mates, sitting on a bench opposite my house and chatting, when the phone rang… and it was [then-Madrid head coach] Zidane! He told me I was going to play, when I wasn't expecting it at all."
On Zidane:
"I have immense respect and so much affection for him. He showed faith in me and gave me the chance to play in an incredible team that I won the Champions League with. I learned so much from him. What happened in 2020 [Hakimi was allowed to leave for Inter that summer, rather than returning to Madrid after a successful loan spell at Borussia Dortmund] doesn't have anything to do with him. Other factors, particularly to do with covid and Real Madrid, caused me to leave. At that time, I had a conversation with him that will stay between us. He felt differently."
Choosing Paris Saint-Germain over Chelsea this summer:
"When I received these two offers, I got the feeling I should come to Paris, that I was going to be happy here. PSG are a great club and I sensed how much the people here seemed to love me and want me. And I was lucky enough that my arrival here was accompanied by some great signings. I'm certain I didn't make the wrong choice. I feel happy, we have a fantastic team and I'm pleased to be part of it."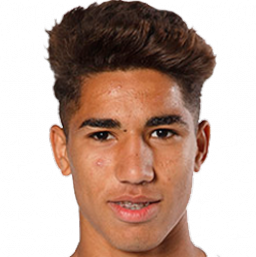 Learning from Antonio Conte, his boss at Inter:
"At Inter, Conte told me he wanted to make me a more complete player, and he was as good as his word. Throughout the year, we worked a lot together: we watched videos, did personalised training sessions. He brought me on a lot tactically. He showed me simple ways to improve my positioning, my aggression. Today, defending is a pleasure for me: when I do something well in defence, it gives me as much satisfaction as supplying an assist."
Idolising Real Madrid left-back Marcelo:
"Before sharing a dressing room with him, I was really interested in his way of playing, his vision of football and life. For him, football is a game, as it is for me; he started playing on the streets of his neighbourhood and throughout his career he has continued to play football with the same joy. That has helped him to be the best left-back in the world and win so many trophies. Seeing football as something fun is key to not feeling the pressure. And he's a spectacular full-back who could have played as a number 10, given all his qualities. When I played alongside him, I got to know his personality, the way he controls the ball, the way he crosses…"
Where does your supersonic pace come from?
"I don't know… At school, whenever we did sprints or cross country, I always came first or second. I quickly realised that I was fast and strong. In the evenings I started to do athletics. It was just a hobby, but it helped me to improve my speed a little bit. That's useful to me today when I play football."
Are you quicker than PSG team-mate Kylian Mbappé?
"We'll have to see [laughs]. We haven't raced one on one yet. He's also very quick. Either way, it's good for the team: making the most of our speed can help us to win games."
Lionel Messi's arrival at PSG:
"Like everyone else, I didn't expect Messi to leave Barcelona. And when I heard he was coming here, what can I say? A dream come true for me! I've played with a lot of great players, and the one that was missing was Messi! I'm proud to be able to develop alongside such a good player. To progress as a player, I'll pay attention to how he trains, how he plays. He'll make the team, and all the players in it, that bit better. We speak the same language and we're getting to know each other little by little. And building a relationship with him on the pitch is easy! I give him the ball, I make a run and he'll put it where it needs to go! I was surprised by what he's like as a person; he's quiet, unassuming."
Relationship with Real Madrid:
"Real Madrid are my boyhood club. Thanks to them I'm where I am today, at PSG, giving an interview! They plucked me from my neighbourhood, taught me the values of football and made me as a person, too. I was there for 12 years; I'm really grateful to the club. For the moment, I haven't had the chance to be a success there, but you never know what the future will bring. Right now, though, the only thing that matters to me is Paris; I'm obviously desperate to achieve big things wearing this shirt."