Real Madrid vs Villarreal summary: score, highlights, LaLiga 2021/22
Real Madrid 0-0 Villarreal: LaLiga as it happened
Peeep peeep peeeep! It ends goalless. Real Madrid gave it a bit more welly in the second half, but struggled to create anything clear-cut, beyond that header for Éder Militao. Villarreal had the better chances overall, and are fully deserving of their point. That's the Submarino Amarillo's fifth draw out of six so far in LaLiga this term.
It's a stalemate that takes Villarreal up to 10th; it surely won't be long before they're a bit higher than that. As for leaders Madrid, they're now three points clear of Sevilla (who have a game in hand) and Atlético Madrid, while Real Sociedad can cut that gap to one tomorrow. You can check out the full LaLiga table here.
That's all from me - thanks for reading!
Hazard touches it back to Vinicius on the left-hand side of the box. He drops a shoulder, cuts inside Mario and shoots towards the far top corner, but sends his strike off target. Time is almost up.
Nacho crosses from the left, but it's too long. Hazard picks up the loose ball and crosses from the right, but Villarreal head away.
Back come Madrid, Vinicius pinging an inswinging ball towards the back stick, where Rulli punches away.
For a team who've been racking up the goals so far this term, Madrid have looked quite strikingly short of attacking ideas, beyond chucking it into the box from either wing.
Four minutes of time added on in Madrid.
Within a couple of minutes of coming on, Peña is suddenly released into the Real Madrid box, but just as he's preparing to pull the trigger, Nacho does well to hold him off and clear. Villarreal want a penalty for Nacho's challenge, but they certainly aren't going to get one.
Villarreal bring Mario Gaspar on for Foyth, who is a little groggy having just taken a powerfully-hit ball to the body.
Pino and Danjuma were replaced by Rubén Peña and Manu Trigueros a minute or two ago, I neglected to tell you.
Isco crosses from the right to the back post, where Vinicius heads it back for Camaving to try an overhead kick... but the whistle has gone. Vinicius is adjudged to have fouled his man as he jumped for it.
Back come Madrid. Hazard sends in a cross from the right-hand byline that Isco heads downwards, but, despite the midfielder's effort changing direction when it takes a touch off Vinicius, Rulli parries it away. That's Madrid's first attempt on target, I think.
Pino suddenly has acres of space to advance into the Real Madrid box and pull it back from the right-hand byline, but succeeds only in thudding his cross at Nacho. From the resulting corner, it's played short before being whipping in to Torres on the penalty spot, but he and Militao both hurt themselves in their attempts to connect with the cross.
Valverde cuts it back from the right-hand byline to Camavinga, whose attempted ball across the face of goal is deflected out for a corner, which comes to nothing. Villarreal are such a strong defensive unit.
At last, some Real Madrid attacking play that doesn't involve slinging it into the mixer from the right. First, Vinicius gets to the byline on the left, but his low cut-back is cleared. Moments later, the Brazilian carries the ball down the middle, running at a back-pedalling Villarreal defence before shooting from 25 yards. His strike is well off target, though.
Hazard is on for Real Madrid. Modric makes way.
Modric slips it right to Casemiro, who lifts a looping cross towards the penalty spot, where Benzema is muscled off it by Albiol. Flinging in crosses from the right is pretty much all Madrid can think of at the mo, and it ain't working.
Moi is booked after catching Militao late.
Over on the touchline, Eden Hazard is preparing to come on for Real Madrid.
Indeed, we're back to hearing whistles from the home faithful as Villarreal pop it about confidently.
Madrid had offered some encouraging signs in attack in the first 10 minutes or so of the second half, but Villarreal's defence looks pretty comfortable once more, and their midfielders are getting their foot back on the ball.
Now it's Asensio's turn to cross for the right. Albiol is perfectly placed to head away, and you get the feeling he and Torres will gobble those balls up all night long.
At the other end, Foyth again gets forward and fizzes a pass over to Danjuma at the back of the box, but the Dutchman's first touch is heavy, and he commits a foul in his attempts to bring the ball back under control.
Vinicius barrels into the Villarreal area from the left, but slips and cleans out Parejo. Free-kick to the visitors, and Parejo looks to be in some pain. He'll be OK, though, it seems.
Valverde crosses again from the right, but with Benzema waiting at the back post, Albiol heads clear.
Double change for Villarreal: Moi Gómez and Boulaye Dia are on for Coquelin and Alcácer.
There's another great chance for Villarreal! Parejo's free-kick is headed by Foyth to the near post, where Alcácer is in space to shoot, but succeeds only in helping it on across goal. Torres is arriving at the back stick, but can't quite get there in time, and the ball runs out for a goal-kick.
Madrid may have upped the intensity, but Villarreal are responding.
Coquelin is booked for tugging back Asensio.
Just as I say that, Villarreal march up the other end and carve out a very good shooting chance for Danjuma. Foyth drives towards the Real Madrid box before slipping it left for the forward to strike first time from the edge of the area, but his low effort is too close to Courtois.
Villarreal look immeasurably less comfortable now. Real Madrid have stepped up the intensity several notches since half time, and are keeping the visitors in their own half.
Now Benzema heads wide, from Casemiro's cross... but the striker was offside.
Foyth hacks Vinicius down on the left, giving Real Madrid the chance to swing one into the box. Asensio dinks over a lovely left-footed cross that is right on Militao's head, six yards out - but he heads wide! Real Madrid's best chance so far tonight by a couple of country miles.
Foyth somehow escaped a yellow card for that challenge on Vinicius, by the way.
Again Real Madrid cross from the right towards Benzema, but again Villarreal clear with relative ease. Albiol stoops to head away.
Valverde crosses towards Benzema at the back stick, but Foyth is there to head away. His clearance falls straight to Camavinga, who exchanges passes with Modric on the edge of the Villarreal box, but is dispossessed.
Camavinga is on, with Rodrygo the man to make way. Asensio will step forward into the right-wing role, one would imagine.
Peeeeeep! We're back underway at the Bernabéu.
Camavinga imminent
Summer signing Eduardo Camavinga is stripped and warming up out on the Bernabeu pitch, and looks like he'll be coming on for Real Madrid at half time.
No shots on target for Real Madrid in first 45
Real Madrid didn't manage a single shot on target in that first half - the first time that has happened to them in a LaLiga game at the Bernabéu with Carlo Ancelotti as head coach.
Peeep peeep peeep! Quite a few whistles from the home fans when Jesús Gil Manzano blows for half time. Mostly for the referee, it seems, following his refusal to give a penalty for that challenge on Nacho.
Carlo Ancelotti has plenty of work to do at the break. Villarreal have been the better side.
Rodrygo tries to play a one-two with Casemiro before collecting the return on the right-hand side of the Villarreal box, but is crowded out. A minute later, Madrid get Asensio into a promising shooting position about 25 yards out from goal, but his strike is deflected behind for a corner.
The corner is headed away and looks to have fallen nicely for Pino to carry the ball forward, but he misjudges the bounce of the ball and gives it right back to Modric, who has the chance to send another cross in. Albiol has to look alive at the back post to put it behind for another corner, which is finally worked back to Valverde to shoot from range. He blazes high and wide.
Vinicius is penalised for pulling back Parejo, gives the referee a healthy dose of lip in response to the decision, and is given the night's first booking in return.
Danjuma has looked very lively tonight. A ball into the box runs through to the forward on the left, and, with Valverde doing his level best to put him off, he carves out a yard to shoot. He slices it just wide, though. Lordy, Villarreal are playing well.
Madrid finally get themselves back on the ball. Vinicius drives towards the byline on the left, but his cut-back to Benzema is cut out by Albiol. Valverde then picks up the loose ball and feeds Asensio, whose shot is blocked.
Moments later, Nacho is screaming for a penalty when he bursts into the box and falls to the turf under the combined challenge of Pino and Albiol, but neither Gil Manzano nor his video assistant are in any mood to point to the spot. Not a pen for me, Clive.
Oh, that's lovely stuff from Villarreal. A quick exchange of passing leaves Pino scuttling in behind the Madrid defence and into space down the left. He looks up and rolls it inside to Alcácer, whose shot from 15 yards is beaten out by Courtois. It then drops straight to Coquelin, whose effort is blocked by Militao.
Ah, but the flag goes up. Pino is adjudged to have been just off when he was initially released. Looking at the replay, I'm not so sure. Either way, Villarreal are bossing this game at the mo.
More whistles from the home crowd as Villarreal stroke it about. Just over 60% possession for the away team, the latest Opta stats tell me.
Parejo plays a low, straight ball into the box towards Pino's run towards the byline, but Nacho just gets there first.
First Foyth, then Capoue look to drive into a crossing position on the right. Though they are dispossessed, Villarreal win it back quickly and promptly keep it for the next minute or so, sparking a fair few whistles from the home fans.
The visitors finally work it to Danjuma on the left, but his low cross is cleared.
Rodrygo looks to send another cross into the box from the right, but gets his line all wrong and, quite by accident, almost finds the net at Rulli's near post. The Villarreal goalkeeper scrambles across his line to get it out for a corner. Asensio takes, dropping it onto the head of Militao, but the defender nods well off target.
Benzema gets his first opportunity to shoot at goal. Vinicius scuttles down the left before cutting inside and laying it off to the Frenchman, who gets it out of his feet and slaps a low shot a good couple of yards wide.
Foyth rolls it from the right to Alcácer, who has peeled off into space some 25 yards out from goal. He takes a touch before putting his laces through it, but sends his strike very high. Emery applauds the attacking intent, though.
Casemiro plays a neat little reverse ball to Rodrygo in space just inside the box, but the Brazilian decides to turn back into trouble rather than shooting... and was offside, anyway.
At the other end, Rodrygo works a yard of crossing space on the right and flights a ball over towards Benzema at the back post, but Albiol is there to head it behind. The corner comes to nought: Villarreal clear to Pino, who scampers forward and buys a free-kick off Alaba.
Villarreal are making an impressive start at the Bernabéu. Danjuma picks it up on the left, before surging into the box between the non-existent joint challenge of Valverde and Asensio. His shot is low and looks to be arrowing into the far corner, but Courtois is down to get a firm hand to it and turn it behind!
Yeremy Pino is so unlucky. He charges down the right and into the Real Madrid box, before doing Nacho hook, line and sinker with drop of the shoulder, a dummied cross and a dart back inside. However, he slips just as he prepares to pull the trigger, and the chance is lost.
Benzema feeds it left to Vinicius, who runs into trouble and is dispossessed by a combination of Foyth and Albiol. Real Madrid win it right back, though, and could do with having a prolonged spell of possession. Villarreal haven't let them have a lot of the ball so far.
Here come Madrid. First, Vinicius connects with a left-wing ball, but slightly swipes at it and succeeds only in firing it straight at a Villarreal defender. Moments later, Modric gets it out of his feet and lets fly from 20 yards or so, but his effort is blocked by Torres.
Foyth steps out from the back at pace, surging across the halfway line before slipping a ball in behind Militao that almost gets Alcácer in on Courtois. He's not the sort of fellow to miss when placed in that kind of position, so Militao is relieved to get there just ahead of the striker and force it behind.
Ah, hold on. The flag was up against Alcácer.
Coquelin releases Danjuma into space down the left with a lovely reverse ball that splits the Real Madrid defence wide open. Danjuma fizzes a low cross into the Madrid box, but Alaba is in position to clear. Confident start by Villarreal.
Peeep! We're up and running at the Bernabéu.
Out come the teams!
Captains Raúl Albiol and Karim Benzema lead the teams out at the Bernabéu, where our match referee will be Jesús Gil Manzano.
Before Gil Manzano gets us underway, Spanish Paralympian Susana Rodríguez, who won gold in Tokyo, comes on to the pitch to take the ceremonial kick-off.
Bernabéu far from a happy hunting ground for Villarreal
Just the one win in 21 LaLiga visits for Villarreal at the Bernabéu: a 1-0 victory in January 2018, courtesy of a late goal by Pablo Fornals.
Since that victory, the Submarino Amarillo have lost all three of their away clashes against Real Madrid.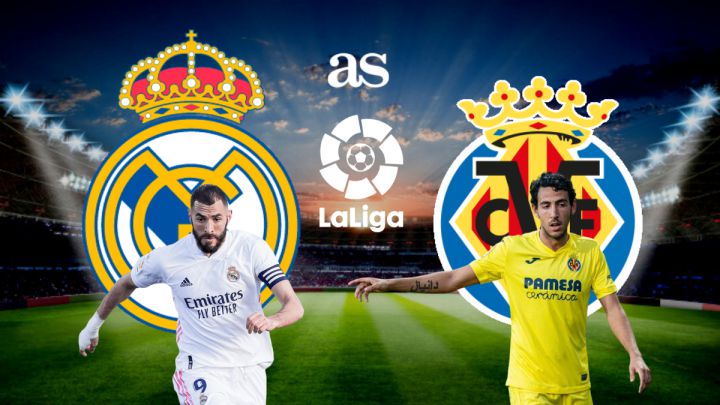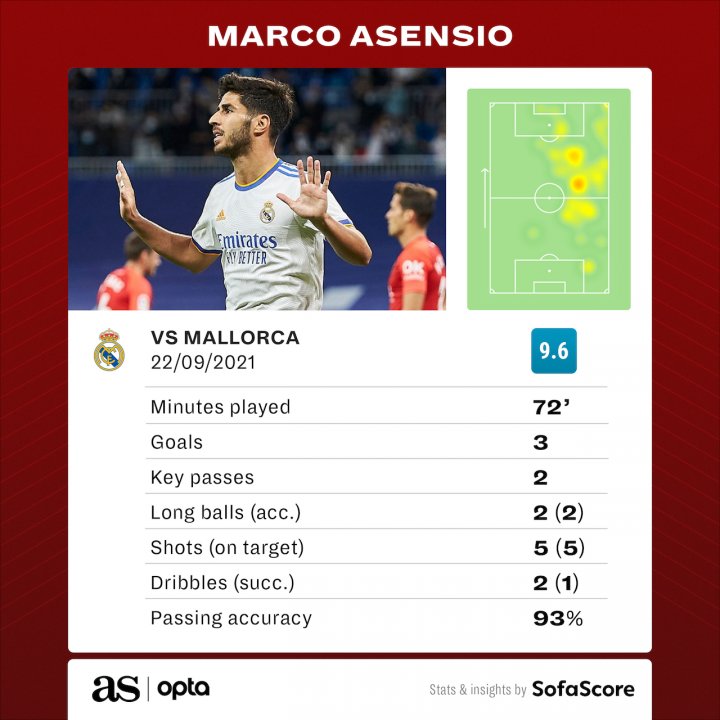 Asensio's starring display against Mallorca: the stats
Sticking the ball in the onion bag has been a bit of a problem for Real Madrid over the past couple of seasons, but Carlo Ancelotti has Los Blancos utterly on fire in front of goal so far this term.
Madrid have thumped in 21 goals in their six league games - nine more than the next-highest scorers, José Bordalás' Valencia.
Karim Benzema has eight goals to his name already, while Marco Asensio celebrated his first start of the campaign by thrashing in a hat-trick against former club Real Mallorca in midweek.
In the graphic above, our colleagues at SofaScore break down Asensio's display against Los Bermellones.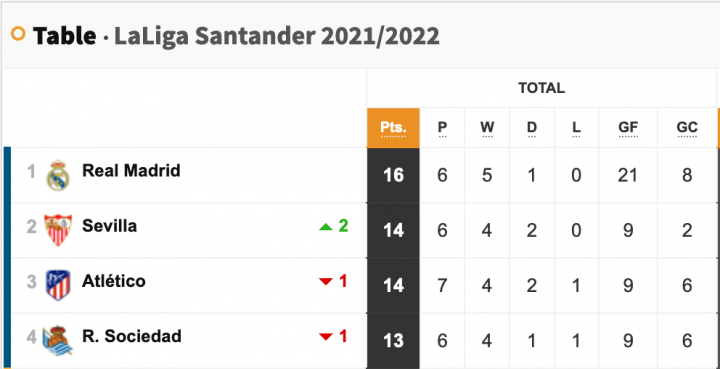 How things stand at the top of the table
Here's how it looks at the top of LaLiga tonight.
Alavés' 1-0 win over Atlético at Mendizorroza means Los Rojiblancos stay on 14 points, two behind Madrid - and Diego Simeone's have now been leapfrogged by Sevilla, who have just beaten Espanyol 2-0.
Real Sociedad face Elche tomorrow.
Warm-up underway
Real Madrid and Villarreal are now busy getting themselves warmed up at the Bernabéu.
You can watch the warm-up live on Real Madrid's Twitter account: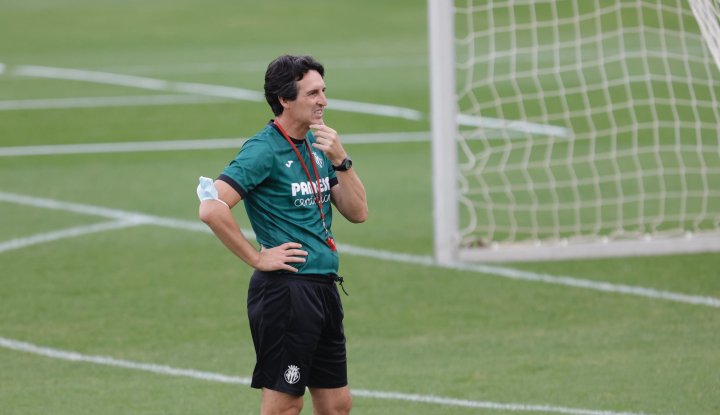 What the coaches said: Unai Emery, Villarreal
Real Madrid's shortcomings:
"They've conceded three goals at home in two games, but the problem is that they score a lot of goals. We're going to need to be very strong at the back. [Karim] Benzema and Vinicius [Junior] are in really good nick, [Federico] Valverde and [Luka] Modric are looking very good and are making a lot happen, and so Madrid are very dangerous when it comes to creating in attack. We'll have to put in a very balanced performance and take our chances going forward."
Drawing on good displays against Chelsea and Atlético:
"We draw on the similarities with previous games against clubs we've competed with and stood up to. We did that against the likes of Manchester United, Chelsea and Atlético - they're games in which we managed to find the right answers and compete. If we can do the same in this game and manage to find the right answers again, we'll be in with a shout of winning the match."
(Photo: Ángel Sánchez/Diario AS)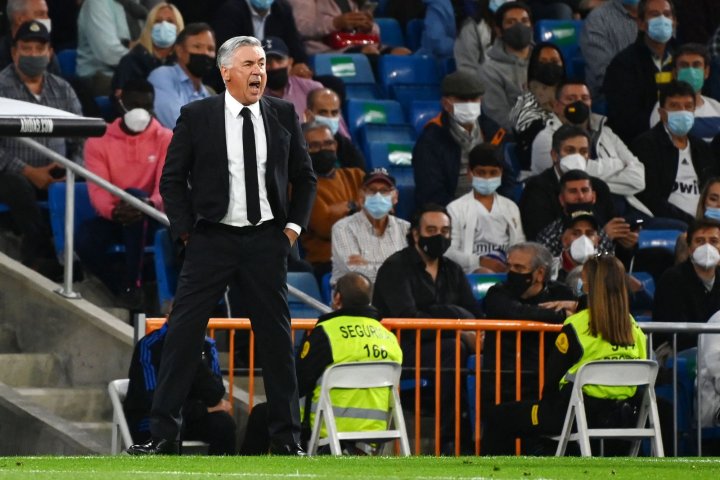 What the coaches said: Carlo Ancelotti, Real Madrid
Villarreal:
"They're a side who make a habit of playing to a very high level; to beat them, you have to do everything very well. They're a very well organised team."
Defensive concerns:
"It's an aspect of our game that we have to improve. It always happens at this stage [of the season]. We've been all about attack, because we have so much quality going forward. Against Mallorca we were better defensively, though. More aggressive."
Karim Benzema for the Ballon d'Or?
"The way he's playing, I think he has to be on the list of players who can win it. Karim has time to win it. This isn't his last season. He's like a fine wine; he gets better with time."
More from Carlo Ancelotti's pre-match press conference
(Photo: GABRIEL BOUYS / AFP)
Valverde at right-back as Modric and Casemiro return; Emery rings the changes
Real Madrid head coach Carlo Ancelotti makes two changes to the team that began the 6-1 midweek pummelling of Real Mallorca, as Luka Modric and Casemiro return to the midfield.
Federico Valverde keeps his spot in the side but moves back to right-back, with Nacho shifting over to the left in place of youngster Miguel Gutiérrez, who drops to the bench.
Following his hat-trick against Mallorca, Marco Asensio starts once again, while there is no place in the XI for Eden Hazard, who must content himself with a substitute's brief.
Meanwhile, there are five changes to the Villarreal side that thumped Elche 4-1 last time out. Gerónimo Rulli, Juan Foyth, Raúl Albiol, Alberto Moreno and Francis Coquelin all come in, with Sergio Asenjo, Mario Gaspar, Aissa Mandi, Alfonso Pedraza and Manu Trigueros making way.
Villarreal boss Unai Emery had said on Friday that Yeremy Pino was doubtful for tonight's game, but he starts.
Villarreal team news
Starting line-up: Rulli, Foyth, Albiol, Torres, A. Moreno, Parejo, Capoue, Coquelin, Pina, Alcácer, Danjuma
Real Madrid team news
Starting line-up: Courtois, Valverde, Militao, Alaba, Nacho, Modric, Casemiro, Asensio, Rodrygo, Benzema, Vinicius
Real Madrid vs Villareal: LaLiga preamble
Hello! Real Madrid can go a provisional five points clear at the top of LaLiga when they face Villarreal at the Bernabéu in an hour's time, after champions Atlético Madrid came very much unstuck away to a hitherto winless Alavés this afternoon.
So far, Madrid have banged in 11 goals in two LaLiga home games this season - as well as conceding three - so that bodes really rather well for an evening of entertainment in the Spanish capital. (Now watch the blighters hit us with a stultifying 0-0 draw.)
When it comes to draws, incidentally, visitors Villarreal are proving rather partial to the odd stalemate this term: Unai Emery's men, who sit 12th in LaLiga, have drawn five out of seven in all competitions. Indeed, it's six out of eight if you count August's UEFA Super Cup defeat on penalties.
Anyway, the teams are in, so let's have a look at them.