NBA
Zion Williamson set to be ready for new NBA season after foot surgery
The Pelicans have revealed Zion Williamson required surgery on a foot injury, yet still should be fit for their season opener.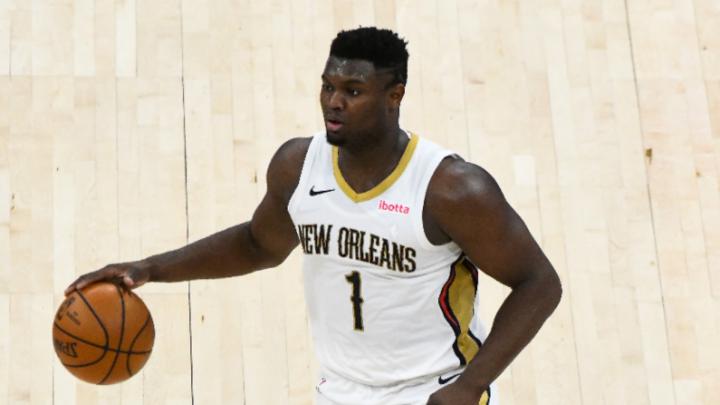 Zion Williamson required surgery to repair a fractured right foot in the offseason, though the New Orleans Pelicans are still hopeful he will be fit for the start of the new campaign.
Williamson was hurt while working out ahead of his third year in the league, having made a huge impact for the Pelicans since he was selected with the first overall pick in the 2019 NBA Draft.
The power forward averaged 27.0 points per game, up from 22.5 points in his rookie year, as well as 7.2 rebounds and 3.7 assists in the 2020-21 regular season.
New Orleans optimistic about Zion recovery

Executive vice president of basketball operations David Griffin announced Williamson's situation on Monday, making it clear New Orleans are "very optimistic" over the 21-year-old's recovery.
"Zion is returning from a foot surgery suffered at the beginning of the summer, earlier in the offseason prior to NBA Summer League," Griffin said.
"He had a fractured right foot, which was repaired surgically. His timeline should get him back on court in time for the regular season, that would be our hope and view.
"We're very optimistic about what that looks like. Unfortunately, that's going to be taken as a big negative by all of you (the media), but it isn't for us, because we were dealing with it for the whole offseason.
"We feel very confident about where things are and very happy with the improvements there."
Williamson's rookie season was a shortened one due to a torn meniscus, delaying his debut. He played in only 24 games, yet quickly demonstrated just why he was so highly rated coming out of Duke.
He became an All-Star for the first time in his second year but a finger injury cut short his involvement with the Pelicans, who missed out on the playoffs once more.
New Orleans open the new season with a home game against the Philadelphia 76ers on October 20 - and their superstar expects to be on the court for that contest.
"It's part of the game," Williamson said of his injury when he spoke at the team's official media day.
"I think I was overdoing it when I was training because I felt like I had this huge chip on my shoulder, this huge boulder, so I was getting after it every day and it just happened.
"The process through healing has been great, working with the trainer every day. I expect to be back for the first official game."