NFL
Chargers fortunate to have "gangster quarterback" in Herbert - Staley
Chargers head coach Brandon Staley said Justin Herbert showed "high-level toughness" in the victory over the Chiefs on Sunday.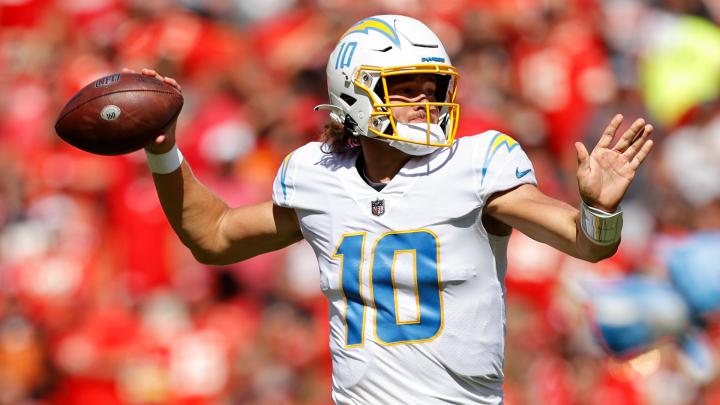 Brandon Staley says the Los Angeles Chargers are lucky to have "gangster quarterback" Justin Herbert after he outdueled Patrick Mahomes in the fourth quarter at Arrowhead Stadium on Sunday.
The Kansas City Chiefs are bottom of the AFC West with a losing record for the first time in over five years after they were beaten 30-24 by the Chargers.
Kansas City led 14-3 at half-time, but fought back to lead 17-14 with under four minutes of the third quarter to go.
Reigning Offensive Rookie of the Year Justin Herbert took center stage in the final quarter, connecting on the first of two touchdown passes to Mike Williams and, after Mecole Hardman found the endzone for the Chiefs, leading a field goal drive to tie the game at 24-24.
Mahomes still had over two minutes to potentially clinch victory but threw a critical interception and the Chargers' gamble to eschew a game-winning field goal paid off as Herbert hit Williams for another touchdown and, despite a missed extra point, Los Angeles held on as a late Hail Mary from the Chiefs came up short.
Chargers head coach Staley said: "We're fortunate enough to have a gangster quarterback."
love everybody in herepic.twitter.com/QaamR6tEg2

— Los Angeles Chargers (@chargers) September 26, 2021
Victory for the Chargers over their AFC West rivals moved them to 2-1 ahead of a showdown with the undefeated Las Vegas Raiders (3-0) next Monday.
Staley: Hebert was awesome
Staley hailed the pivotal contribution made by both Herbert and Williams.
"I thought that those two guys really stood out to me," he said. "Justin had four touchdowns, no interceptions. There was a fierce rush out there. I felt like he really played the position how you need to.
"I felt like he was patient when he needed to be. We had a couple play-action shots that didn't quite express themselves. I felt like he was awesome in the check-down game getting the ball underneath.
"They played a lot more two-deep zone coverage with some of their corner situation. He just played the position at a high level. He showed high-level toughness and then certainly in a two-minute drill, the big throw to Keenan Allen and then finishing off with Mike.
"You can't say enough about Mike Williams. I felt like this guy all year through three games, this guy played fantastic and he came through for us today."
Chiefs quarterback Mahomes became the fastest quarterback in NFL history to pass for 15,000 yards, reaching the landmark in the third quarter of his 49th game.
The 2018 MVP finished the game with 260 passing yards, taking his tally to 15,092.