Report: 76ers' Simmons no longer wants to play with Embiid
Philadelpha 76ers point guard Ben Simmons has been expressing his desire to leave the team, and a report now gives us one possible reason why.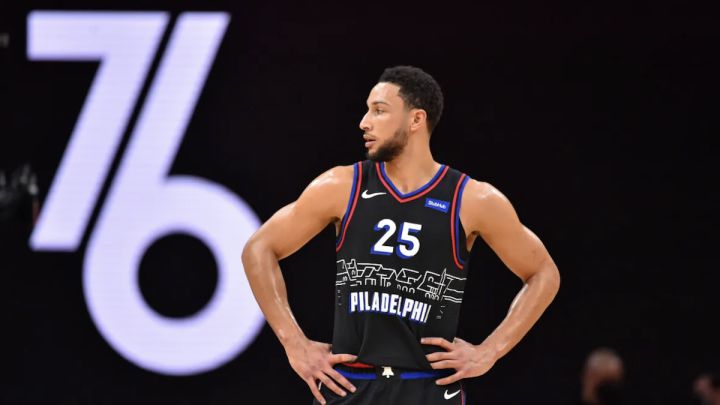 It has been weeks since the bad blood between Simmons and the 76ers started hogging the headlines. The player had said he wanted to leave the Sixers, and consistent with this, did not show up on day one of the team's training camp.
Simmons had been vocal about his wish to be traded, but it was unclear as to why exactly he wanted to leave Philadelphia.
A report by Sam Amick of The Athletic says one reason is that he no longer wants to share the floor with his teammate Joel Embiid.
"People who have intimate knowledge of how he sees this situation continue to insist that he's done playing with Embiid. There's nothing personal about this choice, it seems, but the 25-year-old Simmons has clearly decided that his career is better off without Embiid blocking the runways in the paint that he so badly needs to succeed."
Sam Amick of The Athletic
According to Amick's sources, Simmons thinks the team's choice to build its game plan around Embiid's style "simply isn't conducive to the way he needs to play".
Other NBA sories:
Sixers disappointed with Simmons' absence
The Sixers held a media day to mark the start of training camp, where Daryl Morey, 76ers president of basketball operations, said he was disappointed that Simmons was a no-show. Morey confirmed that Simmons had asked to be traded soon after the last season ended. But the 76ers have not talked to the Australian since then, although they have communicated with his representatives.
Embiid likewise expressed regret at his teammate's decision not to show up. "I'm disappointed. It's time take the next step, and I hope that he really changes his mind, because if I didn't like playing with him, I'm honest- I would say it. But I love playing with him," the seven-footer said.
Simmons is steadfast in his position, but he may have to pay a big price for his truancy. He has four years and $147 million left on the maximum contract extension he signed in July 2019.
A high price for Simmons' stance
The Sixers can fine him for skipping Monday's media day and training, and for future missed practices as well. And if he doesn't appear for the preseason opener on Oct. 4, the team could issue a suspension.
Morey declines to talk about specifics of fines re: Simmons but says "it's pretty clearly spelled out in the CBA and his contract what happens" when a players skips camp/games.

— Chris Mannix (@SIChrisMannix) September 27, 2021
The 76ers will open its preseason on Oct. 4 in Toronto against the Raptors, while their regular season will start away on Wednesday, Oct.20 against the New Orleans Pelicans.