Jags receiver D.J. Chark suffers broken ankle in Bengals loss
D.J. Chark suffered a broken ankle in the early stages of the Jaguars' game with the Bengals, making their loss even tougher to take.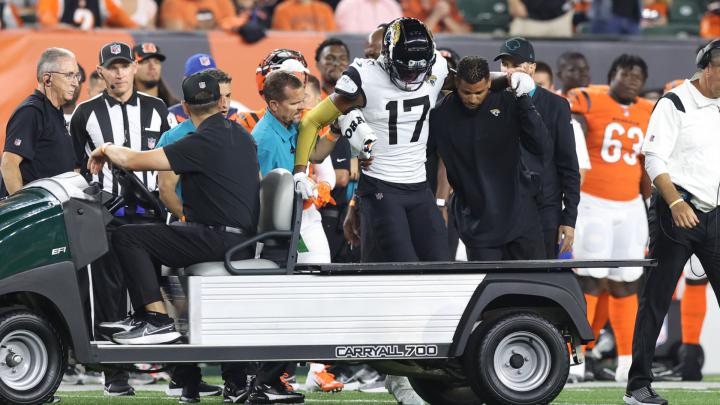 Jacksonville Jaguars wide receiver D.J. Chark has been ruled out indefinitely with a broken ankle.
Chark was injured early in the Jaguars' 24-21 loss to the Cincinnati Bengals on Thursday Night Football.
Jags head coach Urban Meyer suspected Chark had suffered an ankle fracture after the game and NFL Network have reported the diagnosis has now been confirmed.
Meyer: "He was starting to play well"
"Tough one," said Meyer. "I heard it's a broken ankle. He was starting to play well - that's a big one."
Chark suffered the injury on what was just Jacksonville's third offensive play of the game and had to be carted off the field.
As he was being tackled, running back James Robinson inadvertently rolled on top of Chark's leg. The wide receiver had been attempting to set a block for Robinson.
It is a big blow to the struggling Jags, who fell to 0-4 despite leading 14-0 at the interval. They have now suffered 19 straight losses dating back to last season.
Chark, who is in the final year of his contract, racked up 1,714 receiving yards across 2019 and 2020, with Trevor Lawrence now losing a top target for the foreseeable future.
Number one overall pick Lawrence has had a rocky start but produced his most solid game so far against the Bengals, rushing for one touchdown and having no turnovers as he completed 17 of 24 passes for 207 yards.
But he was hurt that a first NFL win was taken away from him, with the Bengals launching a comeback before kicking a 35-yard field goal as time expired to go 3-1 for the season.
Lawrence: "We'll have to regroup a little bit, this one hurts"
"We'll have to regroup a little bit, this one hurts," said Jaguars quarterback Lawrence. "We're up 14-0 at half-time and come back out and just somehow come up on the wrong side of it, that's tough.
"We're going to bounce back, no doubt, I know what we're made of.
"Just seeing how we've handled the first three weeks, I know nothing is going to change but damn, I really want to get a win with these guys.
"We've just got to finish, collectively. It's everybody. It's not one side of the ball or anything like that.
"It's all of us finishing. I'm not even going to say it's going to take time, we're right there and you guys have seen it the last few weeks."