Nagy still unsure who will start under center for Bears in Week 4
Chicago Bears head coach Matt Nagy is taking his time deciding if Andy Dalton or Justin Fields will start at quarterback in Sunday's game against the Lions.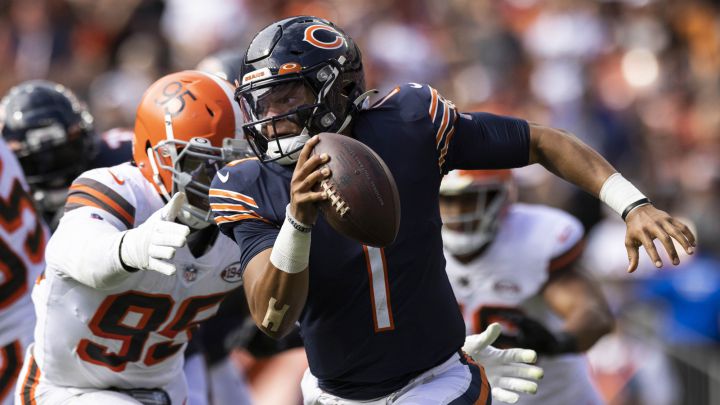 Head Coach Matt Nagy and the Chicago Bears may know who is starting under center against the Detroit Lions on Sunday, but if they do they are playing it close to chest.
Nagy to decide QB1 this week vs. Lions
It has been one of the top quarterback controversies in the NFL since Justin Fields was drafted in the first round of the NFL Draft.
"We know what we are doing and that's what we are believing in and going with," Nagy said after Friday's practice.
Both he and Andy Dalton have played snaps as the Bears signal caller, but the veteran quarterback was named starter in the preseason. Dalton was ruled out for last week's game against the Cleveland Browns after suffering a bone bruise in his knee in Week 2.
Dalton was named the started in preseason

Nagy has repeatedly backed the former Bengal as the Chicago starter if heathy, but Dalton has been limited in practice all week as he continues to feel the affects of the knee injury suffered against the Bears.
With Andy Dalton & Justin Fields both recovering from injuries, our starting QB on Sunday will be a game-time decision.https://t.co/6m13NtYJq2

— Chicago Bears (@ChicagoBears) October 1, 2021
"I feel good," Dalton said Friday. "When you suffer an injury, you're trying to do everything you can to rehab and get feeling good as soon as possible. So everything's been heading in the right direction and everything's improving so I feel good about where I'm at."
Fields took a knock in last weeks loss to the Browns as well, but was fully integrated in practice this week after injuring his right thumb on Sunday.
Fields practiced all week after thumb injury
"This week's practice compared to last week's practice, I felt just more comfortable at practice just kind of getting that under my belt and getting kind of past that," he said. "Last week, you really can't get worse than that. I mean, I hope not. But I felt comfortable this week."
The former Ohio State quarterback was sacked nine times in a rookie debut game that saw him pass for just 6/20 for 68 yards.
Nagy said despite the constant barrage of pressure from the Browns that Fields can use his debut as a learning lesson "Justin's game that he played last week, he did a lot of things that he's going to learn from," Nagy said.
Will Nagy continue calling offensive plays?
"But we also, and myself, have to help him. I think the biggest thing for him is, 'OK, here's how I was in the week of practice. Here's how I was on game day, both physically and mentally. Now how am I going to be heading into this week? Am I getting better? Is there improvement? Am I getting better at the things I was good at? Am I getting better at the things that I wasn't so good at?'
Nagy came under fire last week after the Bears posted just 47 total yards of offense in the Week 3 blow out loss to the Browns. He has yet to reveal if he will continue to call the offensive plays or if offensive coordinator Bill Lazor will take over this weekend.