Jags owner Kahn says head coach Meyer must earn trust of team
Jacksonville Jaguars head coach Urban Meyer is under fire after videos surfaced of him at a bar in Ohio. Owner Shad Kahn had a clear message for his coach.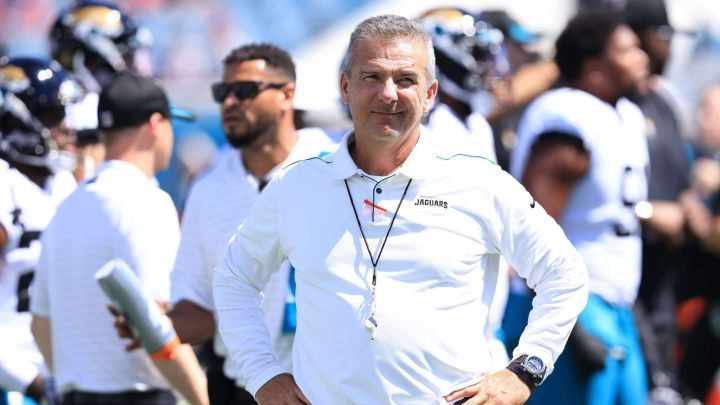 Jacksonville Jaguars first year head coach Urban Meyer has found him self in the crosshairs of public criticism and internal reprimanding within the franchise after pictures were released of him more than tipsy at a bar with some college coeds.
Kahn releases statement on Meyer
Meyer's boss, the owner of the Jags, Shad Khan has issued a public statement on Tuesday addressing the issue with his offseason hire.
"I have addressed this matter with Urban. Specifics of our conversation will be held in confidence," Khan said in a statement. "What I will say is his conduct last weekend was inexcusable. I appreciate Urban's remorse, which I believe is sincere. Now, he must regain our trust and respect. That will require a personal commitment from Urban to everyone who supports, represents or plays for our team. I am confident he will deliver."
Jags still winless on the year
The photos were taken just a day after the Jags fourth straight loss to start the season in Cincinnati. Meyer stayed in Ohio to visit his grandchildren who live in Columbus instead of going back to Florida with the team on Thursday night.
Meyer was spotted at his restaurant -Urban Meyer's Pint House - in the city he used to call home while coaching at Ohio State. A video taken and posted on social media by a patron at the bar showed the 57 year old in a Buckeye pull over with a young woman dancing on his lap.
"I just apologized to the team and staff for being a distraction," Meyer said Monday. "Just stupid, and so I explained everything that happened and owned it. Just stupid. Should not have myself in that kind of position."
Meyer's off-field problems added to on-field problems

Another video was released of Meyer shortly after his press conference on Monday. It appears to be the same woman in the video, or at least she is dressed in the same clothes. The second video shows Meyer gropping the woman's rear end.
Meyer is off to a bumpy start to his NFL career. His Jacksonville Jaguars are winless on the season and media speculation continues to swirl that he is the favorite to take over the University of Southern California job.
The former Ohio State head coach has won three national titles at the college level, two at Florida and one as a Buckeye.
The Jaguars have lost a total of 19 consecutive games over the course of the last two seasons. Their last win was in the 2020 season opener when they beat the Indianapolis Colts. Meyer can put some of his troubles behind him with a win over the Tennessee Titans on Sunday.