NY covid-19 protocol keeps Nets' Irving from practicing in Brooklyn
Kyrie Irving participated in the Brooklyn Nets' training camp in San Diego, but was not allowed to practice when the team returned home on Tuesday.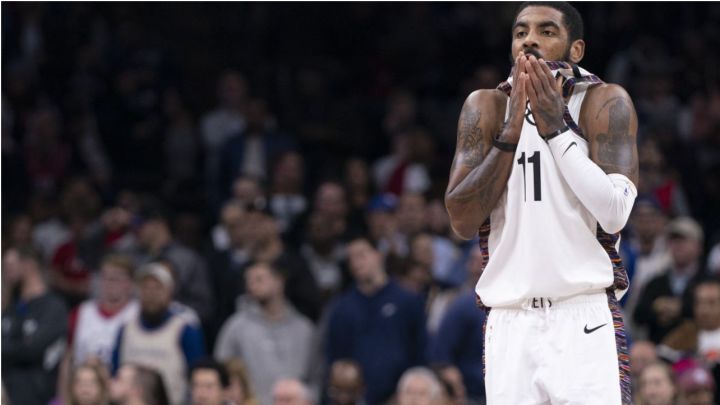 The Kyrie Irving saga continues as the Nets practiced with out their All-Star guard in Brooklyn on Tuesday. New York City covid-19 protocols will prohibit Irving from working out in the gym as long as he remains unvaccinated.
Irving at the forefront on anti-vax movement in NBA

Iriving has been more than boisterous about his opinions concerning the vaccination. The former number one overall draft pick in the 2011 draft was quoted late last month claiming the vaccination is a ploy intended on grabbing hold of the black population, carried out as planned by satan.
There are just a handful of players who are refusing the vaccination, but it seems like Irving has accepted the role as the face of the anti-vaxxers in the NBA. According to the league, more than 95% of it's players have been vaccinated as harsh regulations have been imposed for those not willing to take the test.
NYC restrictions could keep Irving from playing in Barclays Center
Aside from the league imposed regulations, some cities like San Francisco and New York have implemented local laws that prohibit unvaccinated people to enter a gym, restaurant or large indoor event. Under the ordinance put in place by the lawmakers in New York, NBA players will need to have at least one shot of the vaccination to be allowed to play inside arenas in either city.
That means that until Irving gets the vaccine, or the law changes the Nets will be without their point guard in practice, and could be with out him for home games this regular season.
Brooklyn finished up training camp last week in San Diego. Irving was with the team every step of the way, as the regulations are different there from those of New York. Kyrie was forced to sit out the first of what could be many practices at the Nets facility.
Nets could lose Kyrie, Kyrie could lose big money
"No further update," Nets coach Steve Nash told reporters after practice about Irving's status for home practices and games. "We support him. We are here for him. Things change. When there's a resolution, we're here for him."
ESPN's Tim Bontemps and Bobby Marks reported that the NBA and the National Basketball Players Association have agreed to dock 1/91.6 of a player's salary for each game an unvaccinated player must miss because of covid-19 mandates on a local level.
Nash nodded off the notion of the Nets practicing outside of New York so Irving could join his team in preparations of the regular season, which starts on October 11th.
Nash and Nets won't relocate practice
"No, this is our home, this is where we're going to practice and we have almost a whole group," Nash said. "So that's a positive, and we're just working at getting better every day and focusing on the things we can control."
Irving risks losing $380,000 per game if he is unable to play with the Nets when they are at the Barclays Center. While he wasn't at Brooklyn's media day he did speak with reporters from an offsite location.
"I know that I'll be there every day no matter what and just be present for my teammates as one of the leaders on the team and be there for my growing tribe off the court," Irving said. "I know the focus has to be at an all-time high, no distractions. This is the last thing I wanted to create, was more distractions and more hoopla and more drama around this. I'm doing my best to maintain this with good intentions and a good heart."