SOCCER | MAN CITY
'Outstanding' Grealish learning he is not main man with Manchester City, says Dickov
Paul Dickov has been impressed by Jack Grealish's start at Manchester City but says moving from Aston Villa has required a key adjustment.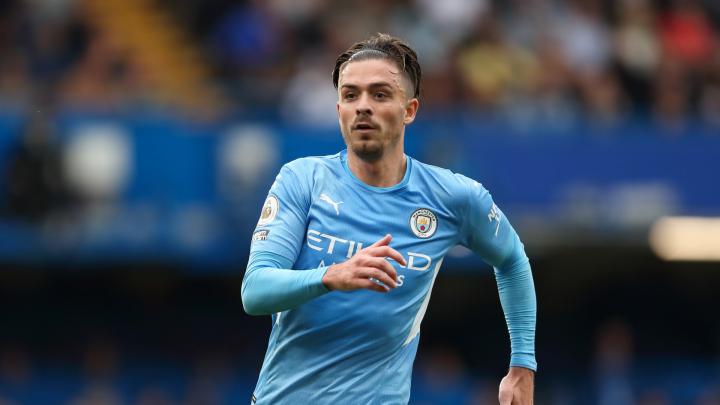 Jack Grealish has made an impressive start as he adapts to life at Manchester City, according to the club's former striker Paul Dickov.
Ex-Aston Villa star Grealish signed for a British record £100million fee ahead of the 2021-22 season, bolstering an impressive group of playmakers in Pep Guardiola's squad.
Dickov believes the attacking midfielder has been given a run of games so that he learns the differences of playing at City, where he will not be the "main man" as he was with Villa.
And he has been happy with the England international's start at the club, with Grealish scoring twice and adding two assists across 10 appearances in all competitions.
Dickov: Grealish must adapt his game at City
Dickov told Stats Perform: "No disrespect to Aston Villa, but there's a lot more quality in the squad at Manchester City and they play a different way.
"When Jack was at Aston Villa last season and the season before, he was the main man all the time.
"When Aston Villa players got the ball and they wanted to attack they gave the ball to Jack Grealish, and he was the main man.
"At Manchester City the ball goes to Phil Foden, Kevin De Bruyne and Bernardo Silva. So Jack's had to adapt his game and also without the ball.
"At Aston Villa he didn't necessarily have to defend, he could afford to be that player that could just win them the game without doing much without the ball.
"Whereas we all know that Pep Guardiola demands the players to work hard without the ball.
"So I think the fact that he started every game was a process of bedding him in to how Manchester City play and letting him know what it takes to be part of a Pep team.
"And I think he's done really well and it has been interesting as well that he's started every single game.
"When you have the likes of Phil Foden, Raheem Sterling, Ferran Torres and Riyad Mahrez, Gabriel Jesus — Pep seems to rotate that front three a lot."
Dickov added: "The last couple of games and Liverpool especially he looked a little bit tired.
"He's one of the only one of the front three players that started every game, and especially it was on the back of a massive week against Chelsea, PSG and Liverpool.
"But I think he's been outstanding and I'm a massive fan of Jack Grealish."
City are two points behind leaders Chelsea after seven Premier League matches, having drawn 2-2 with Liverpool in that Anfield thriller on Sunday.
They conceded more goals in that game than in their previous seven league outings combined beforehand (one).
City also faced four shots on target against Liverpool, only two fewer than they had in their six other Premier League matches combined this season.
Grealish is now with the England squad and, having played 762 minutes of club football this season, only Declan Rice and Conor Coady have had a higher workload than him among outfield players in the squad.