US NEWS
Texas abortion law suspended after federal judge blocks enforcement
A federal judge has issued an injunction on the controversial six-week Texas abortion ban. The Supreme Court will hear arguments on the landmark case in December.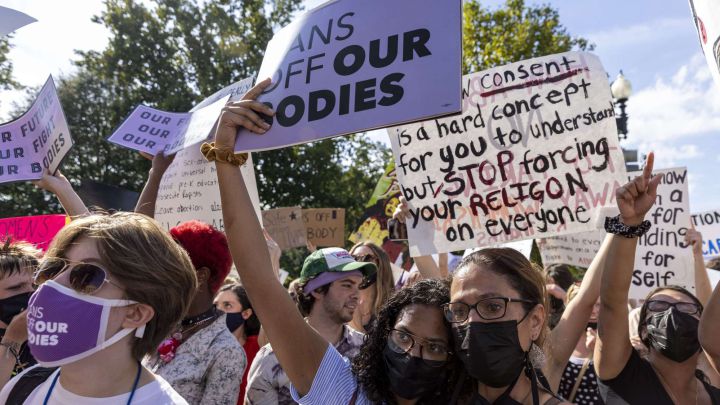 On Wednesday a federal judge issued a temporary suspension of the Texas law which bans all abortions after the first six weeks of pregnancy.
The court order came in response to a Justice Department challenge which claimed that the legislation, which is tantamount to a ban on abortions, is unconstitutional. Texas lawmakers had sought to avoid constitutional scrutiny and bypass Roe vs Wade by placing the burden of enforcement on private citizens.
Reuters: U.S. JUDGE TEMPORARILY BLOCKS NEAR-TOTAL ABORTION BAN IN TEXAS AFTER BIDEN ADMINISTRATION'S LEGAL CHALLENGE

— Kyle Griffin (@kylegriffin1) October 7, 2021
In a 113-page ruling on the decision, US District Judge Robert Pitman wrote: "A person's right under the Constitution to choose to obtain an abortion prior to fetal viability is well established."
He continued: "Fully aware that depriving its citizens of this right by direct state action would be flagrantly unconstitutional, the State contrived an unprecedented and transparent statutory scheme to do just that."
Judge reverses Supreme Court decision
On 1 September, the Supreme Court voted 5-4 in favour of allowing the controversial new Texas law to go into effect. The use of the highly unusual legislative loophole to avoid legal challenges was described as "clearly unconstitutional" by Attorney General Merrick Garland, and the Justice Department sued the state of Texas on 9 September.
The Texas law required private citizens to bring civil lawsuits against those who help women get an abortion after six weeks, allowing the claimants to receive at least $10,000 from those found guilty. Most damagingly, the lawsuits could also be filed against friends who drove a woman to a clinic, or those involved in the aftercare.
Planned Parenthood, an abortion rights advocacy group, said that today's injunction means that lawsuits filed against abortion providers cannot currently be accepted by Texas courts, effectively removing the law for the time being.
Planned Parenthood CEO Alexis McGill Johnson said in a statement: "The relief granted by the court today is overdue, and we are grateful that the Department of Justice moved quickly to seek it."
NOW: A federal judge has blocked enforcement of SB 8, Texas's 6-week abortion ban, and denied Texas's request to pause his ruling pending appeal.

"...this Court will not sanction one more day of this offensive deprivation of such an important right."https://t.co/GCf6MrFB7C pic.twitter.com/hTb7bd1sIG

— Zoe Tillman (@ZoeTillman) October 7, 2021
What's next for the Texas abortion law?
The Justice Department challenge had been pending in the courts for close to a month and the Texas Attorney General's office had already made clear that the state would appeal the decision if the injunction were granted.
Several Texas abortion clinics, that had previously been unable to provide the service for women more than six weeks pregnant, have announced that they can now resume.
A final decision on the matter is unlikely to come before the Supreme Court hears arguments from 1 December on a bid from the state of Mississippi to overturn Roe vs Wade, the landmark case which guarantees the right to an abortion in the United States.
In 1992 the Supreme Court ruled that abortion should be allowed before viability (the point at which a fetus could survive outside the womb, roughly 24 weeks) but Mississippi wants to drastically reduce that period. If their case is successful, it could pave the way for the Texas law to be made permanent.