NFL
NFLPA director DeMaurice Smith could be set to leave his job
After 12 years in the job Smith could be on his way out the door after a split vote.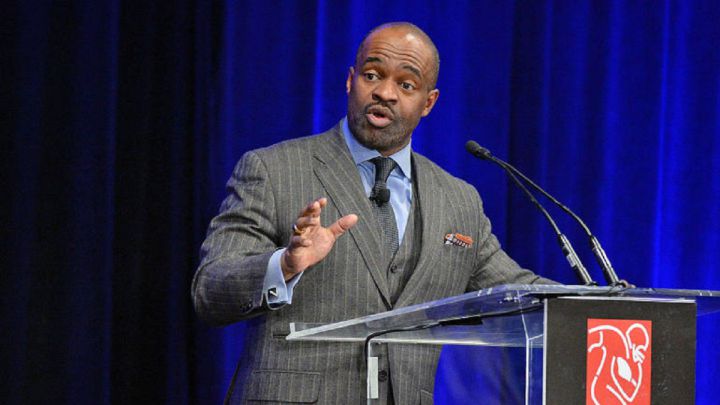 The Tenure of the NFL Players Association's head looks set to conclude.
NFLPA is split on the future of Demaurice Smith
Executive director of the NFL Player's Association, DeMaurice Smith may soon be out of the job according to ESPN. The news comes after the NFLPA's executive committee held a vote on Tuesday to establish whether or not Smith should continue in his post - which he has maintained for 12 years. In order to extend his contract he would have required a unanimous approval by the 14 member committee. The vote, however, ended in an even split 7-7.
NFLPA Selection Committee came within one vote of declaring executive director DeMaurice Smith's job "open"; he now needs two thirds of the player representatives to vote to keep him. https://t.co/B7sSsqfkpn

— ProFootballTalk (@ProFootballTalk) October 6, 2021
What happens to Smith now?
As a result Smith's future now hinges on the NFLPA's 32 team player representatives. They are now set to hold a conference call vote tentatively scheduled for 6 p.m. ET Friday. Should 22 of the 32 player reps vote to keep Smith in the job he would be permitted to negotiate a new contract and then continue. If, however, Smith is unable to register 22 votes, the post will become vacant thereby allowing candidates to run for it at the NFLPA's annual meeting in March 2022.
Why is the NFLPA dividied on Smith now?
Though Smith had enjoyed extensive backing from the executive committee over time, a growing number of members including Tampa Bay Buccaneers cornerback Richard Sherman, began to push back on issues like the Collective Bargaining Agreement(CBA). The sentiment being that it was mismanaged by Smith and union leadership negotiated it. There was indeed a collection of high profile players who believed the union failed to negotiate better terms of concessions from team owners.
For more from around the NFL
Without doubt the global pandemic has played a hand in the terms of negotiation. Smith himself along with the NFLPA leadership attempted to convince members that negotiating the CBA in the time of a pandemic would be extremely difficult if the previous one had already failed. Unfortunately for them the position was met with resistance which in turn has given way to outright dissatisfaction.
With that Smith now finds himself hanging in the balance, however, it may well be that he's indifferent about the fact.