Belgium 2-3 France summary: score, goals, highlights, UEFA Nations League semi-final
Belgium vs France: UEFA Nations League as it happened
Peeep peeep peeep! It's all over! France have turned it around in the second half, and have booked their place in the Nations League final.
What a brilliant, bonkers game. Having had their 2-0 half-time lead wiped out, Belgium went from thinking they'd snatched victory in the 89th minute, to losing the match 60 seconds later.
France, who have now beaten Belgium in five out of five finals-tournament meetings, face Spain for the Nations League trophy at the San Siro on Sunday evening.
Silverware eludes the Belgians once again. They'll play Italy in the third-place play-off earlier on Sunday.
That's all from me. Thanks for joining!
France make another substitution, Jordan Veretout replacing Benzema.
We're into the third of four minutes of added time. France have made a change, bringing on Léo Dubois for the last couple of minutes in place of Pavard.
And having almost scored through Pogba, France now have (probably) won it! Theo Hernández drills home to surely send Les Bleus through to Sunday's final!
Alderweireld gets a leg to Griezmann's ball into the Belgium box, but can only turn it straight to Theo, who's arriving like the proverbial express train. He takes a touch, steadies himself and fires across Courtois and into the corner! What a game this has been.
Having been spared by the linesman's flag, France march up the other end and win a free-kick in shooting territory for Pogba. He steps up and bends a beautiful effort over the wall... and off the corner of post and bar!
Belgium have a goal disallowed! Lukaku thinks he's snatched a probable winner when he turns Carrasco's fizzed left-wing cross past Lloris and into the corner... but replays show the Chelsea striker was offisde, and a VAR check duly deems likewise. What an action-packed game this has been.
Just wide from Mbappé! He plays a one-two with Benzema on the edge of the box before bending an effort towards Courtois' near post, but it flies just a couple of yards off target. A let-off for the Belgians.
Vanaken plays it into Lukaku with his back to goal, but he's dispossessed. France break, but Mbappé also loses it, his ball back to Pogba from the corner of the box failing to find its man.
Lukaku thrashes a shot high towards Lloris' goal, but the France keeper tips it over... and Lukaku was offside.
At the other end, Griezmann shoots high, but France immediately come back at the Belgians and win a corner. It comes to nought, but the French are looking much the likelier to win this.
Double save from Courtois! Pavard does very well to keep the ball on the right-hand side of the box, before laying it back to Griezmann to shoot from the top of the area. His effort is beaten out by the Belgium keeper, but the loose ball falls straight to Tchouameni. He tries to find the top corner, but again Courtois parries!
Both teams make substitutions. Belgium replace Eden Hazard with Leandro Trossard, before France bring Aurelien Tchouameni on for Rabiot.
There's a response from Belgium, though. Lukaku lets the ball run neatly to Hazard, who feeds it right for Castgane to charge forward. The Belgians finally work it back to Lukaku with his back to goal on the edge of the box, where he lays it back to De Bruyne to shoot - and force a fine save from Courtois!
It's all France now. Belgium are completely shellshocked.
Belgium boss Roberto Martínez responds by making a change, Hans Vanaken replacing Tielemans.
Mbappé takes, and Mbappé scores! He thrashes it high past Courtois and into the top corner. All square in Turin!
...and after watching the incident back on the pitchside monitor, the referee points to the spot! France have the chance to level!
France really have their tails up. Pogba's pass almost gets Benzema into a shooting position some 10 yards out, but he's muscled off it before he can pull the trigger.
A minute later, France are appealing for a penalty when Tielemans appears to bring Griezmann down in the area...
Immediately, France are back on the attack. First, Mbappé is released into space to run at the Belgians on the right, but his ball into the middle is headed clear. Moments later, Griezmann tries to bring a bouncing ball under his spell inside the area, but is run off it before he can get a shot away.
France pull one back! Benzema with it!
They have started to look more dangerous, to be fair to them, and Les Bleus are back in it. Mbappé does a stepover on the left before playing it into Benzema on the penalty spot.
The Real Madrid striker then turns away from Denayer and wraps his left foot around an angled shot that arrows past Courtois and into the far corner!
Griezmann plays it out to the left for Theo Hernández to cross, but he massively overhits his ball into the box and was blown up for offside anyway.
What a chance for Griezmann! That's the closest the French have come.
Mbappé shows Carrasco a clean pair of heels on the right, before advancing into the Belgium box and playing the ball across goal to Griezmann. He's only six yards or so out, but can only turn his shot past Courtois' near post. He seemed to knock the ball of his trailing leg as he shot. That's a major miss.
Carrasco is released into space to take on a backpedalling Koundé on the left-hand edge of the France box, but the defender does well not only to take the ball off Carrasco's toes, but also knock it off him and out for a goal-kick.
At one end, Castagne crosses from the right to Lukaku, who turns the ball towards goal but can't get enough on it, and it's easy for Lloris. Lukaku may have been offside anyway.
At the other, Griezmann chests down for Mbappé to shoot inside the box, but he can't quite connect and Courtois has no trouble grabbing hold of that one. The flag goes up, but on one viewing, the replay seems to suggest both Griezmann and Mbappé were on.
Again it's Pogba who gets an effort away, the Manchester United midfielder heading Griezmann's free-kick delivery a good couple of yards over Courtois' crossbar from six yards out. It was never a comfortable header for Pogba; he was stretching all the time.
France do create some danger - or, rather, they have it created for them. De Bruyne over-embellishes and manages only to pass it straight to Pogba, who doesn't need a second invitation to get the ball out of his feet and shoot from 30 yards. He pumps it well over the bar, though.
France keep the ball for the first couple of minutes of the second half, but create absolutely naff all in the way of danger, before losing it and allowing Courtois to boot the ball clear.
Peeeep! We're back up and running in Turin.
No changes for either side.
Peeep peep peeep! Roars from the Belgian fans accompany Daniel Siebert's whistle as he blows for half time. Their team is firmly in the driving seat.
Belgium look so, so confident now. France can scarcely get a sniff of the ball. Hazard gets it out of his feet and shoots low from 25 yards, but Lloris gets down to hold onto the Real Madrid man's effort.
At the other end, France finally create some sort of danger again when Koundé feeds a low through ball into the run of Mbappé, who sprints into the Belgium box but shoots into the side-netting from an acute angle. He was well marshalled by Denayer.
Lukaku makes it two! In the blink of an eye, Belgium have taken total charge of this semi-final.
De Bruyne feeds the ball to Lukaku, who lets it run between his legs, turns into the box and outpaces Lucas Hernández, before firing high into the net past Lloris, who is again beaten at his near post.
Belgium have France on the ropes now. Right from the kick-off, it's all Belgian ball once more, and...
And Carrasco makes the Belgians' recent pressure count!
De Bruyne slips the ball out wide to the Atlético Madrid man on the left, where he cuts inside Pavard and shoots towards the near post, completely wrong-footing Lloris. The goalkeeper can only watch the ball skid past him and into the near post.
1-0 to Belgium!
For the first time tonight, I think, Belgium are properly pinning France back in their half. The French haven't crossed the halfway line for a good couple of two or three minutes.
France look like they may have a chance to get out when Lukaku tries to turn and shoot on the corner of the box and overcooks his control, but the Belgians win it right back.
That's a huge challenge by Koundé. Hazard exchanges passes with Lukaku before scampering into the France box to collect the return. Had he been able to get his shot away, it was probably 1-0. However, Koundé was there at the very last moment to nick the ball away from the forward.
Mbappé France's youngest half-centurion
Kylian Mbappé is the youngest ever player to reach 50 caps for France. At 22 years and 291 days, he's absolutely smashed the record previously held by Karim Benzema, who was nearly two years older than him when he brought up his half-century for Les Bleus.
France tap it about for a good minute or so in front of a wall of red shirts on the edge of the Belgium box, but there's no way through. Hazard leads a Belgian break before cutting it back for Witsel some 25 yards out, but he loses it to Benzema.
De Bruyne plays it square to Hazard, who helps it on to Lukaku on the edge of the France box. The striker tries to turn and shoot, but finds his way to goal blocked by Varane.
France come forward and set up Mbappé to shoot with neat link-up play by Benzema, Pavard and Griezmann, but his strike is too close to Courtois and doesn't have enough on it.
Pogba elicits purrs of approval when he produces a velvety smooth change of feet to hoodwink Witsel just outside the France box.
It's been an intense first 20 minutes.
Surrounded by a delegation of red shirts in the Belgian box, Mbappé tries to wriggle his way free to shoot, but doesn't succeed. Moments later, Belgium look to break at pace, but Theo Hernández does well to outmuscle Castagne before being fouled by the Leicester man.
Pogba clips a lovely little ball in behind Denayer for Benzema to collect and advance into the box to shoot, but Denayer recovers to block the Real Madrid man's effort. The flag goes up against Benzema, but replays suggest he may have been on.
At the other end, De Bruyne shoots over from 25 yards or so out.
Lukaku lays it off on the edge of the box for De Bruyne, whose shot is deflected wide for a Belgium corner.
De Bruyne it is who delivers, but Vertonghen's nod-down towards Lukaku is cleared. It's been a thoroughly entertaining opening.
By the way, Theo and Lucas Hernández are the first brothers to start together for the France men's national team since 1974, I'm hearing.
And still it's all-action stuff. At one end, Lukaku leads a quick Belgium break, thundering towards the France box before running into trouble and losing it when he perhaps ought to have looked for De Bruyne.
At the other end, Mbappé whips a cross towards the back post from the left. Benjamin Pavard manages to connect with a backflick of sorts, but it's too close to Courtois, who grabs hold.
It's a lively, ding-dong start in Turin. France bite right back at Belgium, slipping Mbappé into the box for the striker to round Thibaut Courtois and, from pretty much on the byline, backheel it back towards Griezmann, who's waiting for a tap-in. Belgium scramble it clear, though.
What a save by Hugo Lloris! Kevin de Bruyne should really have given Belgium an early lead.
Romelu Lukaku charges into crossing space on the right, but his low cross is straight at Jules Koundé. However, the Sevilla defender makes a complete hash of his clearance, succeeding only in teeing De Bruyne up for a shot from about eight yards out. Somehow, though, Lloris gets down to palm De Bruyne's strike wide.
France look to release Kylian Mbappé down the right-hand side, but Yannick Carrasco is there to disabuse the Paris Saint-Germain man of any notions he might have had of making a bee line for the area.
Peeep! German referee Daniel Siebert gets us underway in Turin. Belgium all in red, France all in white.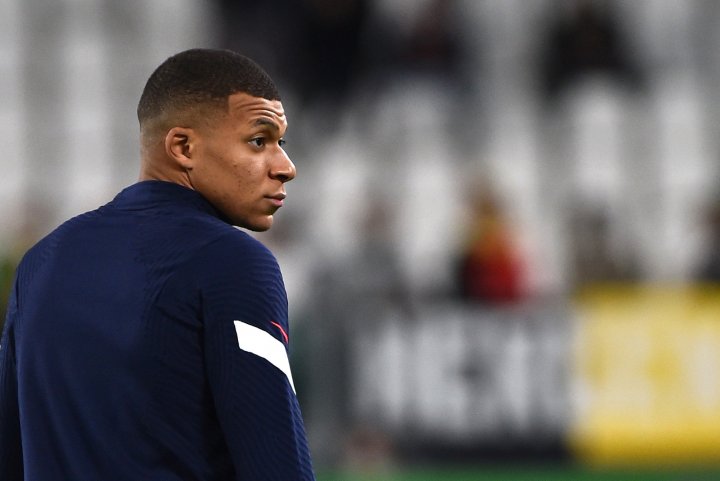 Mbappé reaches half century
By the way, Kylian Mbappé wins his 50th cap for France tonight. Fairly decent haul, you'd have to say, given that he's still only 22. Seventeen goals and one World Cup for the striker so far in his international career.
(Photo: REUTERS/Massimo Pinca)
Out come the teams!
The teams are out at the Allianz Stadium, and it's anthems time. France first.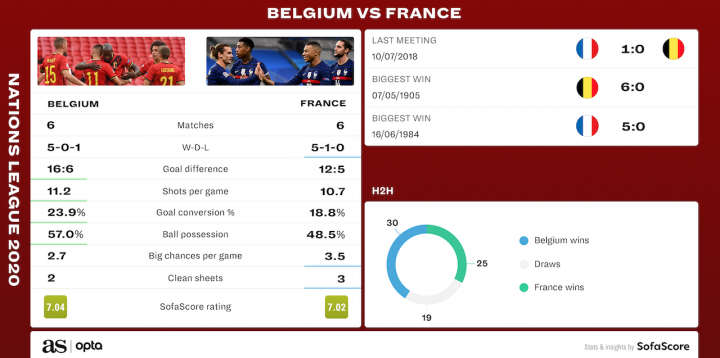 Belgium and France head to head
Here, courtesy of our colleagues at SofaScore, is an at-a-glance look at how Belgium and France have fared against one another over the years.
This will be the teams' fifth meeting at a tournament finals - and France very much hold the upper hand so far. Les Bleus have won all four of the sides' previous finals clashes.
"Pogback"
France midfielder Paul Pogba returns to what was his home stadium during a successful, four-year spell at Serie A giants Juventus. The 28-year-old won four league titles and two Coppa Italias in his time with the Bianconeri.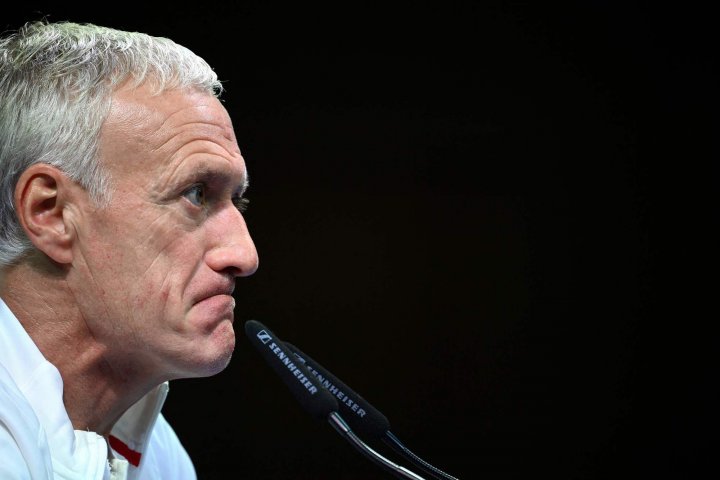 The form guide: France
France, who reached the finals in Italy after winning Nations League Group A3 ahead of holders Portugal, Croatia and Sweden, have won just one game in their last six since beating Germany in their Euro 2020 opener in June.
That run, of course, includes their shock last-16 exit from the Euros at the hands of Switzerland.
In September, Didier Deschamps' men twice dropped points in World Cup qualification when they were held to 1-1 draws by Ukraine and Bosnia and Herzegovina, before seeing off Finland last time out with a double by Antoine Griezmann.
Nonetheless, Les Bleus are clear at the top of their qualifying group - seven points, to be exact - although, as is the case in Belgium's section, they have played more games than their nearest challengers, Ukraine and Finland.
(Photo by FRANCK FIFE / AFP)
The form guide: Belgium
Belgium, who qualified for the Nations League finals after topping Group A2 ahead of Denmark, England and Iceland, have won eight of their last nine games.
Their sole defeat in that time is their 2-1 loss to Italy in the Euro 2020 quarter-finals, as this dashed talented crop of players once again missed out on one of the big prizes.
The Nations League doesn't quite qualify as one of those - at least not yet - but it is nonetheless an opportunity for this 'golden generation' to get their hands on at least some sort of silverware.
Roberto Martínez's side sit nine points clear at the top of World Cup 2022 qualifying Group E, although they have played more games than Czech Republic and Wales, who are level on points in second and third, respectively.
Incidentally, Martínez can this evening equal the record for the most wins as Belgium coach. He's one off Guy Thys' haul of 51 victories in two stints as Belgian boss, from 1976 to 1989 and from 1990 to 1991.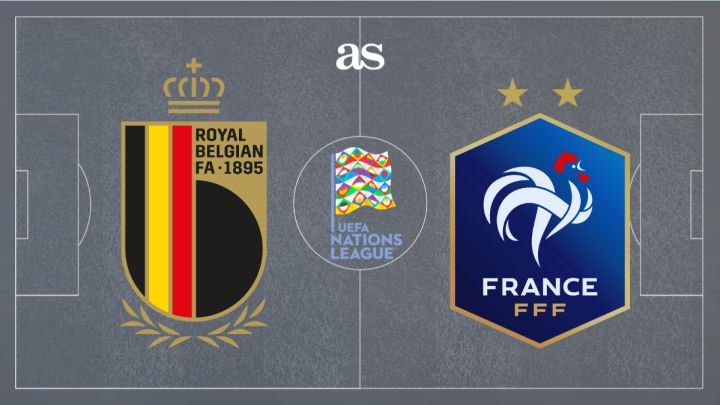 Back threes all round in Turin
Belgium beat Belarus with what was very much a second-string line-up in their most recent game, but - as one would rather expect - their big guns are back for this evening's showdown with France.
Toby Alderweireld, Jason Denayer and Youri Tielemans are the only survivors from the Diables Rouges' 1-0 World Cup qualifying win in Kazan in September.
As for France, Jules Koundé, Benjamin Pavard, Lucas Hernández and Kylian Mbappé return to Didier Deschamps' starting XI after missing Les Bleus' last match, a 2-0 World Cup qualifying victory over Finland.
Belgium line up in their customary 3-4-3, while France look like they're repeating the 3-4-1-2 formation from the Finland win, with Antoine Griezmann in the hole behind Kylian Mbappé and Karim Benzema. Tasty.
France team news
Starting line-up: Lloris, Koundé, Varane, L Hernández, Pavard, Pogba, Rabiot, T Hernández, Griezmann, Mbappé, Benzema
Belgium team news
Starting line-up: Courtois, Alderweireld, Denayer, Vertonghen, Castagne, Witsel, Tielemans, Carrasco, De Bruyne, Lukaku, E Hazard
Belgium vs France: preamble
Hello! Welcome to our live coverage of the second semi-final of the UEFA Nations League, as Belgium and world champions France duke it out for the right to take on Spain in Sunday's final in Milan.
The Spaniards ended Italy's 37-game unbeaten run on Wednesday, Ferran Torres' double proving enough for Luis Enrique's men to beat Italians at the San Siro, in what was the Azzurri's first competitive home defeat since 1999.
In Turin tonight, Roberto Martínez's Belgium will be after revenge for their defeat to France in the World Cup semi-finals three years ago - the last time these two teams met.
Anyway, the line-ups have been announced at the Allianz Stadium, so let's take a look at them.