NFL
Why is the Falcons-Jets played in London, UK? Times, TV, and how to stream
The Atlanta Falcons and New York Jets will square off at the Tottenham Hotspur Stadium in London on 10 October in Week 5 of the 2021 NFL regular season.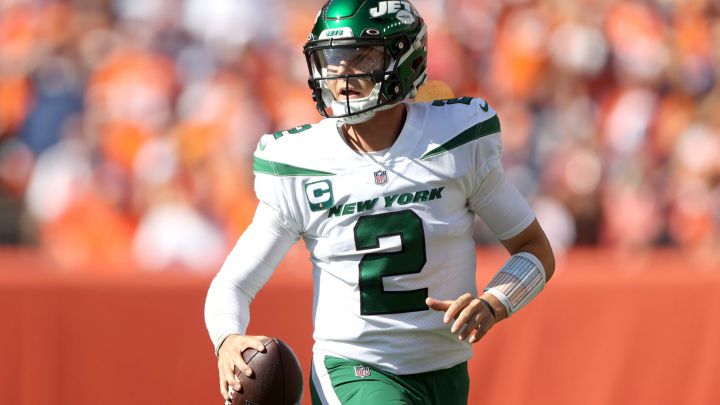 After a two-year hiatus due to the coronavirus, the NFL returns to London with the meeting of the New York Jets and Atlanta Falcons this Sunday, 10 October at the Tottenham Hotspur Stadium.
Both teams go into the game with a 1-3 record, with the Jets finally snapping a three-game winless streak against the Tennessee Titans last week. Rookie QB Zach Wilson finally showed Jets fans why he was chosen as the second overall pick in the 2021 draft, with the 22-year-old clocking 297 yards for 2 touchdowns, 1 interception and a 97.3 rate.
Falcons have already beaten New York opposition with their sole victory so far this season against the Giants in Week 3, which came before their 34-30 defeat at home to Washington last Sunday. Despite the loss, the Falcons can take heart from Matt Ryan's performance. The veteran QB made 283 yards for four touchdowns, 6.7 YPA and boasted an impressive 111.5 rate.
Twenty-two year old Wilson versus 36-year-old Ryan has all the makings of a mouthwatering showdown across the pond, with eight of the ten NFL expert picks calling this one for the Falcons.
Why is the Falcons-Jets game in London?
London began hosting regular season NFL games in 2007 and to date 28 games have been played in the English capital, 23 at Wembley Stadium, four at Twickenham Stadium and one at Tottenham Stadium, which hosted its first NFL game in 2019. Since 2007, 31 out of the 32 NFL teams have played a regular season game in London.
Tottenham Hotspur Stadium is the first purpose-built NFL stadium outside of the US and will host both games this season: the Falcons-Jets on 10 October, followed by the meeting of the Jacksonville Jaguars and Miami Dolphins on 17 October. This will be both the Jets and Falcon's second-ever game in London, with both teams having played in the English capital just once before.
What time does the Jets-Falcons game start?
The Jets Falcons game gets underway on the 10 October at 9.30am ET / 6.30am PT at the Tottenham Hotspur stadium in London, UK.
United Kingdom: 2.30pm
Central Europe: 3.30pm
Falcon-Jets: how to watch in the US
NFL Network will air the Falcon-Jets games in the United States. In New York the game can also be seen on NBC, while WSBTV2 will broadcast the game in Atlanta.
You can stream the game using the fuboTV app. Start you seven-day free trial here.
NFL Game pass
Outside the US, you can watch your chosen games live (or later tune in for delayed coverage) via the NFL's Game Pro Pass in a considerable number of territories. Check out the various available plans here.