Brady gives update on injury after leading Bucs with five TD passes
Tampa Bay Buccaneers quarterback Tom Brady had his right hand wrapped as he fronted the media following Sunday's win over the Miami Dolphins.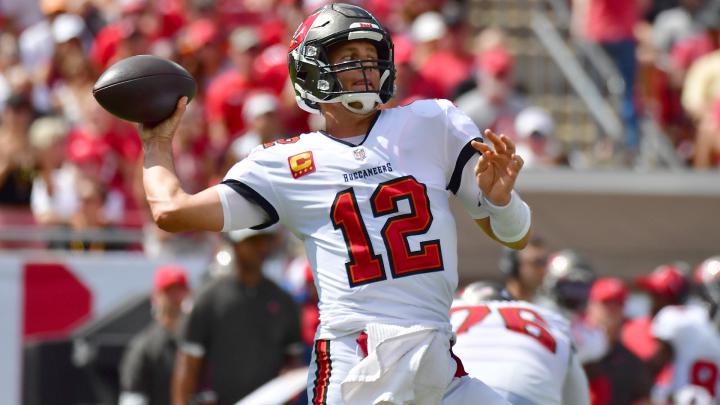 Tampa Bay Buccaneers superstar Tom Brady was non-committal on his playing status after suffering a hand injury in his five-touchdown performance against the Miami Dolphins.
Brady threw five TD passes to fuel Super Bowl champions the Buccaneers' 45-17 rout of the Dolphins in Week 5 of the NFL season on Sunday.
The 44-year-old was 30-of-41 passing for 411 yards without throwing an interception against the struggling Dolphins (1-4) in Tampa, where the Bucs improved to 4-1.
Among Brady's touchdown passes was a 62-yard TD throw to Antonio Brown – the longest pass TD he has completed with the Buccaneers, while it was the seven-time Super Bowl champion's 25th career pass TD of 60-plus yards, which is tied for ninth-most in NFL history.
But afterwards, Brady was seen with his right hand bandaged as the Bucs quarterback provided an update on his injury.
Brady: "It's just a kind of a football injury"
"Yeah in my younger days I probably [would have] never showed you guys that I wrapped it up, because I'd probably try to keep it a secret, but I think in my old age I don't care as much," Brady told reporters post-game, with the Bucs due to meet the Philadelphia Eagles on Thursday.
"I mean it's just a kind of a football injury. So, do my best you know to get ready for this game. We'll see what happens."
In the win, Bucs wide receiver Brown became the fastest NFL player to 900 receptions in just his 143rd career game, eclipsing Hall of Famer Marvin Harrison (149 games).
Brown – a seven-time Pro Bowler and four-time first-team All-Pro – finished with two touchdowns from 124 yards on seven receptions against the Dolphins.
Brown: "I take so much inspiration from Tom"
"I take so much inspiration from Tom. As a professional, as a leader, making sure that I'm doing my job, making sure that all the other 10 guys are doing their job," said Brown, who played alongside Ben Roethlisberger at the Pittsburgh Steelers.
"He just continues to up the standard and raise the bar."
Brown, 33, added: "I've played with some great quarterbacks. Roethlisberger. Tom Brady. It's a blessing."
Brady, who played alongside Brown briefly at the New England Patriots before reuniting in Tampa last season, said: "It's pretty amazing. Just give him a lot of credit.
"He's been through a lot and he's shown a lot of mental toughness, a lot of resilience. Everyone just wants him to succeed.
"We've got a unique group of guys. Very talented, but very selfless too. All those guys are getting opportunities to make plays, and just fun to see when everyone's involved how fun it can be."