NFL
Fantasy Football start 'ems and sit 'ems: Week six
Week six in the NFL and fantasy is getting easier to navigate. This is the first bye week so make sure you've set your lineup before the games begin.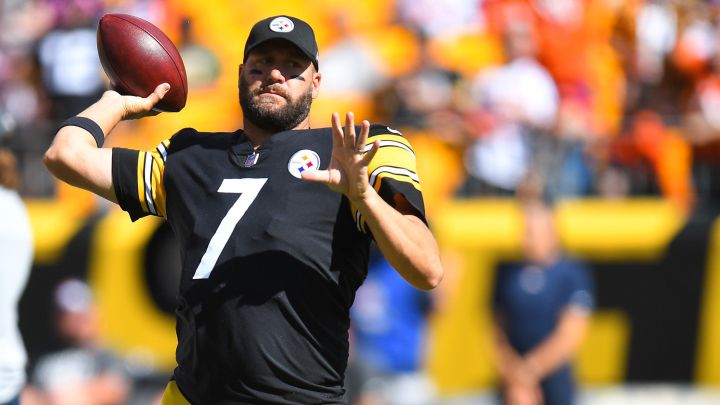 This week brings us to the sixth of the season in the NFL. By now, there have been surprises, injuries, and dashed dreams in the fantasy football world. This week makes the first bye week of the season, so it's important to check your line-up and make sure you're prepared for it.
Teams on bye this week:
Atlanta Falcons
New Orleans Saints
San Francisco 49ers
New York Jets
Injury update:
Saquon Barkley (RB, Giants): out with a sprained ankle; likely to miss at least a week, possibly more.
Kenny Golladay (WR, Giants): knee injury; on a week-to-week basis
Daniel Jones (QB, Giants): On the concussion protocol
Russel Wilson (QB, Seahawks): had surgery on finger; likely out 1-2 months
Chris Carson (RB, Seahawks): Neck issue; caused him to miss week 5, return is questionable
Juju Smith-Schuster (WR, Steelers): shoulder injury; out for the season
Clyde Edwards-Helaire (RB, Chiefs): knee injury; out a few weeks
George Kittle (TE, 49ers): was placed on IR; out for at least 3 weeks
Dalvin Cook (RB, Vikings): still dealing with ankle injury; return is questionable
Damien Harris (RB, Patriots): chest injury and listed as Questionable, but seems to be okay
Sammy Watkins (WR, Ravens): hamstring issue, left game week 5; return is questionable
Taysom Hill (QB, Saints - on bye this week): suffered a concussion in week 5
For other uncertainties, we're here to help. Here are our top five fantasy football starts and sits at QB, RB, WR, and TE for week six in the NFL.
Quarterback start 'ems:
Trevor Lawrence (Jaguars) vs Dolphins (in London)
The Dolphins defense has been struggling and allowed five TD passes from Tom Brady last week. Though the Jaguars offense is unreliable, Lawrence has been putting up decent numbers and I think he'll do it again in London.
Jared Goff (Lions) vs Bengals
As inconsistent as he's been, Goff is a risky start. He saw his absolute worst performance last week. But the Bengals should provide him with the necessary holes to throw some of those passing TDs we've seen when he's on one of his "ups".
Joe Burrow (Bengals) at Lions
Yes, I'm promoting both QBs in this game, though I expect Burrow to be a safer choice. Always start a QB against the Lions. And Burrow is putting up lots of yards and TDs in his games. If you're worried about his status as Questionable, I wouldn't. He rejoined the team Monday and it's expected he'll play.
Teddy Bridgewater (Broncos) vs Raiders
Bridgewater is looking good after returning from a concussion. He put up 288 passing yards and two TDs against the Steelers, and he'll be up against an unintimidating Raiders defense in week six.
Baker Mayfield (Browns) vs Cardinals
Mayfield had his best game yet last week with 305 passing yards and two TDs. They will take on the undefeated Cardinals in week six as Mayfield attempts to keep up with Kyler Murray and I like his odds.
Quarterback sit 'ems:
Ben Roethlisberger (Steelers) vs Seahawks
Do the Seahawks defense love to give QBs lots of points? Yes. Do I trust Big Ben to take advantage of that? No. No, I do not. In his BEST game so far last week, he only squeezed out 16 fantasy points. He's lost his receiver JuJu Smith-Schuster. All-in-all, I do not like his odds, even against Seattle's defense.
Tua Tagovailoa (Dolphins) at Jacksonville (in London)
He has been reported to be returning from IR after suffering a ribs injury, BUT I don't see him being at his full capacity nor have I been super impressed by him in general. Jacoby Brissett could be argued for, but Tua I'd keep on the bench.
Sam Darnold (Panthers) vs Vikings
After putting up big numbers against the Cowboys, Darnold then had his worst performance as a Panther against the Eagles, throwing a whopping three interceptions. It's also possible we may see Christian McCaffrey return this week, which means more running for him and less points for Darnold.
Derek Carr (Raiders) vs Broncos
He was off to a hot start, but hasn't looked the same in the last two games. In last week's game against the Bears, he didn't even connect for more than 56 yards with any of his receivers. He'll be on the road this week to take on the Broncos and I would keep him on the bench for that one.
Ryan Tannehill (Titans) vs Bills
I don't like Tannehill against the Bills defense, which has been leading the league and giving up very few offensive TDs. Tannehill's receivers were coming off injuries, so they may have a better week this week, but against the Bills, I wouldn't risk it.
Running back start 'ems:
Myles Gaskin (Dolphins) at Jaguars (in London)
The Jaguars have yet to win a game and last week, Gaskin proved himself to be the primary choice in the backfield. He found the endzone twice in the game against Tampa Bay and his versatility as a rusher and receiver makes him even more valuable.
Zach Moss (Bills) at Titans
Though he hasn't been putting up huge numbers or anything, he does seem to be getting more touches than Singletary and has the advantage as far as TDs. The Bills should be able to get the ball going on the ground for Moss.
Chase Edmonds (Cardinals) at Browns
Edmonds is a big player in the Cardinals offense and he should get plenty of opportunities against the Browns defense. His usage in the passing game is 16.5% target share and number two on the team. He's a must-start.
Leonard Fournette (Buccaneers) at Eagles
Fournette had a huge game last week, rushing 12 times for 67 yards and a TD plus 4/5 receiving for 43 more yards. He's also seeing tons of play time lately. This week, the Bucks take on the Eagles, who have allowed 26.92 points on average to RBs. Definitely start Fournette.
Latavius Murray (Ravens) vs Chargers
The Chargers are vulnerable against the run, giving Murray a big advantage to show his potential and even make a TD or two. Seems like he could've made one last week if not for the Lamar Jackson fumble.
Running back sit 'ems:
Alex Collins (Seahawks) at Steelers
Considering Chris Carson's weird neck issue, it looks like Collins will be the Seattle starter again, so I would stay away. The Steelers know how to defend against the run, they haven't allowed a RB to score a single TD yet, and Collins did little to impress on the running front against the Rams in week five.
Miles Sanders (Eagles) vs Buccaneers
This guy has yet to score a TD all season long. He has just 20 carries TOTAL in his last three games. With an average of 10.1 points a game, he's not doing anything worth talking about and the Buccaneers are who will shut down the run immediately.
Jamaal Williams (Lions) vs Bengals
It's not that he's bad. It's that Deandre Swift is good and is seeing most of the action for the Lions. With the two backs splitting time, he really can't be trusted as a starter.
Tony Pollard (Cowboys) at Patriots
Similar issue here as with Williams. Pollard is good, but Zeke is the one getting the majority of the carries and TDs. Against the Patriots, the Cowboys are likely to lean on their more reliable RB.
James Conner (Cardinals) at Browns
The Cardinals run game isn't getting anywhere fast with as much as Kyler Murray likes to throw. Conner is also splitting the role in the backfield with Edmons. He could see more carries than him, but in general, I expect neither will see many.
Wide receiver start 'ems:
Devonta Smith (Eagles) vs Buccaneers
Smith has proven to be Jalen Hurts' favourite option in the passing game. He is leading the team in targets, receptions, and receiving yards. The Bucs are number 31 in points allowed to WRs and most of their opponents are choosing to throw against them.
Courtland Sutton (Broncos) vs Raiders
Sutton was a good choice last week when he had 7/11 receptions for 120 yards and a TD, the connection between he and QB Teddy Bridgewater looking strong. I think the Raiders will have a hard time stopping him.
Brandin Cooks (Texans) at Colts
The Colts secondary isn't looking so great, and Cooks remains the top targeted WR. Though his game week 5 against the Patriots saw his lowest targets and yards so far, he's still been targeted 28 more times than the second-most targeted player, RB David Johnson.
Tee Higgins (Bengals) at Lions
Thanks to Higgins, the week 5 game against the Packers came to a tie. Though they ended up with a loss, it was Higgins who gave them a shot with his 2-point conversion success in the fourth quarter. He also caught 5/7 targets for 32 yards. I like him against the Lions.
Michael Pittman Jr. (Colts) vs Texans
Pittman was already high in the league for targets before week 5, but then last week he finally broke his no-TD streak in the game against the Ravens. The game against the Texans should be in the Colts' favor and considering Pittman's caught at least six passes in four straight games and gained over 85 yards twice now, I'd start him.
Wide receiver sit 'ems:
Jaylen Waddle (Dolphins) vs Jacksonville (in London)
He was behind both RB Myles Gaskin and WR DeVante Parker in targets and he really didn't perform on the targets he was given last week either. Thanks to him, the Dolphins saw an interception in the fourth quarter against the Bucs. No matter the QB, keep this one on the bench.
Henry Ruggs III (Raiders) at Broncos
Ruggs' production on receiving yards has been steadily declining over the last few games. I wouldn't risk waiting on him to have another explosive game with the way he's trending.
Darnell Mooney (Bears) vs Green Bay
Mooney hasn't had the connection with Justin Fields that we maybe expected. Fields only threw 20 passes against the Raiders in week five and thus, Mooney was unable to do much. He's able to catch, yes, but he is inconsistent as a fantasy start.
Curtis Samuel (Washington) vs Chiefs
Samuel's groin injury is not to be trusted. He was out in the beginning of the year, back in for a few games, and then taken out in the middle of the game week five. Avoiding a serious injury and taking a cautious approach does not a good fantasy starter make.
Odell Beckham Jr. (Browns) vs Cardinals
In week five's game against the Chargers, Beckham was only targeted three times with two catches and 30 yards. Since he's been back from his ACL injury, he has not seen the end zone once. The Cardinals do happen to be number 25 against WRs, but Beckham is still not a reliable start with Chubb and Hunt on the field.
Tight end start 'ems:
Jared Cook (Chargers) at Ravens
The Ravens are currently the worst defense against TEs, so that's in Cook's favor. Though he's been lacking in the TD department, he's seeing loads of snaps and more than 5 targets per game with an average of 3.4 receptions and 42 yards. TEs aren't typically where you get huge points, so all things considered, that's a pretty good fantasy starter.
Mike Gesicki (Dolphins) at Jaguars (in London)
The Jaguars will have a difficult time covering Gesicki, so no matter who's in at QB, his odds are good. He has been targeted at least six times in the last three games.
Tyler Higbee (Rams) at Giants
The Rams are up against a Giants defense that is sorely missing players on defense. Higbee should have no problem finding the end zone. In the last five games, he has had six red-zone targets. He may not always put up huge numbers, but he's a reliable, consistent starter.
Hunter Henry (Patriots) vs Dallas
Now that Henry is being used, he's performing. He had his best game as a Patriot in week five against the Texans with six receptions on eight targets for 75 yards and a TD. Though the Patriots have other targets, Henry has shown his potential to perform when targeted,
Zach Ertz (Eagles) vs Buccaneers
Ertz should see more playing time with fellow TE Dallas Goedert out on the Covid 19 list. The Bucs secondary is chalk-full of injuries, including Lavonte David, Ertz should be a lot more involved in week six.
Tight end sit 'ems:
Jonnu Smith (Patriots) vs Cowboys
Bet the Patriots are kicking themselves for what they spent on this guy and bet fantasy owners are, too, for trusting him to do more than just block. At this point, just drop him from your team altogether. He's had four weeks in a row of less than 30 receiving yards, not doing your fantasy team any more favours than he's doing for the Pats.
Dalton Smith (Cowboys) at Patriots
Dalton Smith is good and he's secured the starting TE position. BUT…he has a tough matchup against the Patriots in week six, and they know how to cover at TE. I don't like his odds this week.
Robert Tonyan (Packers) at Bears
Tonyan has been limited to eight or fewer receiving yards in four out of five games. On top of that, the Bears linebackers and safeties have only allowed one TD to TEs this season, and have stopped the likes of Darren Waller and T.J. Hockenson. They will walk all over Tonyan.
Tyler Conklin (Vikings) at Panthers
He is inconsistent and unreliable. He's had a season low in targets and that will continue to limit his production.
Dan Arnold (Jaguars) vs Dolphins (in London)
Arnold has been underwhelming from the start. He is seeing lots of targets, but he's really not doing much with them, before or after being traded from the Panthers.