REAL MADRID
Mbappé will not continue at PSG - not for all the money in the world
Real Madrid are calm with the situation involving Mbappé . Sources consulted by AS assure, "Mbappé has made his decision. He wants to triumph at Madrid".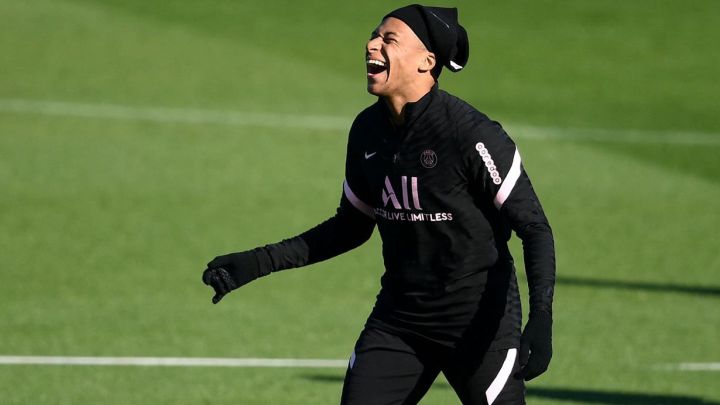 The mood at Real Madrid this week is calm and there is no feeling of panic or worry about Kylian Mbappé - in spite of reports in today's Le Parisien, a newspaper with close ties to PSG, claiming that the club aims to raise 171 million euros through a capital increase as a way of covering their losses built up during the Covid-19 crisis... and also to simultaneously generate funds to persuade Mbappé to stay. But Madrid sources consulted by AS today assure that, "Mbappé has made his decision and money doesn't come into it. He won't renew with PSG for all the money in the world. He made his decision an while ago and nothing will change it. He wants to triumph at Real Madrid and he will. All he needs to do is wait until 30 June to see his dream come true..."
Le Parisien assess the possibility that PSG would be able to improve the offer they made to Mbappé to renew his contract (which will run out in 2022). They could offer him a net salary of 50 million euros a year, which would take him past Messi (and Neymar, who is on 37 million), making him by far the best-paid player on the planet. But Kylian has other ideas - which are not based on money. He wants to feel valued and win trophies. At PSG, he is third in the pecking order both in the squad and at the club, behind Messi and Neymar, and so a pay rise won't make him any happier, when he knows that his status with Pochettino will never change. The Argentine coach openly admitted just a few weeks ago that Messi, Di María and Neymar form a nucleus - which encompasses friendship, closeness and understanding on and off the pitch, and that Mbappé needs to adapt to them for the team's benefit. Those comments were not received well by the striker, who cannot comprehend how he has been given the brush-off ever since Messi came to Paris.
But in reality, his comments and those made recently by his mother are part of a strategy to allow Mbappé to see out the remaining months of his time at PSG peacefully and without causing any resentment from the club's fans - especuially the ultras who jeered him during the team's presentation at Parc des Princes in the summer. That day, the final emotional link between player and club was severed. He knows exactly where he is heading next - with or without PSG's capital increase....