NFL

NFL's Jeff Pash and WFT's Bruce Allen implicated in email investigation
The NFL investigation into WFT's work environment has now implicated 
Jeff Pash and WFT's Bruce Allen after investigators reviewed more than 650,000 emails.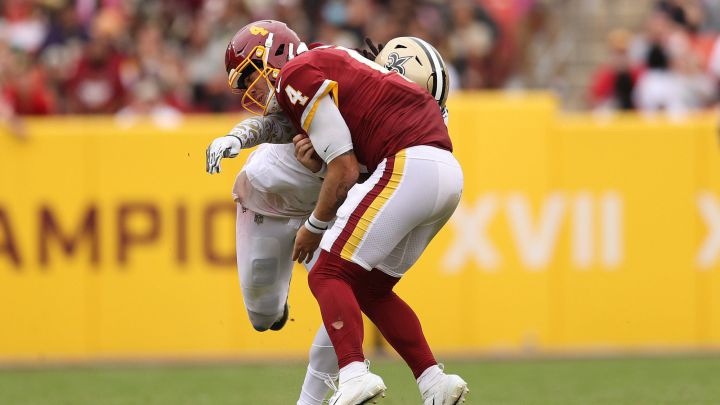 As the fallout from the NFL's investigation of WFT's work environment continues, there are more questions to be answered.

Were NFL's Jeff Pash and former WFT's Bruce Allen too close?


There has been yet another twist in the email saga involving Washington Football Team. According to emails reviewed during the NFL's investigation into workplace misconduct, NFL general counsel
 Jeff Pash and former Washington Football Team executive Bruce Allen had a close relationship as reported by The New York Times and Wall Street Journal on Wednesday night. This is the latest
 revelation related to the trove of some 650,000 emails collected in the NFL's investigation.
Most recently, the information contained in some of the emails implicated Las Vegas Raiders' manager Jon Gruden, leading to his resignation.
 Gruden was seen to have used misogynistic and anti-gay language in various correspondences. In addition, he made a racist comment when referring to NFL Players Association executive director 
DeMaurice Smith. The NFLPA has since requested that the NFL release the entirety of the 650,000 emails from the investigation.
Breaking News: Jeff Pash, the NFL's top lawyer, had a cozy relationship with a longtime president of the troubled Washington Football Team, emails show. Pash and the executive brokered penalties, discussed a cheerleading scandal and arranged perks. https://t.co/BYAuScv3FJ

— The New York Times (@nytimes) October 15, 2021
Did the NFL give WFT assurances?
In the correspondence between Pash and Allen, it appears as though Pash is reassuring Allen regarding the controversy surrounding the Washington club. In one specific exchange in 2013, Pash told Allen that Washington won't have to face a fine for manipulating their injury report. At the time Allen's appeal was initially denied only to be overruled by Pash who stated that they did not have 
to pay a fine "or any other amount with respect to this matter and you should consider the fine to be rescinded in its entirety."
Further to that, there was also correspondence about a sexual harassment scenario involving WFT's cheerleaders. Pash again reassured Allen that Washington would face no issue as he was certain
 of Allen's ability to handle the situation.
Jon Gruden, Democrats and Racism
According to emails seized by the NFL, there were multiple exchanges between Gruden and Allen as well as various other individuals. In these messages, there were photos of semi-nude women,
 two of Washington's cheerleaders. There was also an exchange from in 2016, regarding Jocelyn Moore who is Black. Moore was appointed the NFL's top lobbyist having worked with top Democrats.
Jeff Pash, who serves as the NFL's general counsel and is one of Roger Goodell's most trusted advisers, frequently communicated with former Washington Football Team executive Bruce Allen, according to the New York Times. https://t.co/c4vGkXdeY3

— USA TODAY Sports (@usatodaysports) October 15, 2021
The emails continued with Allen at one point referring to the NFL's rule that requires teams to give equal consideration to minority candidates for head coaching and general manager positions.
"We have the Rooney rule .... So I'm going to propose a Lincoln Rule at the next meeting."

NFL's Jeff Pash and WFT's Bruce Allen were implicated in the email investigation
The NFL must review
The NFL has since denied that there was any culpability in the exchanges between Pash and Allen.
"Communication between league office employees and club executives occurs on a daily basis, Jeff Pash is a respected and high-character NFL executive. Any effort to portray these emails as
inappropriate is either misleading or patently false."
Officially the NFL concluded its investigation in July. In the aftermath, WFT was fined $10 million and senior staff was forced to participate in workplace conduct training.