NFL
Browns QB Mayfield dislocates shoulder again but expects to play Thursday
Cleveland Browns quarterback Baker Mayfield had his shoulder pop out twice in a loss to the Arizona Cardinals but expects to play Thursday.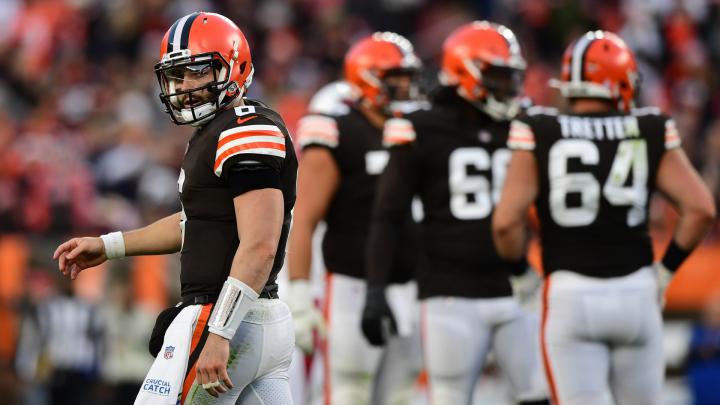 Baker Mayfield's troublesome left shoulder popped out of joint twice during the Cleveland Browns' 37-14 NFL loss to the Arizona Cardinals on Sunday, but the quarterback "absolutely" expects to face the Denver Broncos in Week 7.
Mayfield initially injured his non-throwing shoulder against the Houston Texans on 19 September, suffering a partially torn labrum, and the Browns star has worn a brace in subsequent games. That extra protection could not save him when Arizona's J.J. Watt hauled him to the ground in the third quarter, forcing a fumble and leaving Mayfield on the ground in pain. But Mayfield returned to the game when the Browns got the ball back and finished 19-of-28 passing for 234 yards with two touchdowns and an interception.
Case Keenum finished the game at quarterback for Cleveland once the score got out of hand, but Mayfield said he was confident he would be cleared to play the Broncos on Thursday, despite meeting the media with his left arm in a sling. "It feels like s***," he said of his shoulder, adding: "It dislocated again [on the Watt sack] and then slipped out again on a non-contact play, so just got to figure out a way to get better."
"One of those days" - Mayfield
Mayfield was sacked five times as the Browns played without their usual starting tackles Jedrick Wills Jr. and Jack Conklin. "It was just one of those days," Mayfield said. "We couldn't get things going, they had a good plan for us and we got punched in the mouth."
Mayfield and the Browns will have to recover quickly as they face what has become a critical game against the Broncos. Cleveland entered the year fancied as possible Super Bowl contenders and suffered a tough season-opening loss to reigning AFC champions the Kansas City Chiefs before reeling off three straight wins.
The Browns now sit at 3-3 after a wild loss to the Los Angeles Chargers in Week 5 and Sunday's blow-out defeat. "We're going to see what we're made of," Mayfield said. "Our backs are against the wall. I like our chances."