NBA
Los Angeles Lakers 21/22: roster, new signings, cuts and trades
As they prepare for the new campaign the Lakers saw a lot of movement in the off season including some massive names.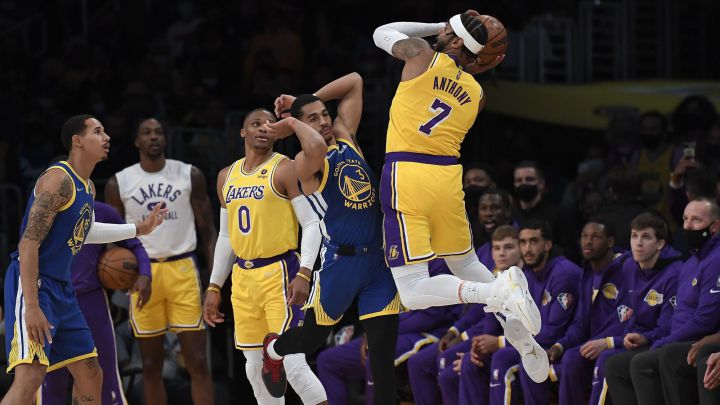 The Lakers saw a lot of roster movement this year. Let's take a look at who came in and who went out.
A look at the roster of the Los Angeles Lakers
The Los Angeles Lakers have requested waivers on Joel Ayayi, Chaundee Brown Jr., Cameron Oliver and Trevelin Queen. The Lakers roster stands at 15, including one two-way player.

— Los Angeles Lakers (@Lakers) October 15, 2021
The Los Angeles Lakers had perhaps one of the most productive off seasons of any team in the NBA, as they they essentially armed themselves to the teeth. With some major new signings the Lakers will have to feel confident that they can be title contenders as they head into the 2021 NBA Regular season. Here we take a look at their roster in detail as we go through who got signed and who got cut. At present the Lakers final roster looks like this:
Number Name Position
7 Carmelo Anthony PF
1 Trevor Ariza SF
9 Kent Bazemore SF
20 Avery Bradley PG
3 Anthony Davis PF
45 Sekou Doumbouya SF
2 Wayne Ellington SG
5 Talen Horton-Tucker SG
39 Dwight Howard C
30 Jay Huff C
6 LeBron James SF
10 DeAndre Jordan C
11 Malik Monk SG
12 Kendrick Nunn SG
5 Austin Reaves SG
4 Rajon Rondo PG
0 Russell Westbrook PG
It is important to note, however, that amongst that final squad, there are some notable new faces as they prepare to start their campaign.
Who are the Los Angeles Lakers' new signings?
While there have been a few new additions to the team, the most notable signings are of course Carmelo Anthony, Rajon Rondo and Russell Westbrook. Much has been made of the trio's arrival as they join Lebron James and Anthony Davis in a star studded lineup. For a full list of the transactions made by the Los Angeles Lakers during the off season you can click here
Who did the Lakers cut?
As the Lakers prepare for the 2021 NBA regular season there were of course some players who were let go as competition is fierce. Cam Oliver, Chaundee Brown, Trevelin Queen, and Joel Ayayi have all been cut. They join Mac McClung and Frank Mason III, both of whom were released earlier in the preseason. In the case of Oliver, Queen, and Brown they will more than likely find themselves playing for the Lakers G-League affiliate, the South Bay Lakers.