NBA
Boston Celtics 21/22: roster, new signings, cuts and trades
The Boston Celtics have a new look after an offseason that saw their Director of Basketball Operations Danny Ainge retire at the end of last season.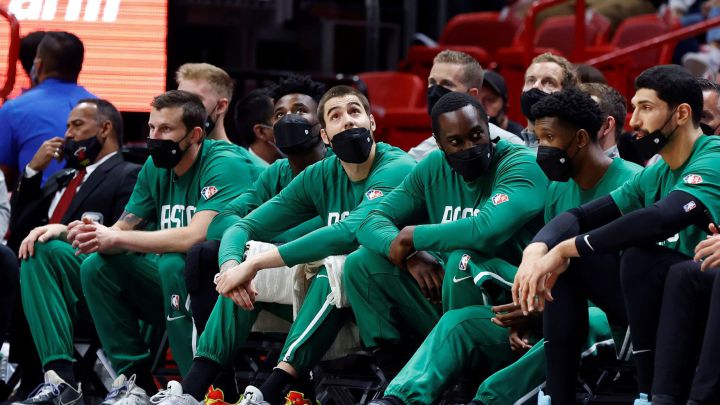 The Boston Celtics are in the midst of a changing of the guard after long time Director of Basketball Operations, Danny Ainge, retired at the end of last season. The Celtics now have a new DBO, and head coach to go along a revamped roster.
Stevens leaves bench for front office
After eight seasons as the head coach of the Celtics, Brad Stevens was promoted to Ainge's old job, which resulted in him giving up his coaching duties.
He hired first year head coach Ime Udoka to take his place on the Celtics bench this year. Udoka has been an assistant under Greg Popovich, and Steve Nash over the last decade, and will get his first crack at a head coaching gig in TD Garden this year.
Ime Udoka's experience coaching Jayson Tatum, Jaylen Brown and Marcus Smart a couple years ago in Team USA was significant in his hiring.

"Those guys all liked him and respected him," one source told me. "He's an easy guy to connect with."

— Jeff Goodman (@GoodmanHoops) June 23, 2021
The main mission after Boston was swept by the Nets in the first round of the playoffs was building a team around Celtics superstar Jayson Tatum and Jaylen Brown.
Horford in, Walker out

The first step for Stevens was bringing Al Horford back to Boston as Kemba Walker and his astronomical contract was sent to the Thunder, later landing in New York City. Horford maybe in the twilight years of his career, but will still bring experience and an almost automatic midrange game the the Celtics front court.
The Celtics are trading Kemba Walker, the No. 16 overall pick in the 2021 draft and a 2025 second-round draft pick to Oklahoma City for Al Horford, Moses Brown and a 2023 second-round pick, sources tell ESPN.

— Adrian Wojnarowski (@wojespn) June 18, 2021
The other big trade over the offseason was Josh Richardson coming in from Dallas in exchange for Moses Brown who didn't play a single minute of Boston last year.
Schroder one of the sesaon of the free agent market
While they may have lost Evan Fournier to the Knicks, the Celtics did make moves in the free agent market. Dennis Schroder was signed to a one-year, $5.9 million dollar contract which is considered a steal around the league. Schroder is expecting a big contract next year, so the Boston faithful will be expecting a big season from the former Laker.
Departures:
Carsen Edwards
Tacko Fall
Evan Fournier
Semi Ojeleye
Tristan Thompson
Kemba Walker
Tremont Waters
Acquisitions:
Al Horford
Josh Richardson
Bruno Fernando
Willie Hernangomez
Celtics 2021/22 roster:
7 Jaylen Brown SG
24 Bruno Fernando F
30 Sam Hauser SF
41 Juancho Hernangomez F
42 Al Horford C
13 Enes Kanter C
45 Romeo Langford SG
26 Aaron Nesmith SF
20 Jabari Parker PF
11 Payton Pritchard PG
10 Josh Richardson SG
71 Dennis Schroder PG
36 Marcus Smart PG
0 Jayson Tatum SF
33 Brodric Thomas G
12 Grant Williams 12
44 Robert Wililams
The Celtics lost their season opener to the Knicks in overtime from Madison Square Garden.