NFL
Report: Green Bay Packers to sign DE Whitney Mercilus
The Green Bay Packers are reportedly signing veteran defensive end Whitney Mercilus almost immediately after he was released by the Houston Texans.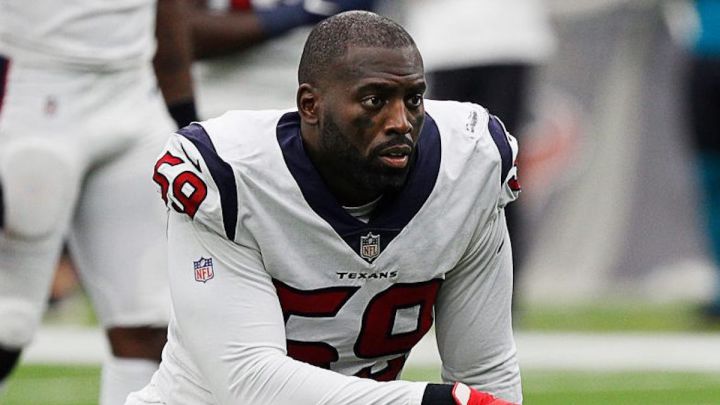 The Green Bay Packers are signing defensive end Whitney Mercilus a day after he was released by the Houston Texans, according to reports from ESPN and the NFL Network.
Mercilus, who has spent his entire NFL career with the Texans, was on his 10th season with the team who hired him as a first round draft pick in 2012. He turned down heftier offers from other teams to join Green Bay, according to ESPN's Jeremy Fowler. He still has $6 million of his contract with Houston guaranteed this year.
Pass rusher Whitney Mercilus is signing with the Green Bay Packers, per source. Former Texan turning down more money elsewhere to join Green Bay's defense.

— Jeremy Fowler (@JFowlerESPN) October 20, 2021
Mercilus wants to join serious contender
According to NFL Reporter Aaron Wilson, both the Kansas City Chiefs and the Pittsburgh Steelers were interested in the former All-Pro's services, but he preferred to join a team with a serious shot at the Super Bowl.
Mercilus said, "As far as the direction I want to go, it's definitely being with a team that has a chance to make it to the playoffs and has a chance to make it to the Super Bowl," per Wilson.
Other NFL stories:
"That's the direction I want to go, as I'm in the back half of my career, to get a chance to put a cherry on the top," said the pass rusher.
The 31-year-old veteran will move up in the NFL standings, going from the 1-5 Texans who sit at the bottom of the AFC South, to the top of the NFC North with the 5-1 Packers.
Packers need to shore up defense
The Packers have acquired him as part of their efforts to boost their defense, after signing former Dallas Cowboys linebacker Jaylon Smith earlier this month. The team had been hobbled by the injuries suffered by outside linebackers Preston Smith (obliques) and Pro Bowler Za'Darius Smith (back).
Mercilus chalked up three sacks in six games for the Texans this season, and has made 57 career sacks with a high of 12 in 2015. He has started more than a hundred times during his NFL career.
The Packers will see if free agent Whitney Mercilus can fill some of the void left by injuries to outside linebackers Preston and Za'Darius Smith.

https://t.co/vrlcSqMqzA

— JSOnline - NewsWatch (@js_newswatch) October 20, 2021