NFL
Shanahan refuses to be drawn on QB situation after fresh defeat
Kyle Shanahan indicated Jimmy Garoppolo would start for the San Francisco 49ers in the Week 8 game against Indianapolis Colts but didn't carry it through.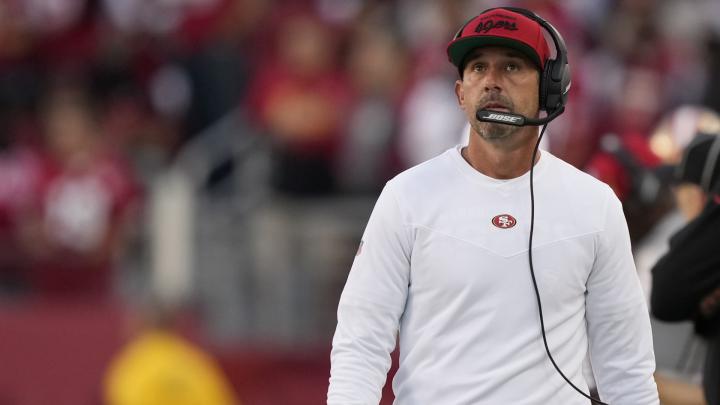 San Francisco 49ers head coach Kyle Shanahan could see for himself how Jimmy Garoppolo and Trey Lance battled to lock down the starting quarterback job throughout training camp and the preseason, nevertheless, he remains unsure what to do about the position.
New defeat for the 49ers
Shanahan side-stepped questions about the team's quarterback situation after the 49ers fell 30-18 to the Indianapolis Colts on Sunday for their fourth consecutive NFL defeat. Garoppolo struggled in a game played in a miserable downpour, completing 16 of 27 passes for 181 yards and a touchdown with two fourth-quarter interceptions. The veteran started San Francisco's first four games before sitting out a Week 5 loss to the Arizona Cardinals with a calf injury. Lance got his first NFL start in that game and suffered a sprained knee that kept him off the field through San Francisco's bye week and against the Colts.
Asked if he plans to start Garoppolo again in Week 8 against the Chicago Bears, Shanahan said "I would guess so." He added: "I'm going to watch this tape and see if guys are healthy, first of all, and know where our guys are at. It was good for Jimmy to be able to get healthy enough to play in this game today."
The team originally had hoped Lance would be able to return after missing two weeks, but his timeline remains unclear after he missed practice all last week. If the rookie is healthy enough to face Chicago, Shanahan could be forced into a difficult decision after remaining steadfast in his support of Garoppolo throughout the offseason.
"I've got a lot of things to figure out," Shanahan said as he concluded his remarks.