US NEWS
What are the main events of the Dia de los Muertos in the US? New Mexico, California, Texas, Florida…
The Day of the Dead is an annual celebration dating back to the Aztecs and many US states hold their own events to mark the occasion every year.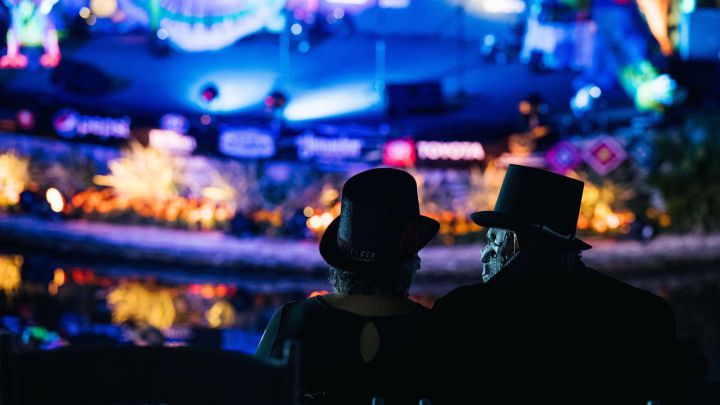 Dia de los Muertos, also known as Day of the Dead, is an annual tradition originating from an Aztec celebration of the god Mictlantecuhtli and the goddess Mictecacihuatl. Once the Spanish arrived on the continent in the 15th century the celebration was repurposed as a Catholic holiday, and renamed All Saints' or All Souls' Day.
In many Latin American countries 2 November is a national holiday to mark the event, and in the United States there are a number of celebrations. Traditionally 1 November is the Dia de los Inocentes, in honour of the spirits of children who have died, and 2 November, Dia de los Muertos, is for departed adults.
We take a look at some of the biggest events to mark the occasion in the United States…
Dia de los Muertos – New Mexico
Albuquerque, New Mexico is one of the most iconic spots for Dia de los Muertos celebrations in the US. The Muertos y Marigold Parade is an annual gathering for music, dance, food and art lovers with a parade from Centro Familiar and Isleta, ending at the Westside Community Center.
Ofrendas are constructed, usually covered with marigold flowers and skulls, in memory of those who have passed.
Day of the Dead San Diego – California
San Diego is the part of the United States which is closest to Mexico, both culturally and geographically. The Latin American influences in the city mean that the local Dia de los Muertos celebrations are something to behold, with the Old Town area filled with mariachi bands and Aztec dancers for the day.
Muertos Fest – Texas
The border town of San Antonio is another place with deep ties to Latin American culture and it is no surprise that it also boasts a truly unforgettable Dia de los Muertos event. Muertos Fest is held annually at the La Villita Historic Arts Village and features dancers, puppeteers and musicians.
Tonight we're celebrating Dia de los Muertos! We'll have a community altar behind the South End for fans to honor the lives of lost loved ones.

The first 1k fans will also get bandanas courtesy of @equalityhealth.

And you can purchase a Rising Dia de los Muertos shirt! pic.twitter.com/HLRaq5cO7t

— y-Phoenix Rising FC (@PHXRisingFC) October 30, 2021
Day of the Dead – Florida
Fort Lauderdale in Florida has a huge Dia de los Muertos parade each year, paying homage to the festival and its traditional roots. The Skeleton Processional brings together the whole community and incorporates everything from alligators and sea turtles, to pirates and mermaids. Alongside the impressive parade, there are also various workshops on offer throughout the festival, exploring traditional dance, puppeteering and mask-making.