NFL
Von Miller through the years
As the NFL trade deadline approached, so did Miller's contract in Denver and they made a trade that no one saw coming. Von Miller will join the LA Rams.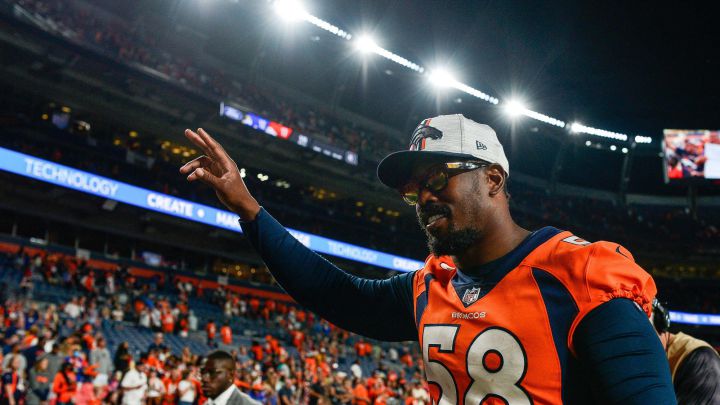 Change can be tough, especially after such a long time spent building relationships and a name for yourself with one team in one place. It was 2011 when linebacker Von Miller was just a wide-eyed, bushy-tailed rookie, joining the Denver Broncos. It was a strange time in the NFL. The lockout had just been lifted and no offseason practices occurred. Von Miller, 22 years old at the time, was nothing but excited to be living out his dream.
"Just getting on that plane this morning and coming out here was so surreal. Just seeing the lockout get lifted was surreal ... Actually being on a pro team, this is all I wanted to do all my life. This is my dream, and to actually be able to live it, I really can't explain it."
The unexpected trade
As of Monday, November 1, 2021, the Broncos agreed to trade the now eight-time Pro Bowler to the Los Angeles Rams. The Broncos will get the Rams' second and third-round pick in the 2022 draft and they will pay off $9 million of Miller's $9.7 million remaining for the season. As emotional as the change might be, Von Miller is joining an NFL team who are Super Bowl LVI contenders and currently sit at 7-1.
The Rams made another huge blockbuster trade during the offseason for quarterback Matthew Stafford. Head coach Sean McVay had said he didn't expect there to be any other big trade moves, but also added, "I would never say never." Well, good thing, because he would've been wrong. With the addition of Miller, the Rams defense should start to look more like the defense from last season
"He brings an element, obviously an incredibly unique football player that not only is a great pass-rusher, but he's a complete football player that can really affect and influence an offense in a negative way on all three downs," McVay said. "You can utilize him in a variety of different ways."
Von Miller through the years with the Broncos
Since joining Denver in 2011, Von Miller has become a sure-fire lock into the Hall of Fame with eight Pro Bowl selections, three first-team All-Pro honors, and four second-team All-Pro honors. Currently, Miller has the most sacks of any active player in the NFL, not to mention the most sacks in Broncos history (110.5). When the Broncos won Super Bowl 50 against the Carolina Panthers, Miller was named Super Bowl MVP. Let's take a look back at Von Miller's path from rookie to superstar linebacker.
April 2011:
Von Miller was selected no.2 and the Broncos' first draft pick under John Elway. At the time, the Broncos had the worst pass rush in the NFL.
September 2011
Miller made his first career sack against Bengals quarterback Andy Dalton right at the start of his first season in the NFL.
October 2011
Less than a month after his first career sack, Miller had his first multiple-sack game, with two against the Green Bay Packers.
November 2012
A year later, Miller was putting up three sacks a game. Twice in three weeks, he had a three-sack game (against the Bengals and Chargers) and was leading the league with 13 sacks.
December 2012
Miller set a record in single-season sacks at the end of his second season with the Broncos. He finished the season with 18 and a half sacks. The record still remains to be broken.
July-August 2013
Trouble begins for Miller. First, he was suspended for four games for violating the NFL's drug policy. Then, he was arrested for failing to appear in court after a warrant was out for traffic violations. After banning him for four games, the league ended up finding various other incidents of Miller violating the drug policies and ended up slapping him with a six-game ban.
December 2013
The bad luck continued for Miller as a torn ACL ended his season completely towards the end of December.
October 2014
Miller gets back on track, continuing his streak of sacks with two in three games, and then a huge groove of three consecutive two-sack games.
September 2015
Miller became the third-fastest NFL player to reach 50 career sacks (behind Reggie White and Derrick Thomas).
2015 Postseason: Super Bowl MVP
Miller finished the season with 11 sacks, 35 tackles, 32 QB hits, and four forced fumbles. In the postseason AFC championship game alone, he had five tackles and two and a half sacks. The Broncos went on to Super Bowl 50 against the Carolina Panthers and Miller contributed six tackles, two and a half sacks, two forced fumbles, and one fumble recovery to the defeat over the Panthers. Miller won the Super Bowl MVP title that year, making him one of only 10 defensive players to win the title.
"Von was always at his best when we needed him the most," Elway said. "Our Super Bowl 50 win and playoff run that year would not have been possible without Von turning in one of the most dominant individual performances of all-time."
July 2016
Miller signed a record-setting six-year, $114.5 million contract with $70 million guaranteed, more than any other non-quarterback had ever earned.
November 2016
Miller set a career high in tackles per game with 10 total and in that same game (against Kansas City), had three sacks.
December 2017
Miller had yet another 10-sack season, setting a record for most double-digit sack seasons with six in total.
November-December 2018
In November, Miller not only got his tenth sack of the season, but also the 100th of his career, becoming the fifth-fastest to reach that milestone in NFL history (for players starting after 1982). Then in December, he officially became the all-time leader in sacks for the Denver Broncos (98 in the regular season), breaking Simon Fletcher's previous record (97 and a half).
September 2020
An unfortunate incident during a practice session led to a season-ending ankle injury with less than a week before the start to the regular season. Miller did not play a single game in the 2020-2021 season.
March-September 2021
Miller came back from the injury with a bang. He had two sacks in the season opener against the New York Giants and four total sacks in the first three games. He was named AFC Defensive Player of the Month in September.
October 2021
Unfortunately for Miller, he would suffer another ankle injury in the first half of the game against the Cleveland Browns, not knowing that would be his last game with the Broncos.
Now: November 2021
Miller joins the 7-1 Rams, who are hopeful he will be healthy to start this Sunday against the Titans.
"When I said, 'Broncos for life,' I meant that -- it will always be in my heart,'' Miller said. "It was an honor and privilege to play here. John Elway picked me and it was life-changing."
"Von was the very first draft pick we made back in 2011 at a time when we needed an impact player to turn this team around," Elway said. "There was a lot of pressure on him as the No. 2 overall pick, and he exceeded all of those expectations during 11 great seasons as a Bronco."