Liverpool 2-0 Atlético Madrid summary: score, goals, highlights, Champions League
Liverpool vs Atlético Madrid: as it happened
Peeep peeep peeep! Liverpool have booked their place in the Champions League last 16 as group winners, with two games to spare. Atlético slip to third, one point behind Porto, and are in a real battle to avoid going out.
That said, Atleti's future is still very much in their hands. If they win their last two games, they'll join Liverpool in the next round.
That's all from me. Thanks for reading!
Alexander-Arnold is replaced by Nathaniel Phillips with about 20 seconds to go.
Origi then sends one into orbit from 30 yards.
De Paul curls the free-kick well over, to cheers of glee from the home supporters.
Hermoso volleys a dropping ball a couple of yards over Alisson's crossbar. That would have been some strike.
Cunha then runs at a back-pedalling Liverpool defence, and is brought down by Matip on the edge of the box. Matip isn't happy with the decision, but a free-kick it is, and he's booked for his misdemeanour.
Four minutes of time added on at Anfield.
Minamino thumps the ball into the net from the edge of the box, but it won't count. Before the ball ran through to Minamino, Jota caught Trippier in the face as he tried a spectacular volley.
Henderson then pings a shot at goal from 20 yards out, but it's too close to Oblak.
Salah draws oohs of appreciation from the Liverpool fans after absolutely skinning Hermoso with neat change of feet. He then advances towards the box and cuts it back to Thiago, who tries to lay it across the top of the box with a backflick, but Serrano is there to clear.
Moments later, Salah again drives into crossing space on the right, but his ball into the box is cleared.
Origi lets fly with a shot, but Oblak gathers. We're really just waiting for this match to end.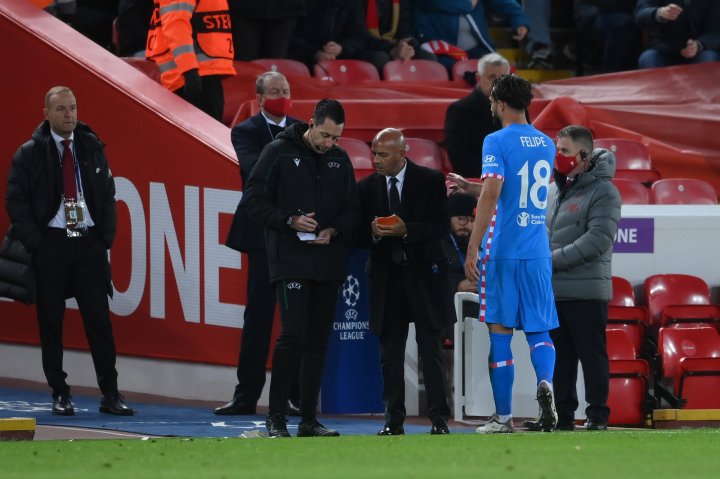 Felipe trudges off the Anfield pitch after his first-half sending-off.
(Photo by Laurence Griffiths/Getty Images)
Divock Origi comes on for Firmino. Oxlade-Chamberlain also makes way, to warm applause, Takumi Minamino replacing him.
Atlético replace Correa with youngster Javier Serrano.
Firmino has hurt himself - I'm not sure exactly where - and looks like he'll be coming off.
Just as I say Atlético can't do anything with the ball, they create an excellent chance to pull one back. Thiago has his pocket picked on the halfway line, and suddenly Correa is scuttling forward towards the Liverpool box. He feeds it outside to De Paul, who in turn plays it to Herrera, who's arriving in acres of space to shoot. Herrera drags his shot wide, though. A real waste.
Atlético are simply unable to do anything with the ball. Whenever they get it, a delegation of red shirts is on top of the man in possession to win it back.
Liverpool are not only heading into the last 16 - barring a scarcely conceivable turnaround at Anfield - but Porto's draw with Milan means they'll be confirmed as group winners.
Another double change for Atlético, who bring on Matheus Cunha and Sime Vrsalkjo for Koke and Carrasco.
Correa tries to chip Alisson from the halfway line. He doesn't succeed.
It's like a session of keep-ball. Liverpool pop it about at will, before Thiago looks to slip Jota into the box. Jota falls under Trippier's challenge, but is never getting a penalty for that.
From a neutral point of view, it's a bit of a shame that Suárez goal was disallowed. That might have made things interesting. As it is, we're back to Liverpool enjoying pretty much constant possession in the Atleti half.
Van Dijk receives the ball some 35 yards and, encouraged by the Anfield fans, tries his luck. He gets plenty of power on it, but it flies a couple of yards over.
Atlético make a double change. Joao Félix and Suárez come off - the latter to boos - with Renan Lodi and Héctor Herrera brought on.
Liverpool also make a substitution, Thiago Alcántara replacing Fabinho.
Atlético have pulled one ba... no! Ruled out for offside after a VAR check.
Giménez nods a free-kick down to Suárez, whose shot takes a big old deflection off Matip and beats Alisson... but Giménez is deemed to have been just offside.
Liverpool are creating chances at will. Tsimikas barrels his way towards the byline, before lifting it into the middle to Jota, who's got a free header. Jota makes a bit of a hash of it, however; he succeeds only in shouldering it off target.
Joao Félix is booked for a foul on Fabinho.
Again Atlético's defence is cut to ribbons. Fabinho plays Salah into acres of space on the right wing. He gets his head down and charges into the box, where he's one on one with Oblak - but the keeper makes himself big, and Jota can't turn the loose ball into the net.
Liverpool get a corner, though, and when Van Dijk can't connect, it drops to Matip, who's all alone in space to shoot. He strikes just wide, though!
...and Fabinho releases Jota in behind the Atlético defence and into the box, where the Portuguese finishes low past Oblak. Is Jota offside? It's a very tight call - and after a VAR check, he's deemed to have been just, just ahead of Trippier. No goal.
Liverpool immediately on the front foot. It's worked to Salah on the right-hand corner of the Atlético box, where his shot is deflected wide. One corner becomes two and, though Atlético clear, it's Liverpool ball once more...
Peeep! We're back up and running at Anfield.
Liverpool make a half-time change, replacing Mané with Roberto Firmino.
Opta note that Atlético Madrid have now conceded twice before half time in successive Champions League games for the first time.
Peeep peeep peeep! That's half time. Liverpool were already well on top when it was 11 vs 11. With the extra man, they're utterly cruising into the last 16 as it stands.
Oxlade-Chamberlain shoots wide from 25 yards.
Two minutes of time added on at Anfield.
We've just been shown another view of that Felipe red. You can't see or hear what Felipe says to Makkelie, but the red looks downright excessive.
Koke tries to release Correa into the Liverpool box with a first-time ball around the corner, but Van Dijk is in the way and clears.
Fine save by Oblak! Salah produces a delicious, Cruyff-turny piece of control to turn away from his man, before getting it out of his feet and firing towards the far post, but the Atlético keeper is quickly across his goalmouth to parry.
Now Koke is booked. This is going very pear-shaped for Atlético, who appear to have changed to a 4-4-1, with Carrasco playing as a regular full-back.
Red card for Felipe! When Liverpool clear, the defender clips Mané's heels and nips the Reds' attack in the bud.
It looks like a stonewall yellow card, but Danny Makkelie dishes out a straight red! I don't know whether Felipe said something to the referee. Makkelie had to call Felipe towards him a number of times after the foul, but does that really merit a red? Hmmm.
Suárez is booked for his protests. Atleti aren't happy.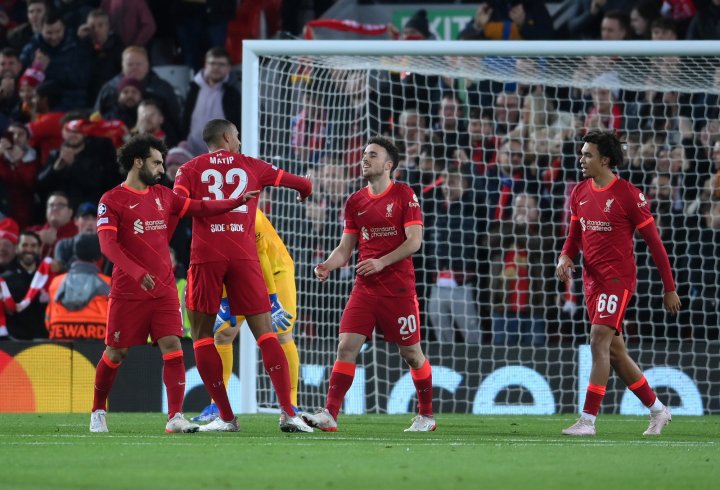 Diogo Jota celebrates with Mohamed Salah, Joel Matip and Trent Alexander-Arnold after opening the scoring for Liverpool.
(Photo: Laurence Griffiths/Getty Images)
Atleti pop it about nicely just inside the Liverpool half, releasing Joao Félix into a pocket of space to run at the Liverpool defence. He tries to slip Suárez into the box, but Suárez had checked his run and the ball rolls harmlessly through to Alisson.
At the other end, Alexander-Arnold draws applause from the home fans after pinging a defence-splitting through ball forward in search of Salah, who can't quite reach it.
Suárez leads an Atlético break, but then ruins it by playing the ball right to a red shirt. Liverpool counter Atleti's counter, releasing Salah to run at Hermoso - who's on a yellow, remember - on the right. He skips past the defender and into the box, but Giménez has shuffled across and dispossesses the Egyptian.
The visitors finally get their foot on the ball for a while in the Liverpool half, and win themselves a corner. Alisson punches clear, before Suárez crosses towards Carrasco. Oxlade-Chamberlain gets there first, but Atleti come back at Liverpool.
Carrasco jinks his way to the byline before cutting it back across goal, but his ball can't locate a light blue shirt.
Now Oxlade-Chamberlain goes close to adding a third, shooting just past Oblak's right-hand post. Atlético are massively on the ropes.
It's not unreminiscent of the teams' meeting in Madrid last month. Can Atleti repeat the fightback they produced that night, though?
2-0 to Liverpool! Mané taps home!
Liverpool have had their tails firmly up since taking the lead, and double their lead. Mané leads another charge towards Oblak's goal, feeding it wide to Alexander-Arnold before continuing into the area to touch the right-back's low ball into the net from six yards out. No chance for Oblak.
Liverpool look much more confident now they're ahead. Mané gets the ball out of his feet on the left and crosses dangerously towards Jota, but Oblak comes out to claim after Felipe gets his head to it.
Moments later, Mané shoots from the edge of the box, but his effort is blocked.
Mané is booked after clashing with Correa, who had brought him down on the halfway line.
Liverpool lead! Jota with it!
Atlético have had most of the attacking play, but just like that the hosts draw first blood. Henderson touches it back to Alexander-Arnold, who curls in a sumptuous cross. It's right on the head of Jota, who heads in past Oblak!
Liverpool through to the last 16 as it stands.
That's a lovely ball by De Paul, who slips Correa into space to pull it back across goal from the right, but the Argentine blazes a wild cross high and into the Kop, with a number of team-mates waiting in the middle. It needed to be a low ball.
Receiving the ball in the left-hand channel, De Paul clips a dangerous-looking far-post ball towards Suárez in the Liverpool box, but Tsimikas gets there before the Uruguayan to head away.
Henderson then looks to release Jota in behind the Atleti defence after loose play by Trippier, but his pass is too long and Oblak comes out to collect.
Hermoso is the first man into Danny Makkelie's book tonight after lunging in very late on Salah on the right wing. He protests, but it looks like a fairly textbook booking to me.
Alexander-Arnold swings the free-kick into the Atlético box, but Giménez heads away.
Suárez wants a penalty after tumbling under Matip's challenge in the box, but he isn't going to get one. All he gets is a good booing from the Liverpool fans.
At the other end, Trippier is down in a heap after coming off worse in an aerial challenge with Tsimikas, but looks like he'll be OK.
In these (admittedly very) early stages, it's Atlético who have created all the attacking threat thus far. Koke lifts a high ball to Carrasco at the back of the box, where the Belgian volleys it into Joao Félix, who's waiting in the six-yard box. However, a gaggle of red shirts is immediately on top of the Portuguese, and the chance is lost.
Atlético are on the attack right away, Trippier swinging a glorious cross-field ball over to the left to Carrasco, who scampers forward and fizzes a low ball into the area. Fabinho is perfectly placed, though, and Liverpool clear.
Peeeep! Underway in Liverpool.
Our match referee is Dutchman Danny Makkelie.
Liverpool vs Atlético Madrid: head to head
Liverpool's 3-2 win at the Wanda Metropolitano last month was their first Champions League victory over Atlético Madrid at the fifth attempt.
The last time the sides met in the Champions League at Anfield, of course, a Marcos Llorente-inspired Atleti were victorious - winning 3-2 after extra time to earn a 4-2 aggregate triumph and knock Liverpool out at the last-16 stage.
That March 2020 meeting is one of 13 times Liverpool have faced Spanish opposition at home in the Champions League/European Cup - and the Reds have won just twice.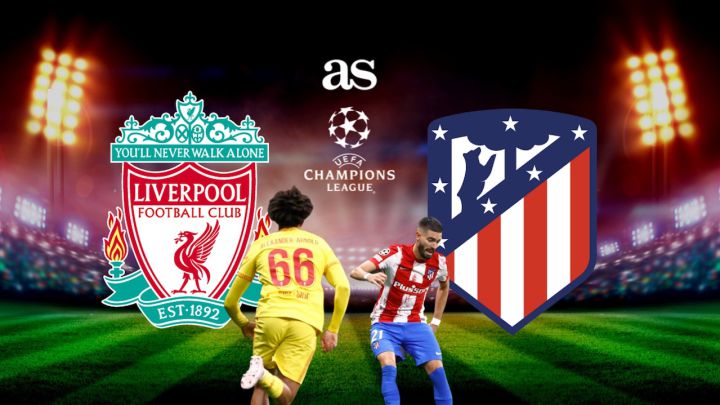 It ends all square between Milan and Porto
It has finished at the San Siro, where AC Milan and Porto have drawn 1-1. Luis Díaz gave the visitors the lead in Italy, before Chancel Mbemba's own goal earned Milan their first point of the Champions League campaign.
That moves Porto provisionally one point clear of Atlético, who will take a big step towards the last 16 if they can beat Liverpool tonight.
In tonight's other early kick-off, by the way, Real Madrid moved closer to the knockout stages with a somewhat laboured win over Shakhtar Donetsk at the Bernabéu, Karim Benzema grabbing a double for Los Blancos.
More on that game here.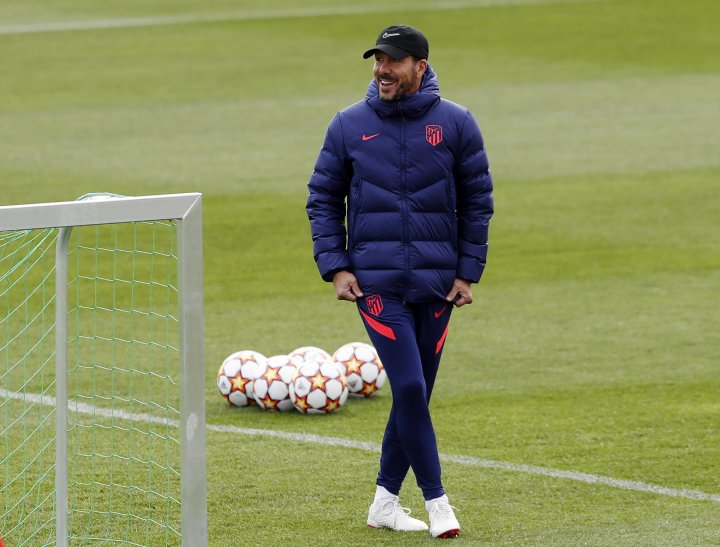 What the coaches said: Diego Simeone, Atlético Madrid
Lack of handshake with Jürgen Klopp after the team's meeting in Madrid, and view on Liverpool manager:
As I explained after the game and I will say again now, I don't shake hands after the game because emotions are usually different for both coaches. In England, it is seen as being gentlemanly, but that's an idea which I personally don't share because I don't like falseness and I follow my own feelings. I can't comment on Klopp as a person as I don't know him. But I do admire the magnificent coach this he is, I admire the great work he has done at all the clubs he's worked at, but I don't usually voice an opinion about how other teams play - never, because I have my own codes of conduct and we the coaches, between us, have to respect that that's the way it is.
Game of chess against Klopp tonight?
"Yes, I think both of us have a lot of influence on what happens out on the field, although in games of this level and quality, drive and ambition is what determines the direction in which the game takes and how it develops. I remember during the game at the Metropolitano, Klopp taking Henderson off and bringing Fabinho on at half-time and changing the formation was a move that indicated that they were overrun by us in the first half. We always try to make improvements to the team from the bench - in spite of the talent that might be out on the pitch."
Check out Simeone's pre-match press conference in full
(Photo: JAVIER GANDUL/DIARIO AS)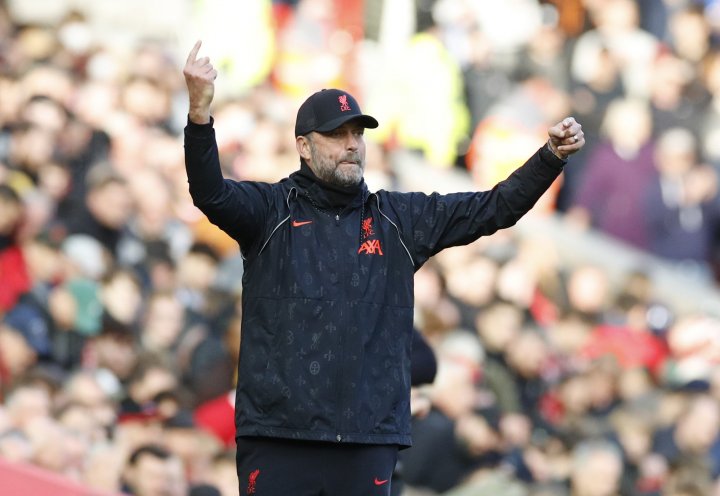 What the coaches said: Jürgen Klopp, Liverpool
Significance of qualifying with two Group B games to go:
"Of course it would be big, it's just that we usually don't have to talk about these kind of things because we usually have a final in the group and I hope that will not happen this year like with the last matchday of the group stage when we need a 1-0 or something like and it is not allowed the opponent scores at all. Of course, we want to avoid that but we cannot make the second step before the first step - and the first step is to win against Atletico and that's already difficult enough. What it means then and what kind of achievement it would be, we can talk about it afterwards."
No post-match handshakes from Atlético Madrid boss Diego Simeone:
"If I would have known after the game [at the Wanda] that he doesn't do it - and I didn't know - I wouldn't have tried it. Then I tried it and I was waving or whatever, that was not necessary from me. I was really not happy with that but I know we are both emotional and that was my emotion then, it was not necessary. But now I know he doesn't want to do it after the game so no problem. We shook hands actually before the game so we will do that tomorrow night probably before the game as well, I assume. But after the game, not – fine, absolutely no problem."
(Photo: REUTERS/Phil Noble)
Group B as it stands
Over in Italy, AC Milan have done Atlético a major favour by equalising against Porto. If it stays that way at the San Siro, Atleti will have the opportunity to end the night two points clear of Porto - if Diego Simeone's men can win at Anfield, that is.
As I mentioned earlier, a Liverpool win would book the Reds' spot in the knockout stages.
If it ends all square in Milan, the group's bottom side will have avoided being eliminated tonight - as long as Atleti don't beat Liverpool, that is.
Four changes for Liverpool, Felipe and Félix in for Atlético
Jürgen Klopp makes four changes to the Liverpool side that started the weekend 2-2 draw with Brighton, as Joel Matip, Kostas Tsimikas, Alex Oxlade-Chamberlain and Diogo Jota come in for Ibrahima Konaté, Andy Robertson, Naby Keïta and Roberto Firmino.
Keïta had to come off in the first half against Brighton after picking up an injury.
Visitors Atlético, who ended a three-game winless run by beating Real Betis 3-0 at the weekend, Felipe and João Félix are brought into the side, in place of suspended pair Stefan Savic and Antoine Griezmann.
Atlético Madrid team news
Starting line-up: Oblak, Felipe, Giménez, Hermoso, Trippier, De Paul, Koke, Carrasco, Correa, Félix, Suárez
Liverpool team news
Starting line-up: Alisson, Alexander-Arnold, Matip, Van Dijk, Tsimikas, Fabinho, Oxlade-Chamberlain, Henderson, Salah, Jota, Mané
Liverpool vs Atlético Madrid: preamble
Hello! Welcome to our live coverage of Liverpool and Atlético Madrid's Champions League Group B clash at Anfield, which gets underway at 8pm local time (4pm ET).
After winning at the Wanda Metropolitano when the sides met last time out, Liverpool can now seal their place in the last 16 if they repeat that feat tonight - while Atlético find themselves in a real battle to qualify for the knockout stages.
In today's other Group B game, which was one of the early kick-offs, Porto are currently ahead at AC Milan. If it stays that way, the Portuguese side will leapfrog Atlético in second and move on to seven points, three ahead of Diego Simeone's men.
The teams are in on Merseyside, so let's have a look at them.