NFL
NFL to take closer look at Packers enforcement of COVID protocol
Aaron Rodgers tested positive for COVID on Wednesday. The Packers quarterback said he was "immunized" when asked if he got vaccinated this preseason.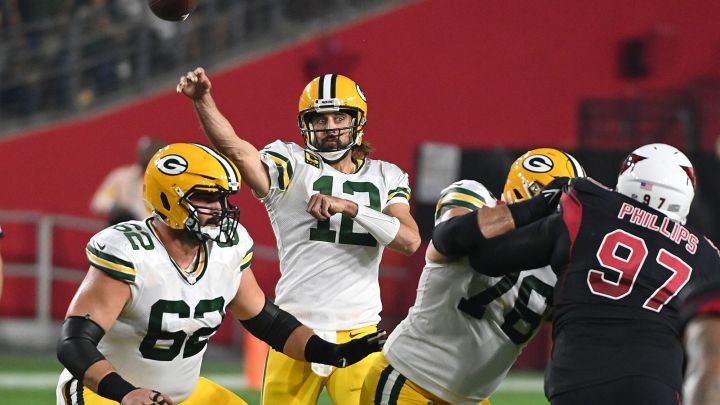 The NFL will take a closer look at the Green Bay Packers enforcement of COVID-19 protocol after the Aaron Rodgers tested positive for the virus on Wednesday.
Rodgers unvaccinated, Packers under microscope

Rodgers was asked in the preseason if he was vaccinated, to which he replied he was "immunized." The three time MVP never got vaccinated, but he did apply for an exemption from protocols due to his high antibody levels before the season. That request was that was rejected by the league.
Rodgers and cornerback Isaac Yiadom were placed on the Covid list this week, and will miss the marquee matchup against the Chiefs this weekend.
Masks must be worn by unvaccinated players at facilities

According to NFL COVID protocol, unvaccinated players subject to strict rules and regulations in attempts to prevent spread of the virus throughout the team and staff in facilities across the league. Daily testing and mask wearing in a team facility are among the many mandates laid out by the league for those who have not received the vaccine.
Throughout the season, Rodgers has appeared in press conferences at the Packers complex without a mask. The NFL said they are looking into how the Packers have abided by protocol set by the league before the season started.
NFL will "review the matter with the Packers"
"The primary responsibility for enforcement of the Covid protocols within club facilities rests with each club," the NFL said in a statement Wednesday, "Failure to properly enforce the protocols has resulted in discipline being assessed against individual clubs in the past. The league is aware of the current situation in Green Bay and will be reviewing the matter with the Packers."
Whether or not the Packers will be further punished remains to be seen, but they will be without their quarterback for at least a game.
Jordan Love will get first start of NFL career
Protocol will have Rodgers away from the team for at least 10 days, which will keep him out of the Chiefs game and midweek preparations for the Seattle Seahawks game the following week.
The Packers have the longest winning streak in the league after defeating the Arizona Cardinals 24-21 on Sunday. They will take their seven game win streak to Kansas City this weekend with back-up quarterback Jordan Love starting under center.