NFL
McVay: New Ram Miller to be "eased back" after ankle injury
Los Angeles' new edge rusher Von Miller may have to wait to make his debut for the Rams. LA will take on the Tennessee Titans on Sunday Night Football.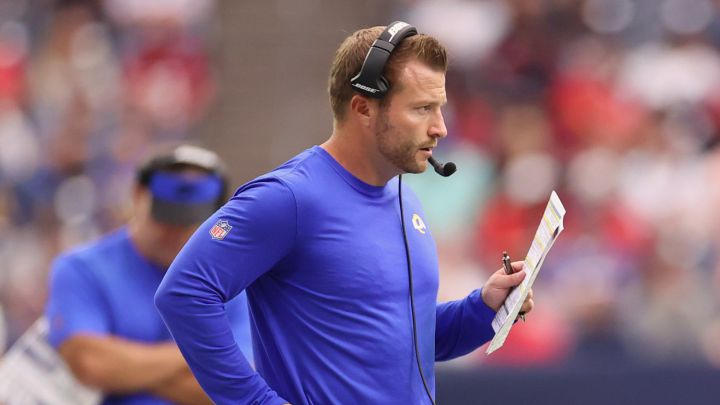 The Los Angeles Rams made the most noise before the trade deadline by incorporating edge rusher Von Miller, adding to their already solid defensive unit. While the Rams will be eager to see him start to put pressure on opposing quarterbacks, an ankle injury may delay Miller's debut.
Miller didn't practice Wednesday
Los Angeles head coach Sean McVay told reporters that the Rams are going to "ease him back" after Miller suffered the injury in Week 7 against the Cleveland Browns. The former Bronco missed last week's game in Denver, and sat out his first practice with the Chargers on Wednesday.
Not only does Miller have to worry about getting his ankle back to 100%, but he also joins a new defensive unit, and will have to take some time to get to know the schemes.
"He'll do some limited work off to the side, just getting a feel for where his ankle is at. He hasn't been with us," McVay told reporters about Miller on Wednesday.
Miller feels like he's in a movie in Tinseltown
Miller told reporters in his first press conference as a Ram that everything "feels like a movie and I'm excited to be in it." The eight-time Pro Bowlers also said he went to bed Monday at 4-4 and woke up 7-1, referring to the Denver Broncos and Los Angeles Rams' records.
The former Super Bowl said he is eager to be a part of a defensive unit that already starts the likes of Aaron Donald and Jalen Ramsey, but the Rams are not going to take any chances.
"Oh yeah, he's going to do everything in his power to try to play," McVay said. "But I think there's an element of let's take it a day at a time and let's be smart, let's get a feel for how he's doing, but this guy is an elite competitor and he definitely wants to be able to do that."
Stafford and Woods a go for Sunday Night Football

The Rams are coming off of a 38-22 demolition of the Houston Texans, and will take on another AFC South team this weekend. Quarterback Matt Stafford and wide receiver Robert Woods are expected to play Sunday night against the Tennessee Titans despite being sidelined for Wednesday's practice.
The Chargers may have added a star to their defense, but it's bad news for the Titans who lost the anchor of their offense in Derrick Henry, who had surgery on an injured foot Tuesday.