US NEWS
What does the bipartisan infrastructure bill approved by the house include?
The House of Representatives approved the Bipartisan Infrastructure bill on Friday evening. What measures did the final version of the bill include?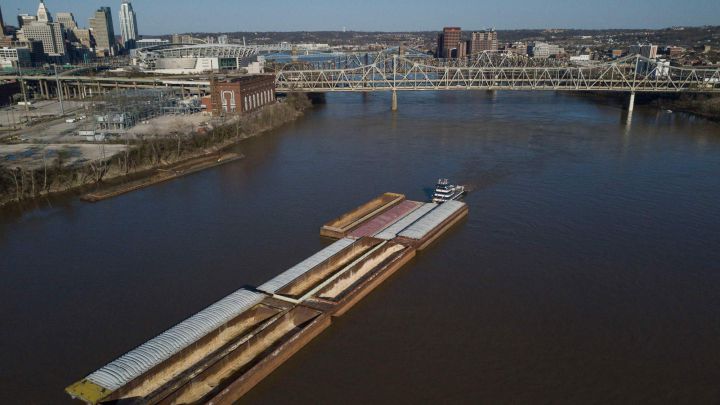 Against the wishes of Progressive Democrats, Speaker Nancy Pelosi brought the Bipartisan Infrastructure package to a vote in the House of Representatives. The Progressive Caucus has argued that they would not vote on the package until the reconciliation bill was also introduced in the chamber. Despite the Progressive opposition, all Democrats voted to approve the bill. Additionally, thirteen Republican members voted with Democrats, separating from the common position of their party.
Which Republicans voted to approve the Bipartisan Infrastructure Plan?
Bacon -- Nebraska 
Fitzpatrick -- Pennsylvania 
Garbarino -- New York 
Gonzalez -- Ohio
Katko -- New York 
Kinzinger -- Illinois 
Malliotakis -- New York
McKinley -- West Virginia 
Reed -- New York 
Smith -- New Jersey 
Upton -- Michigan 
Van Drew -- New Jersey 
Young -- Alaska

Democrats had a hard election night on Tuesday. Terry McAuliffe lost the governor's race in Virginia, and Phil Murphy scraped by with a victory after many had projected a landslide. This may have been a sign to Democratic leadership that they needed to work to enact the President's agenda or else their electoral chances in the Mid-Terms could parallel what was seen early this week.
The White House has released a factsheet detailing the measures that made it into the final version.
Household health and technological benefits
The package includes funding to eliminate lead piping from the countries water system. Around the country, around ten million people lack access to safe drinking water. This issue disproportionately impacts communities of color and Tribal Nations and the bill will invest $55 billion to tackle the issue.
At the household level, the bill will also ensure that every American has access to high-speed internet. The White House stated that "more than 30 million Americans live in areas where there is no broadband infrastructure that provides minimally acceptable speeds." Those in rural areas tend to have less access to reliable internet and also tend to pay higher prices. The infrastructure package allocates more than $65 billion to "help lower prices for internet service and help close the digital divide so that more Americans can afford internet access." 

Investments in traditional infrastructure
While President Biden had initially proposed a much more sweeping infrastructure package that included investments in workers, Republicans rejected the plan. Instead, this package is much more focused on traditional investments in physical infrastructure like roads, bridges, airports, ports, and more. More than $110 billion will be spent to "repair and rebuild our roads and bridges with a focus on climate change mitigation, resilience, equity, and safety for all users."
The proposal also aims to decrease traffic fatalities, which took the lives of more than 20,000 people in the first half of 2021, by establishing the first-ever Safe Streets and Roads for All program.
As for ports/waterways and airports ways more than $17 and $25 billion, respectively will be spent to "repair and maintenance backlogs, reduce congestion and emissions near ports and airports, and drive electrification and other low-carbon technologies." The pandemic has taken a massive toll on supply chains and this money could really help logistic and transport industries bounce back and help bring prices for consumers down.
The Bipartisan Infrastructure bill will create millions of good-paying union jobs rebuilding America's crumbling, outdated infrastructure: from roads and bridges to transit and rail to clean drinking water and wastewater systems to high-speed broadband for all.

— Nancy Pelosi (@SpeakerPelosi) November 6, 2021
Public transportation and passenger rail expansion
Climate advocates argued that investments in public transit systems are needed for two key reasons. The first is that reaching the nation's climate targets is reliant on taking many gas cars off the road. Additionally, many systems have taken a hit during the pandemic as many commuters began working from home. The bill includes "$89.9 billion in guaranteed funding for public transit over the next five years — the largest Federal investment in public transit in history." The package also includes measures to support accessibility for seniors and people with disabilities.
Additionally, the bill "makes the largest investment in passenger rail since the creation of Amtrak." Amtrak will see a $66 billion investment to "eliminate the Amtrak maintenance backlog, modernize the Northeast Corridor, and bring world-class rail service to areas outside the northeast and mid-Atlantic."
When will the reconciliation bill be brought to a vote?
In speaking with the press, Nancy Pelosi said she aimed to bring the reconciliation social spending bill to a vote by Thanksgiving. While many more conservative Democrats had signed onto the agreement, some backtracked saying that they wanted to see the report from the Congressional Budget Office on possible deficit implications.