COVID-19
What countries have the highest and lowest covid-19 vaccination rates?
The WHO had aimed to have 40% of people in all countries vaccinated by the end of 2021. Which countries have the highest and lowest rates of vaccination?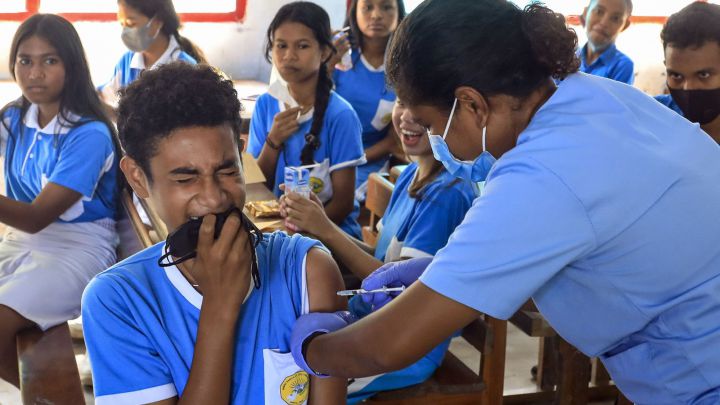 Early this year as the first doses of covid-19 vaccines began to be administered, the World Health Organization (WHO) set a target of having at least forty percent of the population in every country vaccinated by the end of the year.
On 22 October, WHO director-general Tedros Adhanom Ghebreyesus warned that more than eighty-two countries were not on track to meet this goal. Days later, the WHO reported that seventy percent of high-income countries had surpassed the forty-percent marker.
Countries with less than one percent of the population vaccinated
The Democratic Republic of the Congo 

Haiti 

Chad 

South Sudan 

Cameroon 

Madagascar 

Yemen 

Guinea-Bissau 

Uganda 

Ethiopia 

Across wealthier countries the average percent of the population vaccinated stands at around sixty-five percent, in low-income countries, that figure is closer to two percent.
Ten countries with the highest level of vaccination
United Arab Emirates: 87.4% 

Portugal: 87.1%

Malta: 83% 

Iceland: 81% 

Chile: 79.9%

Singapore: 79.7% 

Seychelles: 77.3% 

Cambodia: 77.4%

South Korea: 76.2% 

Denmark: 75.9%

A look at COVAX
In his comments, Dr. Adhanom Ghebreyesus noted that the problem many countries face is "insufficient and unpredictable supply," even after the establishment of COVAX in July 2020.
COVAX, the global covid-19 vaccination program, will support ninety-two low and lower-middle countries, to vaccinate twenty percent of their population. COVAX has procured more than 6.8 billion vaccine doses and plans to distribute 1.3 billion by the end of this year. As of 1 November, it had allocated 771.1 million doses and sent 464 million.
COVAX eligible countries
Low income: Afghanistan, Benin, Burkina Faso, Burundi, Central African Republic, Chad, Congo, Dem. Rep., Eritrea, Ethiopia, Gambia, The Guinea, Guinea-Bissau, Haiti, Korea, Dem. People's Rep., Liberia, Madagascar, Malawi, Mali, Mozambique, Nepal, Niger, Rwanda, Sierra Leone, Somalia, South Sudan, Syrian Arab Republic, Tajikistan, Tanzania, Togo, Uganda, Yemen, Rep.,
Lower-middle income: Angola, Algeria, Bangladesh, Bhutan, Bolivia, Cabo Verde, Cambodia, Cameroon, Comoros, Congo, Rep. Côte d'Ivoire, Djibouti, Egypt, Arab Rep., El Salvador, Eswatini, Ghana, Honduras, India, Indonesia, Kenya, Kiribati, Kyrgyz Republic Lao PDR, Lesotho, Mauritania, Micronesia, Fed. Sts., Moldova, Mongolia, Morocco, Myanmar, Nicaragua, Nigeria, Pakistan, Papua New Guinea, Philippines, São Tomé and Principe, Senegal, Solomon Islands, Sri Lanka, Sudan, Timor-Leste, Tunisia, Ukraine, Uzbekistan, Vanuatu, Vietnam, West Bank and Gaza, Zambia, Zimbabwe
COVAX has been roundly criticized as ineffective after evidence of its failures to distribute vaccines became clear this summer. Targets have been lowered since the founding of the program as it has become clear that the initial targets were too ambitious. For example, in Spring 2021 the international organizations supporting COVAX had aimed to have sixty percent of the African population vaccinated by February 2021. By September, this goal had been cut in half. The WHO now estimated that only ten percent of African countries will meet its forty-percent target this year.
Distribution called 'Moral Catastrophe'
The Lancet published a report by Ann Danaiya Usher which walks through the failure of COVAX.
Ann Danaiya Usher, acknowledged the ambition behind the program, describing how when launched COVAX was hailed as a "global, heroic effort" that would "transcend the limits of human ingenuity" to ensure that vaccine development progressed as fast as possible, at "a speed, scale, and access never before seen in human history". However, in June when the paper was published, COVAX had distributed around four percent of all vaccines administered globally.
One of the initial members of a working group to design COVAX, Gavin Yamey of Duke University, argued the program has failed in many ways because "rich countries behaved worse than anyone's worst nightmares."
For COVAX to succeed it was necessary for all countries, high and low income to receive their doses through the program. However, shortly after its launch, wealthier countries began to bypass the program, and create bilateral agreements with vaccine producers directly. Additionally, the People's Vaccine Alliance found that "none of the four companies or partnerships (AstraZeneca, Pfizer/BioNTech, Moderna, and Johnson and Johnson) have sold more than 25 percent of their vaccine supply (agreed through contracts) this year to COVAX."
The US has delivered around fourteen percent of the 800 million doses pledged.
Major vaccine distributions including Johnson & Johnson, Moderna, Oxford/AstraZeneca, and Pfizer/BioNTech have distributed twelve percent of the vaccines they promised; a single dose has yet to be received from Johnson & Johnson and Moderna.
Meanwhile, these companies are expected to make billions in profits from their vaccines this year.
In late October, the WHO published an open letter to global leaders calling on them to fulfill their commitments highlighting that for every 100 people in high and low-income countries, 133 and 4 doses have been administered respectively.
Recommendations from to enhance global vaccine distribution
The letter ended by recommending leaders take action to promote a more equitable rollout by:
Increasing 'vaccine supplies for the world's poorest' by fully funding and implementing the organizations and programs created, like COVAX 'to distribute vaccines, tests and treatments where they are needed most.'
Ensuring 'access to vaccines for all people on the move' which would ensure vaccines reach vulnerable populations like 'refugees, migrants, internally displaced people, asylum-seekers, and others on the move.'
Supporting 'low- and middle-income countries to combat COVID-19' by providing 'comprehensive support – financial, political, technical, logistical – to vaccinate people quicklyand effectively to expand access to tests and treatments, to implement tailored public health measures.'