NFL | PACKERS
Greenbay coach LaFleur foots blame for Love's struggles in Rodgers' absence
Matt LaFleur discussed Jordan Love's maiden start for the Green Bay Packers on Sunday.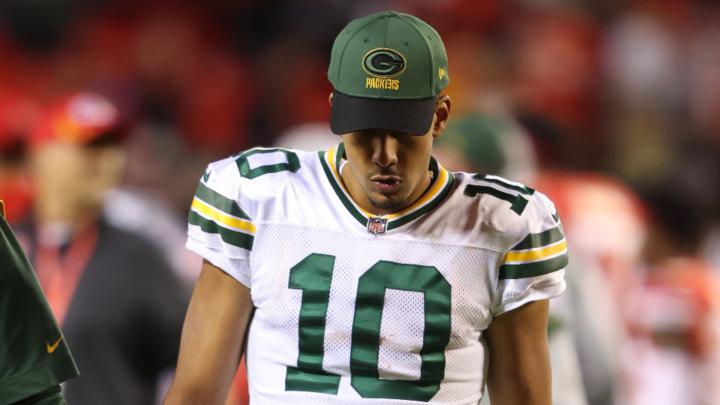 Green Bay Packers head coach Matt LaFleur took the blame for Jordan Love's struggles in the 13-7 defeat to the Kansas City Chiefs.
Love made his first start for the Packers after reigning NFL MVP Aaron Rodgers was left on the sidelines having tested positive for coronavirus on Wednesday.
The Rodgers-less Packers (7-2) fell short on Sunday with Love under centre in Kansas City, where Green Bay's seven-game winning streak came to an end.
Love: "This one falls on me"
Love – the 26th pick in the 2020 NFL Draft – was 19-of-34 passing for 190 yards, a touchdown and interception, while the 23-year-old rushed for another 23 yards on five carries.
"This one falls on me, squarely," LaFleur said when discussing Love's woes against the blitz. "Certainly, for us to be two for 12 on third down, obviously didn't have a good enough plan for some of the zero pressures that they brought on us.
"But I thought our guys battled. I thought Jordan, I was really proud of the way he played. He hung in there, he was taking hits and delivering the ball.
"I thought he did a really good job. But I think that, ultimately, I've got to be better and this one falls squarely on me."
Regarding his own performance, Love added: "Obviously not good enough. I think we started off a little slow, I started off a little slow personally.
"I think we got into a bit of a rhythm later. Obviously, it was too late. Just not good enough."
"I think we started having a better answer in the end, but yeah, they were bringing the all out, they were eating us up and we just weren't able to execute on those plays that we had against it," Love said.
"I think all it took was maybe one big play against it, and it wouldn't have been coming as much. Obviously, we weren't able to execute it, so that's why they kept bringing it."