NFL
OBJ is said to be considering the Chiefs, Saints and Packers
The star wide receiver is said to be weighing his options as he hunts for not just a new team but one that is playoff bound.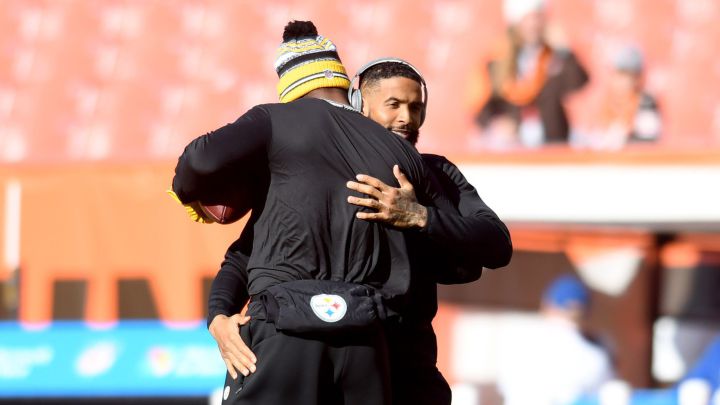 The speculation continues as one of the game's most coveted receivers considers his next destination
OBJ weighs up the Chiefs, Packers and Saints
Star wide receiver turned free-agent Odell Beckham Jr. is said to be considering the Kansas City Chiefs, Green Bay Packers and New Orleans Saints as his future port of call, according to ESPN's Dianna Russini.
Odell Beckham Jr.'s destinations are reportedly narrowed down to the Packers, Chiefs, and Saints.

Where will the talented wideout end up?https://t.co/gsl9oSJKEB

— The Big Lead (@TheBigLead) November 10, 2021
As was heavily publicized this week, Beckham cleared waivers on Tuesday after being released by the Cleveland Browns on Monday. The veteran was clear about his desire to finish the rest of this season with a playoff contender and in a winning environment. Interestingly the Packers are the only team out of the three that are still yet to face the Browns. Cleveland will meet them at Lambeau Field on Christmas Day.
How did OBJ get here?
It was just last week when the Browns excused Beckham from practice while negotiations regarding his exit took place. It is understood that the wide receiver had requested a trade having grown frustrated at his on field relationship with the Browns quarterback Baker Mayfield. The waters were further muddied when his father posted an 11 minute long video on social media just hours before the trade deadline. The video in question highlighted a number of occasions on which Mayfield failed to pass the ball to him. With his release the Browns must now pay Beckham some $4.25 million. They will, however, actually save $3 million from his renegotiated contract.
Odell Beckham Jr. by the numbers
To date Beckham has posted 17 catches for 232 yards and zero touchdowns in the six games that he played this season. In fact, Of the 29 games that he played for the Browns since his massive trade from the New York Giants, only two of them saw Beckham post more than 100 yards. It can be said, however, that Beckham was making steady progress after his first season with the Browns - he posted 1,035 receiving yards - until a season-ending knee injury which sidelined him for the better part of 2020. Where will the three-time Pro Bowler play next and can he find the success he wants with his new team? Watch this space.