BARCELONA
Barcelona to hold talks with Dani Alves over possible return
Alves would be key in the development of Sergiño Dest, who would have one of the best full-backs in history as a mentor.
Dani Alves could make a remarkable return to FC Barcelona in the January transfer window. According to Brazilian outlet UOL Esporte, the rampaging right-back will meet with the Barcelona board this week to negotiate his return to the club.
Alves a free agent
The Catalan club feel that the right-back position is an area that they need to reinforce, as they only have Sergiño Dest and Sergi Roberto. The Brazilian has been a free agent since terminating his contract with Sao Paulo in September. His initial idea was to stay in Brazil and he held talks with Fluminense but the possibility of returning to Barcelona has made him change his mind, and he has therefore rejected all the offers he had in Brazil.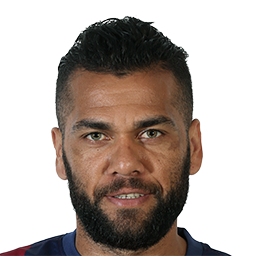 The player will negotiate with the club over the coming days. The length of his contract and the salary will be among the talking points. The agreement will also be subject to the approval of new manager Xavi Hernández, who in principle would support the arrival of his former team-mate.
"Dani is helping our club in many ways, he has also offered his help from a sporting point of view," club president Joan Laporta said recently. Alves has also hinted at this on a number of occasions, insisting in statements that "if they need me, they can call me". The LaLiga club has confirmed that they are in direct contact with him and that he is willing to return to Camp Nou.
One eye on 2022 World Cup
Alves has one eye on the World Cup in Qatar, which would be his last major tournament with his national team. The Brazilian is aware that playing for the Catalan club would considerably increase his chances of going to Qatar next year. He left Barça in 2016 with 23 titles to his name, a phenomenal achievement alongside club legends like Leo Messi, Andrés Iniesta and current player Gerard Piqué.
Barcelona see Alves as being a very useful addition in a number of ways. The player with the most titles in the history of the game would bring experience to a young team. In addition to the strength he would give to the team, he would be key in the development of Sergiño Dest, who would have one of the best full-backs in history as a mentor.