At the half-way stage, who are the NFL's biggest over and underperformers?
There's no clear Super Bowl frontrunner at the midway point, but Stats Perform's metrics offer insight into who is over and underperforming.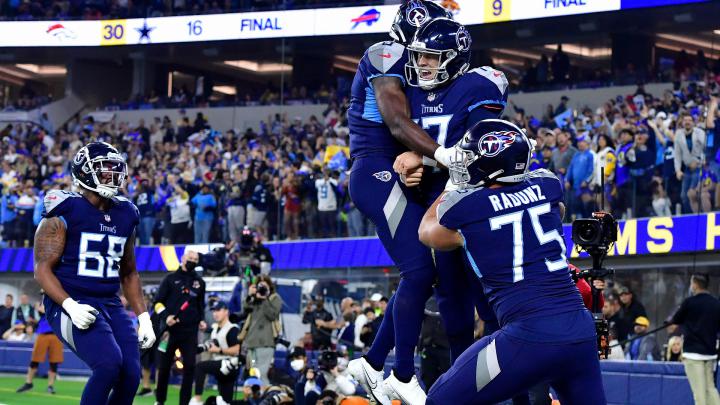 Even at the midway point of the NFL season, it is difficult to make definitive judgments about many teams in the 2021 campaign.
The AFC is a jumbled mess with no clear frontrunner, though the Tennessee Titans may feel differently after surging to the top of the conference with a 7-2 record.
In the NFC, it is easier to discern the elite, but picking the teams who will claim the last two Wild Card spots from a crowded field is not a simple task.
What we can do, however, is look at the standings and see which teams are either over or underperforming.
Stats Perform has done just that by assessing the records of every team compared to their power rating, a model that, using X-info data, looks at seven different facets of each team: quarterback, offensive skill players, run blocking, pass blocking, pass rush, run defense and pass coverage, and the player rates associated with each.
These seven facets are weighted according to modelled importance, and then aggregated to a team-level rating.
And that process has produced some clear standouts who either have more wins than the model suggests they deserve or are failing to live up to its expectations.
Overperforming
New Orleans Saints – Power rating: 29th
If Sean Payton isn't getting Coach of the Year hype come the end of the season, something has gone severely wrong.
Payton has the Saints in position to claim an NFC Wild Card berth at 5-3 despite a quarterback situation most would struggle to overcome, with Trevor Siemian stepping in to replace the injured Jameis Winston.
The Saints' most pressing issue beyond signal-caller is at wide receiver. Their most targeted receiver, Marquez Callaway, is registering a burn – or, in other words, winning his matchup with his defender when targeted – 56.4 per cent of the time, below the average of 60.6 for wideouts (min. 10 targets).
That has led New Orleans to lean on running back Alvin Kamara and the defense.
Kamara is unsurprisingly making the most of his significant opportunities as a receiver, his big-play percentage of 23.6 fourth among backs with at least 10 targets.
The defense is allowing a league-low 3.19 yards per carry and leads the NFL in run disruption rate, but comparative struggles against the pass (6.92 yards per play) and in getting after the quarterback could spell trouble if Siemian cannot maintain a surprisingly strong start to his time under center.
Cincinnati Bengals – Power rating: 23rd
The Bengals have been brought back down to earth with a bump over the past two games, losing to the New York Jets before being blown out by the Cleveland Browns.
First in the AFC before that slump, they are now last in the AFC North but, with a 5-4 record, they can still be considered to be outperforming expectations.
The problem area for the Bengals continues to be the trenches. Joe Burrow has been sacked eight times over the past two games, Cincinnati's struggles up front reflected by a ranking of 21st in pass protection win rate.
Things have been worse up front on defense, the Bengals 30th in pass rush win rate despite the best efforts of Trey Hendrickson, who has beaten a pass blocker on 28 of his 43 pressures.
Burrow has the best percentage of well-thrown balls among quarterbacks with at least 100 attempts. He is delivering an accurate pass on 84.4 per cent of attempts.
His second-year leap is no mirage and has been aided by the outstanding rookie season of former LSU team-mate Ja'Marr Chase, eighth among receivers (min. 50 targets) with 3.5 burn yards per route. Yet, without improvement in other areas, elevating the Bengals back to the postseason could prove too much of a challenge for that truly dynamic duo.
Arizona Cardinals – Power rating: 16th
The Cardinals being this low down the list may be difficult to reconcile given they are 8-1 and just convincingly beat the San Francisco 49ers with their backup quarterback.
Yet holes have emerged on a defense now without J.J. Watt, whose addition had proven so critical to the interior of the D-line.
Arizona's defense is allowing 4.81 yards per rush, the second-most in the NFL, with the Cardinals in 22nd in run disruption rate.
Their pass rush win rate position of 24th belies the production of Markus Golden (nine sacks) and Chandler Jones (six), with those numbers suggesting the Cardinals' strength against the pass is more a product of the impressive play of a secondary that has surpassed expectations.
Though there is reason for doubt when it comes to the Cardinals' defense, this is a team that will go as far as Kyler Murray and the offense.
Murray is firmly in the MVP mix with a well-thrown percentage of 81.3, and receivers DeAndre Hopkins (80.9) and Christian Kirk (79.2) are each in the top five among wideouts (min. 10 targets) for burn rate.
With an offensive line ranked eighth in pass protection win rate doing an excellent job of keeping Murray clean, the Cards have an offensive recipe well suited to winning in 2021.
Yet their power rating and performance on defense indicates this team is not as complete as their record suggests.
Tennessee Titans – Power rating: 18th
Five straight wins, including victories over the Kansas City Chiefs, Buffalo Bills and Los Angeles Rams, and the Titans are only 18th?!
It may be difficult to believe, but Tennessee's position in the bottom half of the NFL by power rating is one mirrored by the Titans' spot in Stats Perform's Efficiency Versus Expected (EVE) rankings.
EVE looks at several factors to train a model to predict yardage output for any game situation and then compares the projected yards to the actual yards gained or prevented in those situations.
The Titans are a disappointing 17th in EVE, despite Ryan Tannehill enjoying a season that has seen him deliver an accurate well-thrown ball on 83.5 per cent of his passes.
But Tannehill is now without his security blanket with Derrick Henry, who was threatening Eric Dickerson's rushing record and averaging 3.05 yards per carry on disrupted runs, and is throwing to a receiving corps that has just one member, Nick Westbrook-Ikhine (63.6), with a burn percentage above 60.
Their stunning primetime win in Los Angeles was largely a product of turnovers and a startling amount of pressure from the defensive front, and the latter appears unlikely to be sustainable.
In the bottom half of the league in pass rush win rate (31st) and run disruption rate (27th), the production the Titans have got from the likes of Harold Landry, Denico Autry and Jeffery Simmons has not been the result of consistent dominance up front.
The story is the same for an offensive line ranked 29th in pass protection and 17th in run block win rate. Beyond Tannehill and Henry, areas where the Titans consistently excel are not obvious. The receivers will need to step up or the defense will need to prove a breakout performance against the Rams was not an anomaly for Tennessee to turn the doubters into believers.
Underperforming
Kansas City Chiefs – Power rating: 3rd
The uneven nature of the Chiefs' performances to this point makes them moving to 5-4 last week actually seem pretty impressive.
Yet, for all their issues on defense, and the doubts about an offense lacking the explosiveness of years gone by, the Chiefs should have fared even better over the first nine games, at least according to their power rating.
Though Kansas City only managed 13 points in their win over the Green Bay Packers, it is the Chiefs' offense that provides the most cause for optimism.
Patrick Mahomes' well-thrown percentage of 79 is above the league average of 78.5 for quarterbacks with a minimum of 10 attempts, and he is being well protected by the Chiefs' reworked offensive line.
The Chiefs rank fourth in pass protection win rate and first in run block win rate, with their rushing average of 4.62 yards per play the eighth-best in the NFL.
It is those game-changing downfield shots that are conspicuous by their absence for the Chiefs, with Tyreek Hill's underwhelming big-play percentage of 24.8 illustrating their struggles in that regard.
But this remains a team set up for offensive success, and if a defense that has not allowed a 300-yard passing game since Week 5 can continue making incremental improvements, Kansas City could yet enjoy the season many envisioned.
San Francisco 49ers – Power rating: 8th
A route to contention is not as easy to plot for the 3-5 49ers, who continue to beat themselves with mistakes that negate their overall efficiency.
The 49ers are eighth in EVE, with their position in offensive yards over expected (eighth) and yards allowed under expected (14th) painting the picture of a top-half team on both sides of the ball.
Yet a turnover differential of -9 that is superior to only that of the New York Jets (-12) makes a losing season a more realistic possibility for the Niners than a playoff push.
The offense is the primary source of hope. Deebo Samuel is on pace for over 1,800 receiving yards and his 4.1 burn yards per route are second for receivers with at least 50 targets, while George Kittle had a 100-yard game on his return from injury last week and ranks second among tight ends (min. 10 targets) with 3.1 burn yards per route.
With rookie Elijah Mitchell impressing at running back, Brandon Aiyuk emerging from Kyle Shanahan's doghouse and a line ranked in the top 10 in pass protection and run block win rate, the Niners theoretically have the offense to compete with anyone.
Poor execution has prevented them from doing so. If the Niners are to somehow stay in the hunt, the turnovers must stop, but change is also required on defense.
The 49ers have struggled to disrupt the run, and disappointing secondary play has limited the impact of a stellar season from Nick Bosa, whose adjusted pass rush win rate of 41.09 per cent is way above the average of 21.88 for edge rushers.
Time is running out for San Francisco to figure it out; if the Niners cannot do that, it will be another frustrating year for a team too talented to be struggling this much.
Minnesota Vikings – Power rating: 10th
It has been a typical Vikings season, with a talented and potent offense seeing their efforts go largely unrewarded as they have flirted with both triumph and disaster late in games on a near-weekly basis.
Quarterback Kirk Cousins might have an MVP case were the Vikings in a better position to contend. He has been extremely accurate, posting a well-thrown percentage of 81.8, and has generally avoided turnover-worthy plays, throwing just four pickable passes on 285 attempts.
Dalvin Cook's missed tackle per touch rate of 0.269 is the best among running backs with at least 50 carries, and Justin Jefferson is again one of the league's elite separators at receiver, as evidenced by his burn rate of 72.1 per cent.
Yet the Vikings are only 13th in offensive yards over expected, speaking to an issue that continues to hold this team back, with Minnesota again in the lower reaches of the league in pass protection win rate.
It has been a different story on the other side of the trenches, the Vikings seventh in pass rush win rate, though the absence of Danielle Hunter with a torn pectoral muscle may see them lose that position.
Soft against the run, allowing the third-highest yards per rush (4.77) in the NFL, the Vikings are a team whose lofty power rating is easily explained through a loaded passing game and a pass rush that has excelled through their first eight games.
But their 3-5 record is reflective of an incomplete team that maintains an obvious weakness in the trenches and lacks the defensive solidity to put games to bed. The Vikings may be a top 10 team on paper, but it is tough to trust them to perform to that standard consistently.