NFL
Who plays Monday Night Football?
Everything you need to know about the Week 10 Monday Night Football match-up between the San Francisco 49ers and the Los Angeles Rams at Levi's Stadium.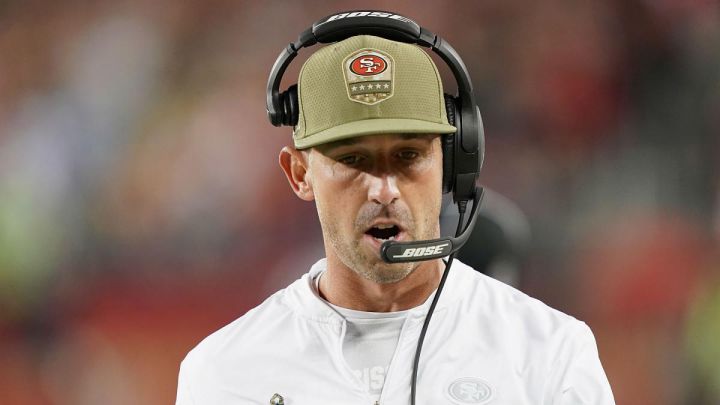 The LA Rams will head up the coast tonight to meet NFC West rivals San Francisco, where they will be looking to create some further separation in a division of two halves. The two sides may be acres apart in the standings, but their on-field philosophy is not terribly dissimilar. Small wonder perhaps for two coaches who developed their styles as offensive coordinator and offensive assistant at Washington.
The coaches
Sean McVay may have had the success of recent years, but a decade ago he was working on staff under Kyle Shanahan. When he was offered the head coach position in LA, becoming the youngest head coach in NFL history in the process, he lured Matt LaFleur away from Shanahan's squad and the sleight has not been forgotten. The two men are still friends off the field, but across those hash marks it is pure war.
The offense
With no running game to speak of on either side, the big divider between these two comes down to the passing game. The 49ers have never really been able to replace the hole that Colin Kaepernick left at the quarterback position. Former Tom Brady backup Jimmy Garoppolo has gone a long way in that direction, but the only real consistency that the 49ers passing game has shown is in being consistently inconsistent. The Rams, on the other hand, have seen fantastic results out of Matthew Stafford and Cooper Kupp. With the addition of Odell Beckham Jr. you can look for the Rams to really try and air it out against a 49ers defense that struggled in Arizona in Week 9.
The defense
49ers
Prior to Week 9, the San Francisco defense has actually been pretty stiff, giving up very few yards through the air. But they have yet to face a team that passes the way the Rams do. Their front four can put a lot of pressure on quarterbacks and Stafford has shown vulnerability when hurried, giving up two interceptions in Week 9 to a Titans defense that sacked him five times.
Rams
Aaron Donald should be one of the first names that comes to mind when you think about any defense, not just los Angeles. Almost impossible to block, he can get to any quarterback, much less one who is as injury-laden and immobile as Jimmy Garoppolo. With the best cornerback in the league in Jalen Ramsey covering half of the secondary on his own, it makes for a very stingy defense indeed.
The Rams are all in on 2021 and a win tonight would see them level with the Cardinals. If ever there was a perfect opportunity for the 49ers to play spoiler and reverse a season on the skids, it is now.