Liverpool 4-0 Arsenal summary: score, goals, highlights, Premier League 2021/22
Liverpool vs Arsenal: Premier League as it happened
Peep peep peeep! Liverpool have utterly bossed Arsenal at Anfield and are provisionally up to second, ahead of Manchester City's clash with Everton tomorrow. Jürgen Klopp's men sit four points off leaders Chelsea.
Arsenal's 10-game unbeaten run is at an end, and how. They have had their bottoms spanked on Merseyside, and stay fifth. It's now six straight Premier League defeats at Anfield for the Gunners.
Thanks for reading!
Three minutes of time added on.
We're pretty much waiting for the final whistle at Anfield. Liverpool appear to have declared at 4-0.
Arsenal replace Partey with Mohamed Elneny, while Liverpool bring on Tyler Morton for his Premier League debut. He replaces Thiago.
Liverpool bring up century of Premier League goals vs Arsenal
That Salah goal was Liverpool's 100th against Arsenal in the Premier League, by the way. Only Newcastle United have conceded more in the league against the Reds since August 1992, Opta also note.
And with his first touch, Minamino makes it four! Mané collects it at the top of the box, before feeding it right to Salah. He in turn slips it further to the right to the overlapping Alexander-Arnold, who plays it across the face of goal for the substitute to tap in at the back post.
There are still over 10 minutes remaining, too. This could get even messier for Arsenal.
And to think Arsenal had the chance to leapfrog Liverpool in the table. These two sides aren't on the same planet.
Arsenal have had a dreadful second 45, but it almost yields a goal there. Partey gets the ball out of his feet and bends a shot towards Alisson's left-hand top corner from 25 yards. It looks for a moment like it's arrowing into the net, but the goalkeeper gets a hand to it to deny the Ghanaian.
3-0! Now Salah has his goal! Jota's header gets Mané scuttling in behind the Arsenal defence and into the area, and when he cuts it back across goal, Salah turns it into the net!
Arsenal were second best int he first half, and have just been overrun in the second.
Salah again runs at Gabriel, advancing into the box and jinking one way and the other in search of that yard of space to get his shot away. In the end, he succeeds only in running into the defender.
Salah is screaming for a penalty after a challenge in the box by Gabriel, but neither Michael Oliver nor the video assistant deem the tackle worthy of a spot-kick. Salah isn't happy, but it didn't look like a pen.
That's another great save by Ramsdale, who somehow prevents Liverpool from making it 3-0! Salah dashes down the right flank and squares the ball across the box for Jota, who looks certain to score. He gets a decent enough connection on his shot, but at the last moment Ramsdale sticks out an arm to deny him.
Lacazette is off, with Martin Odegaard introduced in his stead.
Just as I write that evisceration of Arsenal's second half, they go and create their best attacking moment of the half. Aubameyang is slipped in past Matip and into the Liverpool box, but Alisson blocks the Gabonese's low strike.
Although Liverpool were well on top in the first half, Arsenal had the odd moment or two in attack. Now, it's just one-way traffic, as the hosts suffocate the visitors with their pressing and win it back high up in the Gunners' half almost at all.
Pretty much on a once-a-minute basis, Arsenal losing the ball to Liverpool in horribly, horribly dangerous positions.
It's now Maitland-Niles who is robbed in a central area inside his own half, allowing four or five red shirts to barrel forward toward the Gunners' box. Oxlade-Chamberlain feeds it wide to Salah, who plays it first-time to Jota, who is in if he gets his control right.
He doesn't, and Ramsdale is out to prevent him from scoring a third. They're both hurt in an almighty collision inside the six-yard area, but after a few moments' medical attention they look like they'll be alright.
Arsenal are in real danger of ending up on the end of a hiding. First, Alexander-Arnold receives and shoots just inside the area, but his strike is blocked. A moment later, Jota's back-header finds Mané in space in the box. Ramsdale denies the Senegalese, before Salah almost turns the rebound home. Ah, but Jota was offside.
Blimey, Liverpool are winning it back in dangerous areas time and again. This time it's Tomiyasu who loses it, Thiago robbing the full-back and advancing into the Arsenal box, only for his shot to be blocked.
Maitland-Niles is on for Sambi Lokonga, who hasn't had the greatest of games.
Jota makes it 2-0 to Liverpool! It's a bad, bad error by Tavares.
A moment earlier, Liverpool had it won it back on the edge of the Arsenal box and almost got Salah into space to score a second, and this time the Gunners don't survive.
As Tavares brings the ball out from the back, he plays a square pass across the top of his box that is straight at Jota, who immediately scampers into the area. Having jinked past one challenge, he then rounds Ramsdale,and strokes it into an empty net!
Oxlade-Chamberlain is so close to doubling Liverpool's lead! He actually loses possession on the edge of the box, but Fabinho is there like a shot to win it latch onto Saka's loose pass and feed it back to his team-mate. Oxlade-Chamberlain drives into the area and strokes a shot towards Ramsdale's far post, but it flies just wide.
Smith Rowe theads a sublime pass into Aubameyang's run into the Liverpool box, but just as the Arsenal captain looks like he's going to advance into the area and shoot, Van Dijk is there to sweep the ball off his toes. That Smith Rowe ball was a thing of beauty, though.
Peeep! Back underway at Anfield. No half-time substitutions for either side.
Yet another Mané goal against Arsenal
Sadio Mané has now scored eight Premier League goals against Arsenal, football-stats gurus Opta point out. Only Crystal Palace have conceded more top-flight goals by the Senegalese.
Peep peep peeep! Half time at Anfield, where Liverpool have carried almost all of the attacking initiative and fully merit their lead.
Mané is booked for a somewhat overenthusiastic hack on White. Gabriel trots over to politely suggest he might like to refrain from doing that in future.
For a moment, Arsenal look like they're going to create a quickfire - and not exactly merited - equaliser. Saka cuts it back from the right-hand byline towards Smith Rowe, but he's just beaten to the ball on the penalty spot.
Moments later, the ball runs to Sambi Lokonga in shooting space 25 yards or so out, but he sidefoots his effort straight at Alisson.
There's Liverpool's opener! You can't say they don't deserve it.
Alexander-Arnold whips yet another lovely right-wing delivery into the Arsenal box, where Mané rises at the back post to direct his header across Ramsdale - who does manage to get a touch - and into the far corner.
What a challenge by Fabinho. Suddenly Arsenal are breaking at lightning pace, but the Brazilian is in to nick the ball off Aubameyang's toes on the halfway line, to deafening roars of approval from the home crowd.
Two great saves by Ramsdale! First, Tsimikas scampers towards the byline and cuts it back for Salah to shoot first time, but the Arsenal keeper beats the Egyptian's effort out when he looked odds-on to score. A minute later, Alexander-Arnold thrashes a left-footed strike at goal from the edge of the area, but Ramsdale gets the faintest of touches to it to turn it over the bar! Liverpool really are knocking rather hard on that Arsenal door.
The first bookings of the night go to Arteta and Klopp, after the pair exchange less-than-polite opinions over Mané's aerial challenge on Tomiyasu, who is left in a heap on the ground. Arteta in particular is absolutely seething with the Liverpool boss, and has to be held back by his backroom team.
Smith Rowe releases Aubameyang into the Liverpool box with a sumptuous backheel. It really is fabulous stuff. Aubameyang squares for Lacazette to turn it into an empty net, but the Gabonese striker was clearly offside when he received the ball from Smith Rowe.
Arsenal are really struggling to get their foot on the ball, and it feels like a Liverpool goal is coming. Thiago and Mané both now go as close as the Reds have come so far to getting that goal.
From the right, Alexander-Arnold whips a delicious ball into the area, where Thiago connects with a left-footed volley at the back post. Ramsdale beats out the Spaniard's effort and Mané scrambles to turn the loose ball into the net, but it drifts just past the post.
Oxlade-Chamberlain drives towards the Arsenal box and lets fly, but his shot bounces off a yellow shirt and behind for a corner, which Arsenal clear.
Alexander-Arnold pings a low ball across the six-yard box towards Jota, and Saka has to hack it away for a corner. Van Dijk gets his head to the corner-kick delivery, but can's get much power on it and Smith Rowe can bring it clear.
Saka is getting into some dangerous positions on the right wing. Aubameyang releases him down that flank and into the Liverpool area, but Van Dijk makes himself big and blocks the England international's ball into the middle.
Smith Rowe loses it on the halfway line to Alexander-Arnold, who plays it first-time through to Salah, who for a moment looks like he's streaking through on Ramsdale. He checks back and feeds it to Jota int he box, but the Portuguese can't get a shot away. Ah, and the flag is up against Salah, who was offside when he received the ball from Alexander-Arnold.
Liverpool are winning back possession in dangerous areas in the Arsenal half with some frequency.
Just as I say Liverpool are taking charge, Arsenal carve out their best attack so far tonight. Lacazette plays it first-time around the corner to Tomiyasu, who fizzes a lovely right-wing cross into the Liverpool area, right in that area on the edge of the six-yard box that makes life so difficult for the goalkeeper. Saka is waiting to head home, but Oxlade-Chamberlain is there in the nick of time to clear it off the winger's head.
Liverpool are really starting to take charge of this game. It's worked to Salah in a highly dangerous position on the left-hand side of the Arsenal area, but his lay-off towards Oxlade-Chamberlain can't find the former Gunner, and the visitors get it away.
Mané wins a free-kick on the left when he runs at Tomiyasu and falls to the turf under the Japanese's challenge. Tsimikas whips his set-piece delivery towards Van Dijk on the penalty spot, but the Dutchman's header loops up into the air, and over the bar.
Oxlade-Chamberlain runs at a wall of yellow shirts on the right wing, and finds his path towards the Arsenal box blocked. The ball falls to Fabinho, who tries to play a give-and-go with Salah before collecting the return inside the penalty area, but the forward's pass is too long, and he ain't reaching that.
Now Arsenal create their first truly threatening moment. Tomiyasu releases Saka into space to run at a backpedalling Liverpool defence on the right wing... but Lacazette can't collect his inside pass on the edge of the box, and Van Dijk boots the loose ball away.
There's the first real moment of attacking danger, when White carries it out from the back but loses it to Oxlade-Chamberlain 35 yards out. He feeds it to Thiago, who in turn finds Salah in the right-hand channel. The Egyptian cuts inside onto his left and pulls the trigger, but drags his shot past the near post.
The ball breaks to Tsimikas on the left-hand corner of the Arsenal box, but his square ball towards Mané is overhit, and Arsenal bring it clear. That aside, little to report thus far.
Peeeep! Michael Oliver gets us underway.
Teams out!
The teams are out at Anfield, where the Liverpool fans are belting out their usual pre-match rendition of You'll Never Walk Alone. I really will never tire of listening to it.
Almost time to go.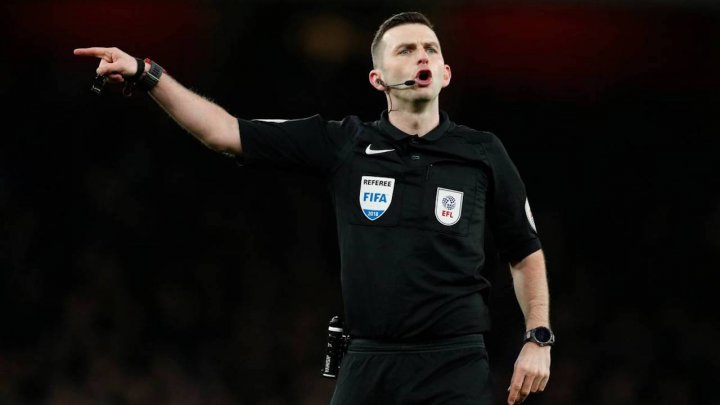 The man in the middle: Michael Oliver
Referee Michael Oliver will take charge of Liverpool vs Arsenal. He got the Manchester derby earlier this month, and Manchester City's visit to Chelsea in late September, so he seems to be very much the in-vogue ref in England at the mo.
Here's a profile of the 36-year-old official.
(Photo: JOHN SIBLEY / Action Images via Reuters)
Liverpool vs Arsenal: how and where to watch
If you're wondering how you can tune into the game at Anfield on the telly or online, you may wish to take a look at our guide on how and where to watch.
How things stand in the Premier League
Arsenal's win over Watford last time out, coupled with Liverpool's unbeaten-run-ending defeat to West Ham, leaves just two points between the two teams. If they can end their winless sequence at Anfield, the Gunners will leapfrog their hosts and go level on points with Manchester City and the Hammers, who have just lost to Wolves. A win for Liverpool will take the Reds provisionally into second, ahead of City's game against Everton tomorrow.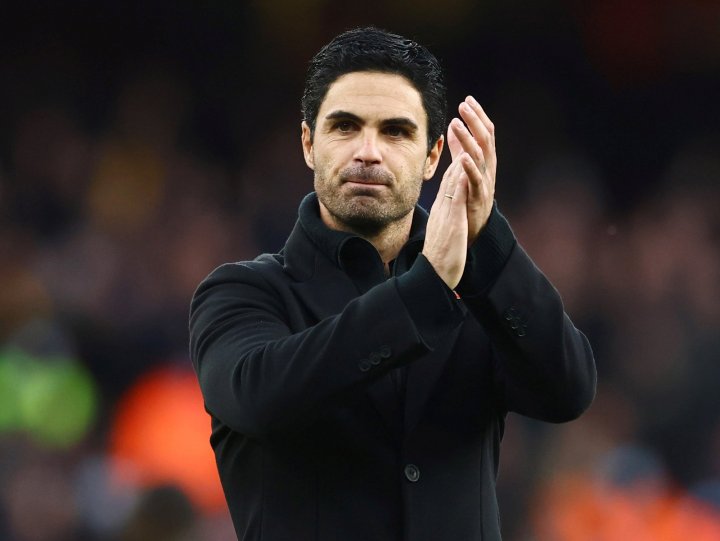 What the coaches said: Mikel Arteta, Arsenal
Visiting Anfield:
"It is always a test, it is a fascinating stadium to play football in. You have to be at your best, and raise the level to your maximum standards, emotionally, physically, tactically, because if you don't you will be exposed.
Arsenal's winless Premier League run away to Liverpool:
"I don't know [why Arsenal haven't won more at Anfield]. Obviously the quality of the opponent has a big say. It's not a coincidence that last year as well before we went to Old Trafford [Arsenal hadn't won away to Manchester United in the league for a long time]. It was I don't know how many years before we won at Stamford Bridge the same [season]. But first of all you have to believe that you go there and that you can beat them, that's the first thing. If somebody is not with that mindset, they should not put the shirt on and go to Anfield tomorrow."
(Photo: REUTERS/David Klein)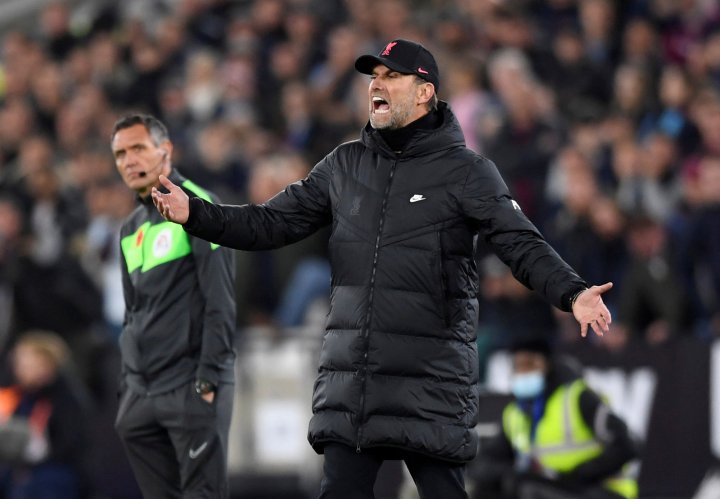 What the coaches said: Jürgen Klopp, Liverpool
Learning from the West Ham defeat:
"Each defeat is good after you came over it. It needed a little bit of time for different reasons, but yes, a defeat is important information. In the moment when you lose, there is no good defeat, there is no good moment for a defeat, but after that we've had time, we could watch a lot of football in between that game and our game, unfortunately not with us being involved, just players of ours. You always want to see and you always have to show a reaction on different things."
(Photo: Reuters/Tony O'Brien)
One change for Arsenal
Arsenal make just the one change to their team, as Thomas Partey, who has been struggling with a groin problem, returns to the midfield. Ainsley Maitland-Niles makes way for the former Atlético Madrid man.
Nuno Tavares keeps his place at left-back ahead of Kieran Tierney, who is carrying an ankle issue and is on the bench.
Pierre-Emerick Aubameyang had sustained a minor muscle injury during international week, but is fit to start at Anfield.
Sead Kolasinac is out with an ankle problem, while Granit Xhaka continues his recovery from a knee injury.
Thiago, Tsimikas in for Liverpool
Liverpool boss Jürgen Klopp makes two changes to the team that began the defeat to West Ham last time out.
The German has brought Thiago Alcántara in for Jordan Henderson, who has been struggling with a groin problem picked up while with England, while Kostas Tsimikas starts in place of Andy Robertson, who returned from Scotland duty with a hamstring injury.
Henderson is fit enough to make the bench, but Robertson has been left out altogether.
Klopp had said on Friday that the Reds would make a "late, late, late, late decision" on Henderson and Robertson. Sadio Mané picked up a rib issue while with Senegal, but starts.
Divock Origi misses the game through illness, and Roberto Firmino (hamstring), James Milner (hamstring), Naby Keïta (hamstring), Curtis Jones (eye) and Joe Gomez (calf) all remain out.
Arsenal team news
Starting line-up: Ramsdale, Tomiyasu, White, Gabriel, Tavares, Partey, Lokonga, Smith Rowe, Saka, Lacazette, Aubameyang
Liverpool team news
Starting line-up: Alisson, Alexander-Arnold, Matip, Van Dijk, Tsimikas, Oxlade-Chamberlain, Fabinho, Thiago, Salah, Jota, Mané
Liverpool vs Arsenal: preamble
Hello! Welcome to our live coverage of Arsenal's visit to Anfield - a match in which the Gunners have the chance to move above Liverpool in the Premier League table. After Mikel Arteta's men lost their first three games of the season, it felt unthinkable that they'd be where they are now.
Arsenal have now gone eight games unbeaten in the league, taking 21 points from a possible 24 - but go to a stadium where they haven't won in the top flight since September 2012. Their coach was in the team that day, as goals by Lukas Podolski and Santi Cazorla gave the north Londoners a 2-0 win. It's been five Liverpool wins in five Anfield Premier League meetings since then, with an aggregate score of 18-4 for the Merseysiders.
The Reds host Arsenal having seen their 25-game unbeaten run come to an end with a 3-2 defeat to West Ham before the international break. They sit fourth, two points ahead of their fifth-placed visitors.
The teams are in at Anfield, so let's take a look.