Sheriff vs Real Madrid summary: score, goals and highlights, 2021/22 Champions League
FC Sheriff vs Real Madrid: as it happened
Peeep peeep peeeep! It's all over in Tiraspol, where Real Madrid have eased to victory over Sheriff and have booked their place in the Champions League knockout stages.
Madrid will fight it out for top spot with Inter on matchday six. Los Blancos are two points clear of the Italians as it stands, so they'll win Group D with a draw at the Bernabéu on 7 December.
Sheriff are now guaranteed to finish third in the group and drop into the Europa League.
That's all from me - thanks for joining!
Three minutes of time added on.
Yansane fires a shot at Courtois' goal from distance, but the Real Madrid keeper is quickly across his line to gather the ball.
Again Athanasiadis saves from Asensio! The forward cuts in from the right and thrashes a shot at goal from just outside of the box, but the Sheriff custodian again gets a hand to it and keeps it out.
It really should be 4-0 to Real Madrid, but Athanasiadis denies Asensio with a wonderful save. Marcelo curls a cross into the Sheriff box from the left, and Benzema flicks it on to Asensio. He's six yards out and catches the ball well on the half-volley, but somehow the goalkeeper manages to grab hold of his shot. He can't believe it, and neither can I.
Nikolov picks up a loose ball some 30 yards out from goal, but sends his strike wide of Courtois' near post.
Real Madrid make two more substitutions, bringing off Rodrygo and Casemiro and introducing Marco Asensio and Antonio Blanco.
Sheriff make another substitution, replacing Traoré with Maxim Cojocaru.
Thill stands over a free-kick 25 yards or so out from the Real Madrid goal, but fires straight at Courtois.
It'll be a shoot-out for top spot between Real Madrid and Inter at the Bernabéu on 7 December, then. A draw will be enough for Carlo Ancelotti's men to go through as group winners.
Rodrygo controls and turns on the edge of the box before shooting, but his effort is deflected up into the air and Athanasiadis gathers the dropping ball.
Twice Sheriff go as close to scoring as they've come all night! First, Traoré controls a bouncing ball and fires on the turn towards goal, drawing an excellent save by Courtois. Twenty seconds later, Cristiano gets his head to a delivery into the box and sees his effort bounce back off the woodwork!
Rodrygo very nearly latches onto the ball in the area, and would surely have made it 4-0 if he had, but Costanza is there just in time to take the ball off the Brazilian's toes. That all came about from a lovely Kroos delivery into the box, which Athanasiadis got a hand to but succeeded only in directing towards Rodrygo.
Madrid make another two subs, bringing on Lucas Vázquez and Nacho for Carvajal and Alaba.
Just before coming off, Alaba had dropped to the turf and signalled that he needed to come off. Looked like some sort of muscle strain; it's unclear how serious it is.
Thill curls a right-wing free-kick into the Real Madrid six-yard area, where Casemiro heads over for a corner. Thill again takes, and once more it's a very dangerous delivery. It's right on Dulanto's head, eight yards or so out, but he nods over! He looks very unhappy with himself, and well he might. A very decent chance for the hosts.
Real Madrid make their first substitution, replacing Mendy with Marcelo at left-back.
Just before that change was made, Adama Traoré cut inside from the right and into a very promising shooting position, but dragged his effort past Courtois' near post.
Sheriff make a triple change, withdrawing Bruno, Kolovos and Castañeda for Keston Julien, Boban Nikolov and Momo Yansane.
That makes it five goals in five Champions League games for Benzema this season.
3-0! This is an absolute stroll for Real Madrid. It's such a simple goal: Mendy carries the ball across the top of the Sheriff penalty box, before offloading to Benzema. In acres of space to shoot from 20 yards out, he controls and fires into Athanasiadis' bottom right-hand corner.
Rodrygo looks for Vinícius with a lovely little backheel on the edge of the Sheriff box, but his countryman is just a step or two behind and is beaten to the ball.
A minute later, Modric plays the ball inside to Casemiro, who gets it out of his feet and strikes from 30 yards, but sends his strike well over the crossbar.
Bruno drives towards the right-hand byline, but massively overhits his cross. Sheriff recycle it, though, Cristiano swinging over a better ball from the other side that Alaba heads away. His clearance is straight at Costanza, though, the right-back fizzing a low shots a good couple of yards wide of Courtois' goal.
Peeep! Back underway. No changes for either side.
And that's the half! Real Madrid have been very good. They controlled that first 45 in Tiraspol and are well worth their two-goal lead. Sheriff have had the odd moment or two going forward, but have half-threatened at most.
Madrid and Inter are going through as it stands, and Sheriff are heading into the Europa League.
Kroos doubles Real Madrid's advantage! It's a lovely, lovely goal. Rodrygo carries the ball across the top of the Sheriff box, before playing a one-two with Vinícius and laying it back to Kroos at the top of the D. Without breaking stride, he clips a first-time shot in off the underside of the bar, and Madrid are cruising into the knockouts!
It's a strike not unreminiscent of that Lampard ghost goal. And oh, how easily the officials were able to ascertain that yes, the ball did cross the line this time. Can't tell I'm a bitter England fan at all.
One minute of time added on in Tiraspol.
Sheriff waste an inviting opportunity to break, Bruno misplacing his pass and allowing Real Madrid to regain possession and come back at their hosts. Kroos is then brought down on the edge of the Sheriff area, and Madrid have the opportunity to double their lead from another free-kick. Benzema takes this time, but bangs his effort into the wall.
Close from Carvajal! Vinícius finds Mendy's run to the left-hand byline, whence the Frenchman lifts the ball to his opposite full-back, who's arriving at pace at the back post. He can't quite get over his volley, though, and it flies just over.
How things now stand in Group D
That Alaba goal leaves Real Madrid provisionally on 12 points, two ahead of Inter, who would join Los Blancos in the last 16 were it to stay this way at Sheriff Stadion. Sheriff would be confirmed in third place, and would go into the Europa League.
The decibels rise once more in Sheriff Stadion as the hosts scamper forward on a quick break, which finally sees the ball laid off to Thill 10 yards or so outside of the Real Madrid box. He skies his shot, however.
Sheriff immediately get Thill into a shooting position some 25 yards or so out from Real Madrid's goal, but - unlike at the Bernabéu two months ago - he can't beat Courtois. Too close to the Belgian.
Alaba fires the free-kick into the far corner - beating not the best defensive wall I've ever seen, if truth be told - and Real Madrid lead!
If it stays this way in Transnistria, Madrid will be through to the last 16.
Costanza is booked for bringing down Casemiro on the edge of the Sheriff box, and Real Madrid have a very, very dangerous free-kick opportunity. Either Kroos or Alaba to take...
Having had a decent old spell where they couldn't really get a sniff of the ball, Sheriff have regained an attacking foothold, at least in the last couple of minutes or so. They work it to Cristiano in crossing space on the left, but Alaba is well placed and heads the delivery clear.
Casemiro gives away a free-kick 45 yards or so out. He produces his very best who-sir-me-sir look of innocence, but Szymon Marciniak is unmoved.
Thill clips the free-kick into the Real Madrid box, but the flag is up for offside against the hosts, and the chance is lost.
The corner is worked to Rodrygo on the right-hand byline, where he lifts the bouncing ball onto Benzema's head at the opposite post. However, Benzema nods a good couple of yards over. It came at him at quite a pace, in truth, and he couldn't adjust in time to keep his header down.
It's pretty much all Real Madrid ball now. Opta's latest stat has the visitors' possession count at 64%.
Alaba steps forward and clips a cross into the Sheriff box, but it's headed clear. Madrid win it right back, though, and begin another attack. Modric feeds Rodrygo, who jinks his way into the area but, just before he can think about pulling the trigger, as the nicked off his toes and it's behind for a corner.
There's a chance for Rodrygo, but Athanasiadis saves! Carvajal drives down the right flank before fizzing a low ball into the box to Rodrygo. He connects first-time with the cross, but it's too close to the Sheriff goalkeeper, who holds on with relative ease.
Mendy earns Madrid's second-fastest UCL yellow
Spanish football-stats guru Mister Chip has pointed out that Ferland Mendy's yellow card is the second earliest picked up by a Real Madrid player in the Champions League. The record is held by Robert Jarni, who was booked after 24 seconds in 1999.
There's another threatening attack from Real Madrid - and it ends up with Benzema putting the ball in the net, but being flagged offside. Kroos digs out a shot from 25 yards that Athanasiadis can only palm straight at Benzema. He doesn't need a second invitation to bosh the ball in from six yards out, but he was clearly offside when Kroos took his shot.
There's the first real attacking threat from Real Madrid. Rodrygo is released into space on the right to scuttle into the Sheriff box and square towards Benzema, who's waiting to tap in at the back post. Arboleda is perfectly placed, though, and clears before the Frenchman can snap up the chance.
Modric looks to release Vinícius down the left wing, but Costanza deals with the danger and clears.
I've a feeling I'm going to spend the whole game trying to come up with Seinfeld-related puns whenever Costanza's involved. Nothing so far.
The first moment of real attacking danger comes through Bruno, who leads a Sheriff break, scampering down the right wing and winning a free-kick off Ferland Mendy - who picks up an early booking for his challenge.
Madrid deal with the free-kick, however, and will clear courtesy of a Thibaut Courtois goal-kick.
Peeeep! Underway at Sheriff Stadion.
Teams out in Tiraspol!
Out come the two teams at Sheriff Stadion, where there's a cheer of palpable anticipation from the 12,000 or so fans in the arena. The visit of Real Madrid is a huge occasion for the Moldovan champions - who, by the way, may have won their last eight games in their domestic league - with an aggregate score of 29-1 - but are actually only second in the table. However, that's mainly because they have three games in hand on leaders Petrocub, who sit one point clear. So Yuri Vernydub's men look well placed to win a seventh straight Moldovan title.
Tonight's referee is the Pole Szymon Marciniak.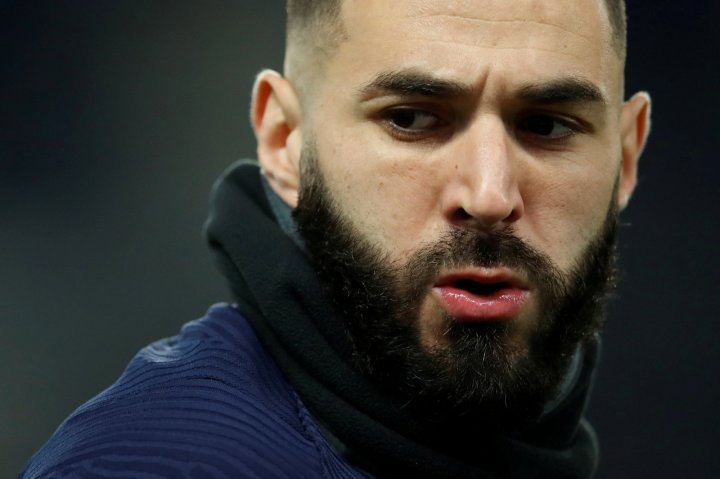 Benzema convicted of attempted blackmail in Valbuena case
In case you missed it: Earlier today, a French court handed Real Madrid's Karim Benzema, who starts tonight, a one-year suspended jail term after convicting the striker of attempted blackmail in the Mathieu Valbuena sex-tape affair.
Read the full story on Benzema's conviction
(Photo: Gonzalo Fuentes/Reuters)
Inter beat Shakhtar: what does that mean for Group D?
Over in Milan, Inter have beaten Shakhtar Donetsk 2-0 courtesy of a double by Edin Dzeko. The Nerazzurri now go provisoinally top of Group D, one point ahead of Real Madrid.
For Sheriff, the knock-on effect of that result is that the Moldovan champions can no longer qualify for the last-16 tonight, even if they do beat Madrid.
Inter's win over Shakhtar also means Sheriff will be guaranteed to finish third in the group and go into the Europa League if they lose to Madrid this evening.
As for Madrid, they'll still be through if they beat Sheriff, but they can no longer be confirmed as group winners today.
Here's how things now stand in Group D: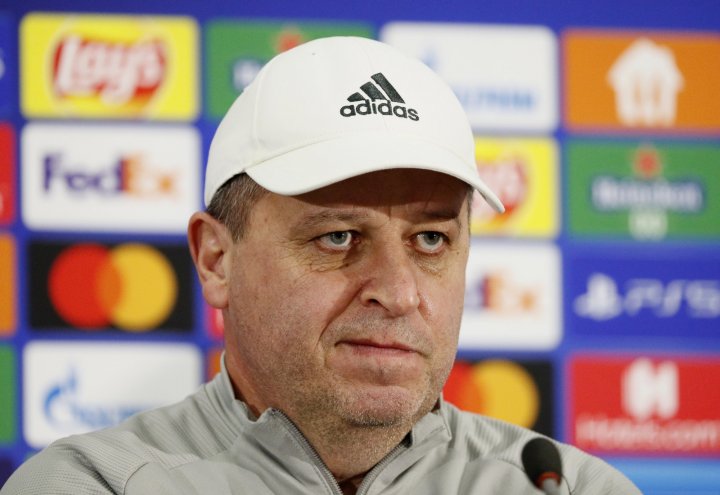 What the coaches said: Yuri Vernydub, Sheriff
Prospects of beating Real Madrid for a second time:
"We can challenge Real Madrid. We'll do everything we can to make it an interesting game for everyone."
A huge night for Sheriff as Madrid come to town:
"We're going to play against the best and we don't have any fear. This game will be in our hearts forever. It's going to help my players in their careers, too."
(Photo: Gleb Garanich/Reuters)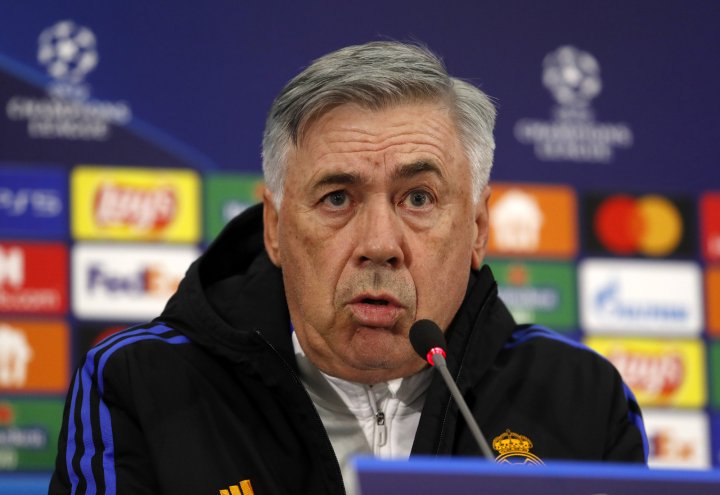 What the coaches said: Carlo Ancelotti, Real Madrid
Is coaching Real Madrid a tough task?
"It's not difficult. A coach's role is difficult. If you're in a race it's better to have a Ferrari than a 500. That's a little bit about how I feel about coaching Real Madrid. All coaches are under pressure and managers are sacked every week. It's part and parcel of our job, just like the responsibility and excitement that comes with coaching the best team in the world".
Vinícius Júnior's development:
"Given the way he plays, I think that he's the most dangerous player at the moment in world football. Because there aren't many players out there who do what he does at this point in time. That's my opinion. He has to improve because one-on-one situations are important in football, but aren't the most important thing. He has the ability to improve and not be satisfied with how he's performing. He has to learn and I think that he'll do that, because he's level-headed and he hasn't got the attitude of somebody who thinks that he's already won it all. He has the head of a young person who believes that he has to improve."
(Photo: Javier Gandul/Diario AS)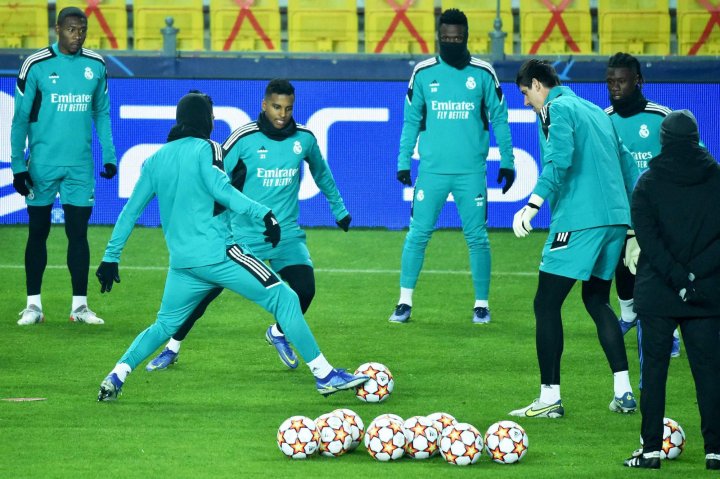 Militao and Rodrygo in for Madrid, Sheriff unchanged
Real Madrid boss Carlo Ancelotti has made two changes to the team that began the 4-1 weekend win over Granada, as Éder Militao returns to the heart of the defence and Rodrygo Goes comes into the attack.
Nacho Fernández and Marco Asensio make way for Militao and Rodrygo.
Meanwhile, FC Sheriff head coach Yuri Vernydub has named an unchanged XI from Sheriff's 3-1 Moldovan league win over Floresti.
(Photo by Sergei GAPON / AFP)
Sheriff team news
Starting line-up: Athanasiadis, Costanza, Arboleda, Dulanto, Cristiano, Thill, Addo, Adama Traoré, Kolovos, Bruno, Castañeda
Real Madrid team news
Starting line-up: Courtois, Carvajal, Militao, Alaba, Mendy, Kroos, Casemiro, Modric, Rodrygo, Benzema, Vinicius
FC Sheriff Tiraspol vs Real Madrid: preamble
Hello! Welcome to our live coverage of Real Madrid's trip to Transnistria to face Moldovan champions FC Sheriff Tiraspol. Depending on how Inter vs Shakhtar in Group D's early kick-off finishes, it's possible both teams will have the chance to seal their place in the Champions League last 16 at Sheriff Stadion tonight.
Since being stunned by Sheriff in the teams' first group-stage meeting at the Bernabéu in September - and following that up with defeat to Espanyol in LaLiga - Real Madrid have won seven in eight in all competitions to lead both the Spanish league and Champions League Group D. If Carlo Ancelotti's men make it eight in nine, they'll guarantee their place in the knockout stages.
As for Sheriff, they'll claim an unlikely place in the last 16 if they can complete a group-stage double over Madrid and bottom team Shakhtar do them a favour by beating Inter. It's currently 0-0 in Milan.
Here's how things stand in Group D: