Villarreal vs Barcelona summary: score, goals and highlights, LaLiga 2021/22
Villarreal 1-3 Barcelona: as it happened
Game over!
Barcelona have their first away LaLiga win of the season - and have massively ridden their luck to get it. For much of that final half hour, Xavi's side looked likelier to lose. Villarreal didn't take their chances, though, and Barça have two league wins from two under their new boss. For Villarreal, the 13-year wait for a win over the Blaugrana goes on.
Barça stay in seventh, but are now within three points of fourth-placed Atlético Madrid, who play Cádiz on Sunday. Villarreal remain down in 12th.
Thanks for reading!
Blimey, Coutinho almost grabs a fourth with an overhead kick! Depay nods the ball across the box to the Brazilian, who's suddenly full of confidence. His acrobatic shot is only just over Rulli's bar.
Coutinho it is who takes - and he fires a very good penalty right into the corner! Rulli guesses right, but he's not getting to that one.
To say this scoreline flatters Barcelona is an understatement.
Penalty to Barcelona! Coutinho cuts in from the left and into the area, where Foyth brings him down. There are few protests from the Villarreal players.
Six minutes of time added on at the Estadio de la Cerámica.
Raba is booked.
Depay doesn't get his touch wrong! Barcelona are back in front, just when they looked most like losing!
Estupiñán's back-header from Ter Stegen's long ball is right to Depay, who suddenly finds himself in possession of the ball and in on Rulli. He rounds the keeper and, with Estupiñán haring back to block on the line, rolls it coolly past the defender and into the net.
If Barça win this, they can count themselves very, very lucky.
For the first time in what must be at least 20 minutes, Barcelona create an attack of substance, releasing Dembélé to run at a back-pedalling Villarreal defence. He gets his touch wrong just as he's preparing to pull the trigger, though, and the chance is lost.
Villarreal bring Dani Raba on for Trigueros.
Villarreal are creating chances at will. This time it's Danjuma who shoots, having advanced into the box and cut inside Araújo. The Dutchman's low strike skids just wide of the far post, though. Barça are rocking.
Barcelona are flirting majorly with losing this game. Villarreal almost get another substitute in to score when Estupiñán is released into acres, acres of space on the left-hand side of the Barça box. His shot is blocked, however.
A moment later, Trigueros weaves his way into shooting space on the other side of the box, but his attemtped outside-of-the-boot finish flies a couple of yards past Ter Stegen's far post.
Philippe Coutinho is on for Nico.
Villarreal are on top now, and Chukwueze is looking very much on it. He cuts inside from the right before slipping a wonderful angled ball into the box to meet Trigueros' run. Trigueros gets there just before Ter Stegen, but he's on the stretch and his control bounces out for a goal-kick.
They've got themselves one now! Chukwueze prods the hosts level! From a throw-in on the left, the ball is lifted up towards Danjuma on the edge of the Barcelona box. He turns it on to Chukwueze, who gets there just ahead of Mingueza to poke a shot past Ter Stegen and into the corner!
Trigueros shoots... over! Chukwueze leads a Villarreal break, bringing a high ball down before laying it off for Trigueros, who's arriving in the box like the proverbial traction engine. He gets a good connection, but directs his shot high. Emery holds his head in his hands on the bench. Villarreal have had more than enough opportunities to get themselves a couple of goals.
Mingueza is on for Alba, who appears to have picked up a thigh injury.
Jordi Alba is down and in need of treatment. It looks like he can't continue; Óscar Mingueza is preparing to come on. I'm not 100% sure what's wrong with Alba.
Villarreal have got themselves into gear again. They pin Barcelona back for a good couple of minutes, before Foyth's low cross from the right threatens to wreak havoc inside the Blaugrana six-yard area, bouncing off Araújo before the visitors finally get it clear.
Both teams make their first substitutions. Villarreal introduce bring on Samu Chukwueze and Pervis Estupiñán for Pino and Pedraza, while Barcelona replace Abde with Ousmane Dembélé.
Dembélé's first league appearance of the season.
That's an excellent chance for Moi Gómez to equalise, but he gets his shot all wrong. Pino drives forward on the right before laying the ball square for Gómez to strike from the top of the box, but he completely slices it.
Barça scramble it behind for a corner, and when Parejo sends his delivery into the area, Albiol wants a penalty after tumbling under García's challenge. He doesn't get one.
Depay lifts a corner into the Villarreal six-yard box, where Albiol heads away. The clearance drops straight to Alba, who volleys well over.
Albiol steps out of defence and tries to release Danjuma in behind the Barça defence with a low through ball, but Araújo is alive to the danger and is there to intercept.
Some signs of attacking life from Villarreal. Danjuma cuts inside from the left and wraps his right foot around a low shot towards Ter Stegen's near post, but it drifts just wide. Ter Stegen seemed to have it covered, anyway.
That's excellent play by De Jong, and Memphis is so close to doubling Barcelona's lead. De Jong drives across the halfway line, carrying the ball right up to the Villarreal box before slipping it right to Depay, who's peeled off into space. He controls and shoots low, but Rulli gets a leg to it and the hosts survive.
It's been all Barcelona so far in the second half. Nico produces a neat change of feet before slipping Alba into crossing space on the left. Rulli beats out Alba's ball towards the near post... and the flag was up against the left-back, anyway.
Barcelona lead! Alba volleys Abde's right-wing cross back across goal, where Depay is denied by Rulli. However, the ball drops to De Jong at the back stick, and he has the supremely easy task of finding the target from about a foot out.
The flag goes up for offside, though, and there's a long old wait as video ref Del Cerro Grande takes another look at it. After a good couple of minutes, the goal is finally given!
Peeeep! We're back up and running.
No half-time changes for either team.
Piqué incident "a clear penalty", says former FIFA ref
Former FIFA referee Eduardo Iturralde González, who works as an officiating analyst for AS and Spanish radio station Cadena SER, says Villarreal should have been given a penalty for that apparent hand ball by Gerard Piqué in the first half.
Both match referee César Soto Grado and video assistant Carlos del Cerro Grande decided against taking any action when Danjuma's shot seemed to strike the defender's hand in the Barça box.
"It's a clear penalty," Iturralde González told Cadena SER. "Piqué brings his hand down. He slides in and the ball hits his right hand, not the one he was supporting his weight with, which was the left.
"If the video assistant didn't get involved it's because he felt Piqué's hand was in a natural position, but if you think that's a natural position, you shouldn't be in the job."
Peeep peeep peeep! It's probably just about even-stevens in terms of chances, but Villarreal were the team on the front foot for much of that first half. It's been a good game.
Araújo tries to beat Rulli with a free-kick from just inside Barcelona's own half. The ball sails well over the bar, and there are howls of derision from the Villarreal supporters.
Four minutes of time added on.
Piqué is booked for bringing a Villarreal break to an early conclusion, illegally so. There are loud cheers of approval from the home fans.
Parejo lifts a right-wing free-kick to the back of the box to Pedraza, who has peeled away and volleys at Ter Stegen's goal. He slightly slices his shot, though, and it flies into the side netting.
Ter Stegen denies Danjuma! Torres lifts a long ball from the back right into the path of the Dutch forward, whose first touch is excellent. He's suddenly one on one with Ter Stegen and haring into the box, but fires straight at the Barça goalkeeper! That really should have been 1-0.
Araújo has hurt himself in a challenge with Pedraza, and Clément Lenglet is warming up.
Araújo grimaces in pain, but he's back on his feet and is going to try to carry on.
What a good chance for Pau Torres! Villarreal are having much the better of it at the moment. Parejo's left-wing corner is delivered right to Torres, 10 yards out. He's got a free header, but sends it over!
A minute later, Pino turns away from Alba and drives into the Barça box, before firing a low cross across goal. Ter Stegen can only push it out into the danger area, but no-one in a yellow shirt is there to gobble up the loose ball, and Barça bring it away.
There were yellow cards for Alba and Pino for engaging in a little bit too much shoving before that corner, by the way.
Foyth heads over! Albiol nods a Villarreal corner back across the Barça box to the far post, where the full-back gets a good connection on the ball, but directs his effort high.
Moments earlier, Trigueros had driven into the Barça area and shot over.
Barcelona unbeaten at La Cerámica in 14 years
Xavi said pre-match that Barcelona find it tough at La Cerámica, and that's obviously more than just lip service - a 4-4 draw in 2019, in which Barcelona needed a minor miracle to come away with a point, springs to mind.
That said, Barça have in fact not lost away to Villarreal since October 2007. That's 12 LaLiga games on the road against the Groguets without losing - more than any other league opponent in the same time period, Opta note.
Barça's last defeat home or away to Villarreal came back in March 2008.
Pino lets out a yelp of pain after being brought down by Alba on the right flank, but his transparent attempt to get the left-back booked does not bear fruit.
What a chance for Depay. He absolutely fluffs it.
Frenkie de Jong carries the ball forward before cutting the Villarreal defence in two with an angled low pass into Depay's run into the box. All alone in front of Rulli, Depay tries to nonchalantly sidefoot it into the corner, and succeeds only in nonchalantly sidefooting it wide. A couple of yards wide, at that.
Abde produces a wonderful drop of the shoulder to hoodwink Pedraza and scamper into the Villarreal box from the right, but he can't find a team-mate with his cut-back. He's looked very lively in this opening quarter of an hour.
Incidentally, Villarreal's bench were adamant Piqué handled the ball in the process of blocking that Danjuma shot a few minutes ago. Emery in particular was utterly fuming. I'd need another look at it before offering up my two cents' worth.
Blimey, this is a really live start at the Estadio de la Cerámica. Twice Barcelona go close to scoring.
First, Depay runs towards the Villarreal area, twisting and turning Albiol before firing just, just wide of Rullli's right-hand post. Moments later, Gavi drives into the hosts' box and fizzes an angled shot across Rulli, but clips the far post!
After making such a promising start, Barcelona almost gift Villarreal the opener. Eric García plays the ball back into his own area - and immediately throws his hands to his head as he realises he's passed it right to Danjuma. The Villarreal forward takes a touch and strikes towards goal, but Piqué saves García's bacon with a desperate, sliding block.
Abde hits the crossbar! The forward's low cross is turned behind for a corner and, when Depay swings in his delivery, the 19-year-old is so close to a goal on his first start for Barcelona. He meets Depay's corner in acres of space on the penalty spot, but Rulli turns it onto the bar.
Sergio Busquets is left down in a heap after being caught on his ankle by a nasty, studs-up challenge by Dani Parejo. It's clumsy rather than malicious, but you can absolutely see why Busquets is in so much pain.
Parejo gets away without a yellow. Soto Grado clearly didn't see it, and VAR would only have got involved if the tackle had potentially been deemed worthy of a red.
Peeeep! Referee César Soto Grado gets us underway at the Estadio de la Cerámica.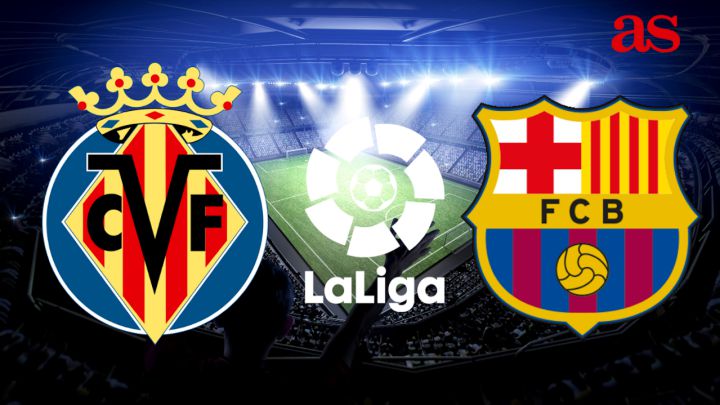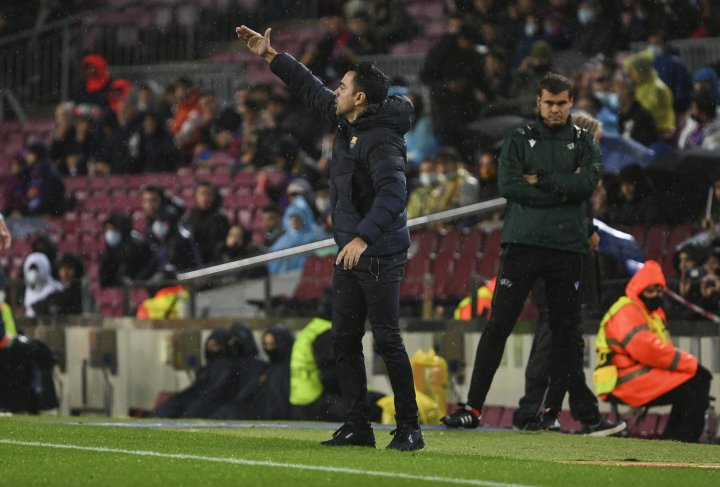 What the coaches said: Xavi Hernández, Barcelona
Villarreal visit:
"Villarreal are a more attacking team than Espanyol and Benfica. They press high up the pitch at their ground, have good technique and don't give the ball away easily. They're a top team with a top coach. It'll be a difficult game; it's a ground where we find it tough going."
Goal-shy Barcelona:
"I'm happy with our pressing; we're winning a lot of duels and with our pressing after losing the ball, we've avoided conceding, but in attack we have to be more daring. We've got goalscoring ability in our ranks, because I see it in training."
(Photo: Rodolfo Molina/Diario AS)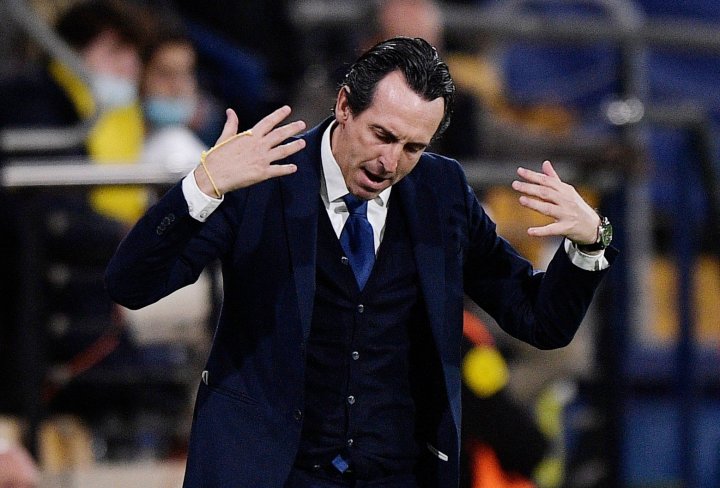 What the coaches said: Unai Emery, Villarreal
Down in mid-table:
"We want to have a clear identity, a style that makes us feel comfortable. We're in that process. We're playing in three competitions. In LaLiga, we're getting fewer points than we'd like. We're lacking efficiency and we need more control of certain sporting and mental aspects. We're working on that. We want to find that consistency in LaLiga."
Facing Xavi's Barcelona:
"Xavi's arrival has given them a plus. It's a great feeling, facing the best teams in the world. We want to see if we're capable of beating them as a team."
(Photo: REUTERS/Pablo Morano)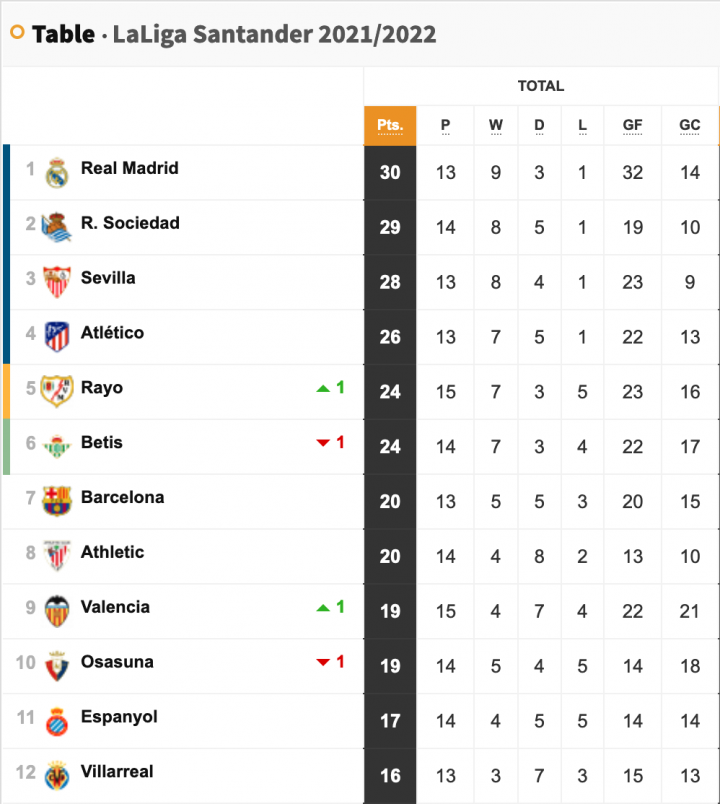 How things stand in LaLiga
After beating city rivals Espanyol 1-0 in Xavi's first game in charge last weekend, Barcelona come into matchday 15 of the season in seventh place in LaLiga, six points off the Champions League spots.
Villarreal find themselves down in 12th - a relatively lowly position that can chiefly be attributed to their inability to turn draws into wins. Seven of the Groguets' 13 league games this term have ended in stalemates, including their most recent outing - a 1-1 draw with Celta Vigo.
Pedraza in for the hosts, two changes for Barça
Villarreal boss Unai Emery makes one change to the team that began the midweek Champions League defeat to Manchester United, Alfonso Pedraza replacing Pervis Estupiñán at left-back.
As for Barcelona, it appears Xavi has opted to revert back to a four-man defence after playing three at the back in this week's Champions League draw with Benfica. It looks like Ronald Araújo has shifted across from the heart of defence to right-back, with Eric García coming into the team to partner Gerard Piqué at centre-back.
In attack, meanwhile, Abde makes his first start for Barça. The two players to drop out of the side are Clément Lenglet and Demir.
Barcelona team news
Starting line-up: Ter Stegen, Araújo, Piqué, García, Alba, De Jong, Busquets, Nico, Abde, Depay, Gavi
Villarreal team news
Starting line-up: Rulli, Foyth, Albiol, Torres, Pedraza, Pino, Parejo, Capoue, Gómez, Trigueros, Danjuma
Villarreal vs Barcelona: welcome!
Good morning/afternoon/evening! It's a first away assignment for Xavi Hernández's Barcelona today, as the Blaugrana visit Unai Emery's Villarreal on matchday 15 of the LaLiga season.
Kick off is in an hour and the team news is in at the Estadio de la Cerámica, so let's get straight to that.