Real Madrid vs Sevilla summary: score, goals and highlights - LaLiga 2021/22
Real Madrid 2-1 Sevilla: as it happened
Peeep peeep peeeep! Vinicius' stunner wins it for Real Madrid, and Sevilla lose at the Bernabéu yet again.
For much of the night, Sevilla had looked just as likely as Madrid to take the three points. However, with a quarter of an hour or so to go, the hosts began to pin the Andalusians back - and a moment of real brilliance three minutes from time means Madrid go four points clear at the top of LaLiga.
After Atlético Madrid's win over Cádiz, Sevilla are down to fourth. They're still waiting for a first win away to Madrid since 2008.
Thanks for joining!
Carvajal is replaced by Lucas Vázquez.
What a save by Courtois! Delaney is so close to grabbing a dramatic leveller for Sevilla. A corner is taken short to Acuña, who whips in a fabulous inswinging delivery to the far post. Delaney directs his header downwards and towards the corner, but Courtois reacts quickly to beat it out.
Real Madrid replace Vinicius for Nacho. The Brazilian is treated to an ovation as he leaves the field, and well he might. Fantastic goal.
A minute earlier, Sevilla brought on Munir El Haddadi for Ocampos, with Oussama Idrissi on for Montiel. Munir's first involvement was to be chopped down by Casemiro, who was booked.
Four minutes of time added on.
Vinicius is almost in for an immediate third, but, between them, Diego Carlos and Fernando dispossess their compatriot before he can pull the trigger inside the Sevilla box. Real Madrid want a penalty for their challenge on Vinicius, but they're not getting one.
WHAT. A. GOAL! Real Madrid lead! Vinicius with a worldie! He hasn't had the best of games, to be honest, but he's produced a piece of utter brilliance to very likely win it for Los Blancos.
Chesting down the ball on the left wing, Vinicius bursts past Montiel, advances towards the box, takes another step inside, and absolutely boshes it high into Bono's far top corner. Sublime.
Sevilla are increasingly hanging on here. Ocampos catches Mendy late, giving Madrid another left-wing free-kick for Kroos to deliver, and earning himself a yellow card. Kroos shanks the free-kick into row Z, though.
What a good chance for Alaba, who thumps it over! Kroos clips a left-wing free-kick into the Austrian's run into the area. It sits up perfectly for him to volley it at goal with his left, but he fires it high!
Sevilla make a double change. Gómez and Jordán make way for Óliver Torres and Óscar Rodríguez, a Real Madrid academy graduate.
Camavinga has brought a bit of added energy to the Real Madrid attack. Mendy lifts a cross into his compatriot's run to the near post, but he's beaten to the ball. Moments later, the hosts want a penalty when Camavinga tumbles to the turf in the box under Fernando's challenge, but Señor Sánchez Martínez is having none of it.
It's mainly Real Madrid ball now. That said, they gift it back to Sevilla when Militao pumps a cross from deep on the right high into the stands.
Casemiro drops a shoulder and creates a yard of shooting space on the edge of the Sevilla box, but Montiel throws himself in front of the Brazilian's shot and blocks. Montiel seems to have hurt himself in the process, and needs a bit of attention. He's good to carry on, though.
Carlo Ancelotti also shuffles his pack, introducing Fede Valverde and Eduardo Camavinga for Asensio and Modric.
Sevilla bring Rakitic off, replacing him with Thomas Delaney.
Well, it may have been a dangerous free-kick for Sevilla, but it ends up with Real Madrid almost scoring. When Madrid finally get it clear, Acuña gets his kick all wrong, playing it right to Vinicius, who has acres of open grass ahead of him. He drives over the halfway line and up to the Sevilla area, but fires over. A really good chance to make it 2-1.
Acuña, who is an absolute bundle of energy on the Sevilla left, cuts inside past Carvajal and is brought down by the right-back, who is booked. Free-kick to the visitors in a dangerous position on the left.
Benzema pre and post-Cristiano's departure
Here's an interesting stat, courtesy of Mister Chip. Karim Benzema has scored 103 goals in 165 games for Real Madrid since Cristiano Ronaldo left in summer 2018, compared with 76 goals in his 165 Madrid appearances prior to the Portuguese's departure. That really is quite a striking improvement. He's on 16 in 18 for Madrid so far this season, having hit 30 last term, and it's little wonder he's among the contenders for the 2021 Ballon d'Or.
Kroos is booked for a late lunge on Montiel. He reacts with the age-old that-was-my-first-foul-ref routine, but it's a clear yellow.
Close! Casemiro plays a first-time pass around the corner to release Asensio on a back-pedalling Sevilla defence. Benzema peels off to the right, but Asensio opts to go it alone, cutting inside and bending a shot towards Bono's right-hand top corner from the edge of the area. He's a yard or two off target, though.
A long spell of Sevilla possession again. They're having pretty much all of the ball. Acuña crosses from the left, but it's too long. Montiel beats Vinicius to it on the right, though, and whips in a ball from there. Casemiro clears.
Montiel then fouls Vinicius as he brings it clear, and is booked.
Madrid finally get their foot on the ball for something approaching a sustained period. Modric releases Carvajal into space to take on Acuña on the right wing, but the Sevilla defender does very well to win it back and buy a foul off the right-back.
Sevilla are knocking it about very nicely indeed. The visitors get Joan Jordán on the ball, and the midfielder doesn't need a second invitation to drive forward and shoot from 25 yards or so out. His attempt flies well over, though.
Mendy's touch lets him down and Ocampos nips in to take it off the Frenchman's toes, before setting off towards Real Madrid's penalty box. Sevilla finally work the ball out to the left to Mir, who shanks an aimless cross into the stands. On the touchline, Lopetegui is not impressed.
A minute later, Gómez steps in from the left and curls a low shot towards Courtois' far corner, but it's far too close to the Belgian, and isn't hit with enough venom, either.
Peeeeep! We're back up and running at the Bernabéu. No changes for either team. Ocampos' ankle problems have abated sufficiently to allow him to continue, it would appear.
Benzema only behind Salah in goal involvements
Karim Benzema has now been directly involved in 18 LaLiga goals for Real Madrid this season, having scored 11 and supplied seven assists. In Europe's top five leagues, only Liverpool's Mohamed Salah has been involved in more goals this term, Opta notes.
"It's a penalty, but it isn't a VAR penalty" - AS resident ref on Ocampos spot-kick claims
Former FIFA referee Eduardo Iturralde González, who works as an officiating analyst for AS and Spanish radio station Cadena SER, says that David Alaba challenge on Lucas Ocampos should have led to a penalty, but it wasn't a clear enough error by ref José María Sánchez Martínez to warrant VAR getting involved.
"It's a penalty, but it isn't a VAR penalty," Iturralde González told Cadena SER. "If the referee gives it there can be no complaints, because Alaba catches Ocampos on his leading leg. It's a penalty for the referee to give. Referees need to stop passing the buck, and make decisions as if VAR weren't there. VAR wasn't introduced for these kinds of incidents. The problem here is the referee, not VAR."
Peep peep peeep! That was very enjoyable.
This is such an open game. A minute after Asensio almost gives Real Madrid the lead, Ocampos has a very presentable chance to score Sevilla's second. Montiel whips over a right-wing cross into the Madrid area, where Ocampos is waiting to glance his header goalwards. He directs it too close to Courtois, though.
That's a great chance for Asensio, but he bends it just over! Mendy cuts in from the left and, having held off two challenges, pokes the ball to the forward on the edge of the box. It's laid off perfectly onto Asensio's left foot, but he can't find the top corner.
Three minutes of time added on at the Bernabéu.
Alaba brings the ball out of defence and, all of a sudden, is leading a very dangerous break for Real Madrid. He carries it right up to the edge of the Sevilla area, before trying to slip in Benzema on the other side of the box. Diego Carlos reads Alaba's intentions, though, and is perfectly placed to intercept.
Having had another look at that Alaba challenge on Ocampos, it looks like a penalty to me. Alaba clearly catches him. Hey ho.
Ocampos is having real problems with a troublesome ankle, by the way. He may well have to come off at half time.
The decibels have risen in the Bernabéu, and Benzema is immediately after a second. He exchanges passes with Mendy, before pulling the trigger from the edge of the area, but his shot is blocked.
At the other end, Ocampos wants a penalty after tumbling under Alaba's challenge in the box, but doesn't get one.
Acuña was booked a couple of minutes ago for a foul on Carvajal, by the way.
They've just come within an inch of being two down, but Real Madrid are level now! Benzema taps in!
Militao steps out of defence and punts a shot from way out towards Bono's left-hand corner. The Sevilla keeper seems to have it covered, but fumbles the ball onto the post. It bounces back across goal, where Benzema has the easy task of firing home from about two yards out. 1-1!
Yeah, scratch that talk of Real Madrid regaining control. Ocampos skips past Casemiro and into shooting space just outside the Madrid area, before bending a shot over Courtois and off the woodwork! So close to 2-0.
Just as I was about to say Real Madrid seem to be regaining a measure of control over the game, Carvajal passes it straight to Rakitic, gifting Sevilla a chance to break. Nothing comes of the counter-attack, but Carvajal has had more than one moment of carelessness already tonight.
There's a chance for Vinicius, but Bono saves! Benzema pulls wide and fizzes a low ball into the middle, where Casemiro touches it back to Vinicius. Surrounded by red shirts, he manages to prod a shot towards goal, but it's too close to the Sevilla goalkeeper.
Militao feeds it to Kroos, who turns and drives towards the Sevilla box. Shifting a few yards to the left, the German fires at goal from 25 yards out, but his shot is rising into the stands from the moment it leaves his boot.
Sevilla are popping it about very confidently now. Carvajal tries to lead a Madrid attack, but the visitors win it right back. A minute later, Los Blancos again gift possession back to the visitors when Casemiro misplaces his pass, drawing a loud chorus of tut-tuts from the Bernabéu fans.
Alaba winds up a shot from range, but sends it bouncing well wide of Bono's left-hand post.
Blimey. Somehow, Real Madrid avoid going 2-0 down right away. Carvajal has his pocket picked on the right, in an area just outside his box where he certainly doesn't want to have his pocket picked.
Sevilla to play it right to Mir, again in acres of space in the area, but Courtois makes himself big to keep the striker's shot out. However, Kroos can only prod the loose ball right back to a red shirt, allowing Mir a second bite at the cherry. Again Courtois saves, though!
The home fans make their displeasure audibly known. Madrid have gone to pieces in the last couple of minutes.
Goal! Sevilla lead! It's seriously, seriously ropey defending from Real Madrid.
The visitors win a corner, then another. Acuña's second delivery flies right onto the head of Mir, who is given a scandalous amount of space on the penalty spot. He doesn't even have to jump, and plants his header right into the corner, giving Courtois no chance.
Carvajal gets to the right-hand byline and pulls it back to Vinicius, who's peeled off into space at the top of the box. He shoots first-time, but shanks it off his ankle. The ball flies several yards wide.
Rakitic shoots over! Casemiro's first touch lets him down, giving Sevilla the chance to launch a quick break led by Mir. Militao clears Mir's cross right to the feet of Rakitic, who spanks his effort high from 25 yards out.
We then have a minute or two of nothing, as the officials faff about with their headsets, one of which appears to be on the blink.
Real Madrid enjoy their first period of sustained attacking pressure in the Sevilla half. First, Modric unsuccessfully tries to nutmeg his way past Acuña and into the penalty area, before Madrid recycle the ball back out to Carvajal, Benzema finding the right-back with a lovely, precision pass. Carvajal's cross is easily dealt with, though.
Vinicius gets his first chance to drive down the left wing at pace, but Diego Carlos steps across to disabuse his compatriot of any notions he might have had of advancing into the Sevilla box.
Real Madrid unbeaten in five league games against Sevilla
In addition to being unbeaten at home to Sevilla since 2008, Real Madrid are undefeated against the Andalusians in the sides' last five LaLiga meetings at any ground, Opta note.
Peeeep! We're underway at the Bernabéu.
Our match referee is José María Sánchez Martínez.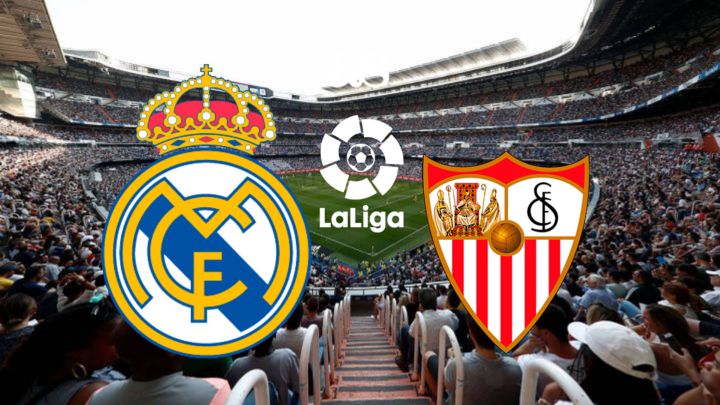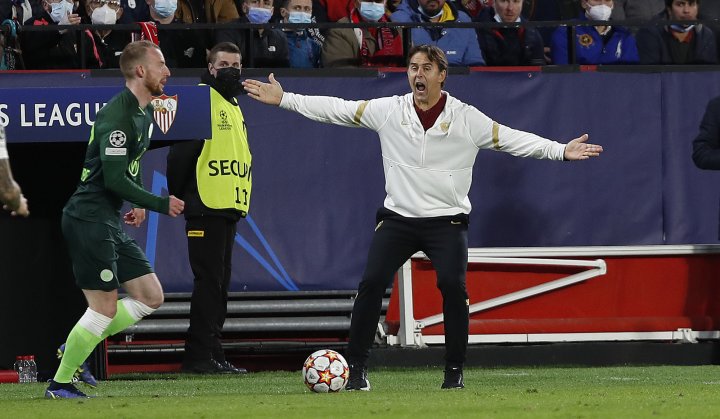 What the coaches said: Julen Lopetegui, Sevilla
Trip to Bernabéu, where Sevilla haven't won in 13 years:
"It's a tough away assignment. They all are in LaLiga, but we're talking about Real Madrid, the league leaders and one of the best sides in the world. It'll be difficult, but it's also a game to look forward to, against a good team that's in really good form and seems to have improved in a lot of ways this season."
(Photo: Miguel Morenatti/Diario AS)
Atlético put pressure on Madrid with Cádiz win
Over at the Estadio Nuevo Mirandilla, Atlético Madrid have beaten Cádiz 4-1, with Thomas Lemar, Antoine Griezmann, Ángel Correa and Matheus Cunha on target for Los Rojiblancos.
That takes Diego Simeone's men level on points with Real Sociedad and ahead of the Basques on goal difference. Atleti have also provisionally leapfrogged Sevilla and moved to within one point of Real Madrid at the top of the LaLiga table.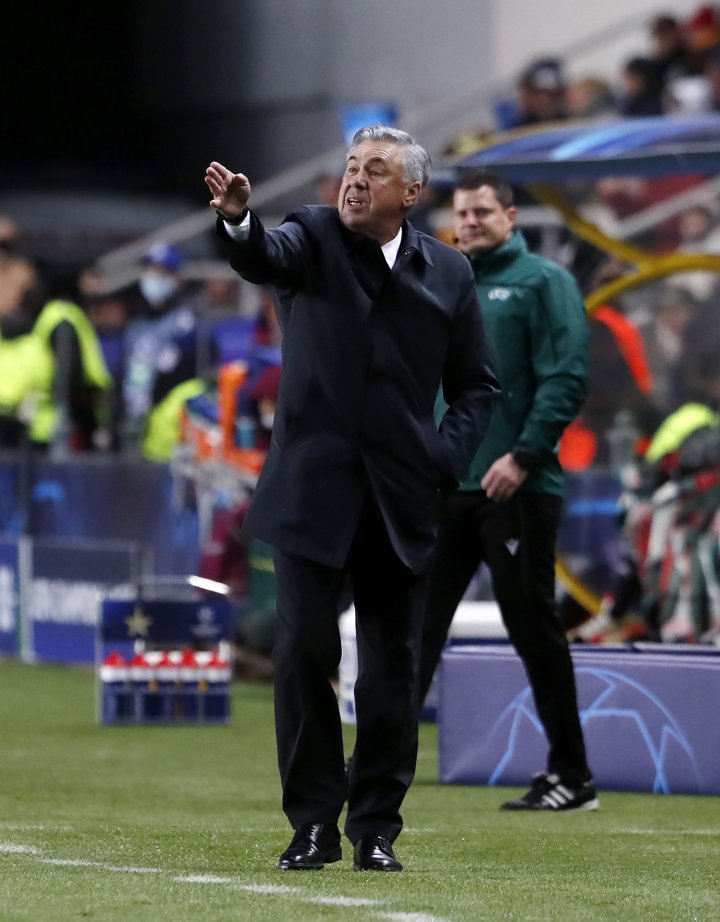 What the coaches said: Carlo Ancelotti, Real Madrid
Eden Hazard's struggles at Real Madrid:
"He's had bad luck, he has a lot of quality and he wants to do the best he possibly can for the team. I think there are moments when he has had a hard time. I have personal experience of that myself. In the end, if you want it too, everything will work out. He's doing everything possible to succeed at Real Madrid."
Gareth Bale agent's comments that Real Madrid fans have treated Welshman "disgustingly":
"I've read that. It's comments from someone who I don't know personally. I know what he does - he's a football agent. What I do know is that isn't what Bale thinks. Bale does not think that way about the fans. Bale respects Real Madrid fans just as Real Madrid fans have always respected him. They might have whistled him a few times but he is not the only Real Madrid player who has been whistled by the crowd. I've got nothing to say about it. It's come from someone who I don't know."
Carlo Ancelotti's pre-match press conference in full
(Photo: Javier Gandul/Diario AS)
How things stand at the top of LaLiga
After thumping Granada 4-1 last weekend, Real Madrid came into matchday 15 a point clear of Real Sociedadand now have the opportunity to stretch their lead over the Basques, who lost to Espanyol today.
Sevilla, who drew 2-2 with Alavés last time out in LaLiga, are two points off the top.
Champions Atlético Madrid are currently in action and lead Cádiz 1-0, taking them provisionally level on points with Real Sociedad.
Asensio in for Real Madrid, Mir starts for Sevilla
Carlo Ancelotti makes one change to the Real Madrid side that began the 3-0 Champions League win over Sheriff in midweek, replacing Rodrygo Goes with Marco Asensio on the right-hand side of the front three.
David Alaba had picked up a knock in Transnistria, but is fit to play at the heart of the Madrid defence.
There's also one change for Sevilla, who beat VfL Wolfsburg 2-0 in the Champions League this week. Head coach Julen Lopetegui has restored Rafa Mir to the line-up, the centre-forward coming in for Munir El Haddadi.
Diego Carlos, Jules Koundé and Lucas Ocampos were all doubtful with minor injuries, but are OK to start.
Sevilla team news
Starting line-up: Bono, Montiel, Koundé, Diego Carlos, Acuña, Fernando, Jordán, Rakitic, Ocampos, Mir, Gómez
Real Madrid team news
Starting line-up: Courtois, Carvajal, Militao, Alaba, Mendy, Casemiro, Kroos, Modric, Asensio, Benzema, Vinicius
Real Madrid vs Sevilla: preamble
Hello! Welcome to our live coverage of tonight's LaLiga clash between leaders Real Madrid and Sevilla, who sit just two points behind Carlo Ancelotti's men.
You hardly need me to tell you, then, that a win for Sevilla would take them past their hosts at the top of the table.
There's a rather big 'but', though.
The Andalusians have a truly dreadful away record against Madrid. Since winning 4-3 at the Bernabéu in December 2008, they've drawn one and lost 12 of their last 13 matches on the road against Los Blancos.
Anyway, the team news is in, so let's take a look.