SUPREME COURT ABORTION CASES
When will the Supreme Court rule on abortion verdict?
The case being heard by the court this month is likely to lead to the biggest shake-up of women's rights for a decade, but a ruling is not expected soon.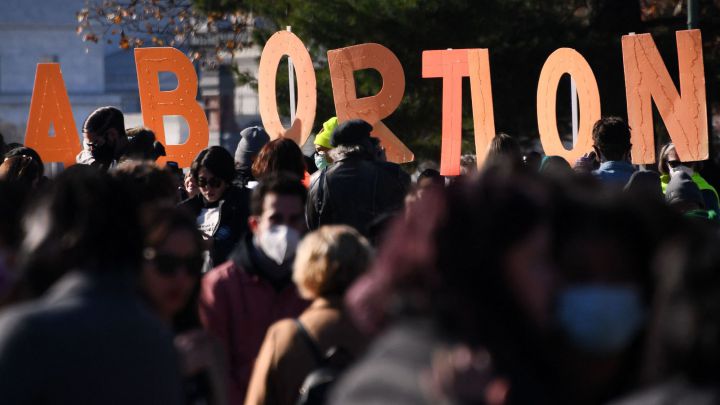 The Supreme Court began hearing arguments on Wednesday in Dobbs v Jackson Women's Health, which looks set to be a landmark case for abortion rights in the United States.
The outcome is particularly pivotal, as a ruling for Dobbs could set the stage for an overturning of the landmark 1973 Roe v Wade case. A framework was drawn up to balance the state's medical powers with women's privacy rights, ensuring that a state cannot prohibit abortion within the first two trimesters of pregnancy. However, the Mississippi case which is currently under Supreme Court investigation seeks to reduce this to 15-weeks.
Abortion is a constitutional right.

— Bernie Sanders (@BernieSanders) December 1, 2021
Any ruling that breaks a decision of Roe v Wade would put the whole precedent at risk, leaving 26 likely to effectively ban abortion once the judgement has been passed.
However, the Supreme Court is not renowned for its speed, and a ruling is not expected for another six months. However, with the expected leanings of the sitting judges, in all likelihood there will be great changes to abortion laws and women's rights in the US.
What happened on the first day of oral testimony?
In the opening hours of the hearing on Wednesday, Justice Brett Kavanaugh shocked abortion rights groups by outlining his belief that there is no explicit constitutional right to abortion.
He said: "The Constitution is neither pro-life nor pro-choice ... and leaves the issue to the people to resolve in the democratic process."
I don't just want a world where abortion care is legal.

I want a world where I'm not harassed when I got my abortion. Where I'm not shamed. Where I'm not considered lucky to be able to get one.

Upholding Roe v. Wade is the floor. We need abortion & reproductive health justice.

— Cori Bush (@CoriBush) December 1, 2021
Kavanaugh appeared to argue that the Supreme Court should restrain from choosing sides in the matter, and suggested that he would be willing to allow individual states to introduce their own legislation regarding abortion practices.
Other justices supported his position as the court has a majority of conservative judges sitting.
Chief Justice John Roberts, asked why the viability standard, around 24 weeks, should remain as the cut-off for legal abortion, arguing technological advancements since then means babies can be born safely and earlier than in the 1970s.
"Why would 15 weeks be an inappropriate line?" he said.
Follow all the latest news on the Supreme Court abortion hearing and the future for Roe v Wade with our dedicated live feed: Supreme Court on Roe v Wade: live updates