Golden State Warriors vs Phoenix Suns summary: score, highlights, NBA 2021-22
Warriors vs Suns live online
Full time score: Warriors 116-107 Suns
All over in Phoenix and it's the Golden State Warriors who claim the win after an exhilarating game of basketball.
Clock running down now as the Warriors win
Porter makes it a hat-trick of triples....incredible run from the Warriors No. 32
Two big 3's from Porter Jr. to maintain a 7 point lead for Golden State
GSW 113-107 PHX
Booker fouled and seems to have a knee problem. Clipped or a bad fall. He seems okay to continue.
Crowder shoots a 3 and the difference is cut to two points....
GSW 109-107
Back-to-back triples from both teams keeps the difference to six points
GSW 107-99 PHX
Steph Curry is on 33 points for Golden State tonight with 3 assists
Five minutes remain and it's the Warriors with the edge as Chris Paul and Booker fail to shine as they did in the second quarter
GSW 104-99
Kerr calls a GSW time out
Kuminga with a sublime under the hoop basket to push the Warriors seven clear with just over six and a half minutes left
GSW 104-97 PHX
Both sides finding their offensive mojo as baskets fly in ....
GSW 97-95 PHX
Curry bags a triple and moves to 28 points
GSW 92-92 PHX
Curry bags 2 for to take his scoring tally to 25 tonight
Third quarter ends and it's all square at the Footprint Center with the game tied at GSW 84-84 PHX
McGee fouls Kuminga and is penalized for a flagrant penalty one.
Two free throws from Serbian international Bjelica pulls the Warriors back to 2 points behind.
GSW 80-82 PHX
Five points from Cameron Johnson in 11 minutes of action draws Phoenix level
GSW 77-77 PHX
Time out called as Golden State move into a six point lead with just over 4 and a half minutes remaining of the quarter. Impossible to call which way this game will work out with both teams enjoying waves of domination.
GSW 77-71 PHX
Booker ties that game .... GSW 71-71 PHX
GSW take the lead as Green drops a triple from deep. Time out called....
GSW 71-68 PHX
Two free throws from Curry sees Golden State cut back the defect. Just 2 points separates the teams now
GSW 64-66 PHX
Phoenix Suns are one of the few NBA teams not to suffer from Covid related absences as they move to a 4 point lead against the Warriors.
GSW 62-66 PHX
Third quarter starts ....GSW 58-62 PHX
The teams are back on the court with the third quarter is seconds away. A great half and no surprise that these two teams are at the summit of the league.
A very strong second quarter from Phoenix against a Warriors team that seem over-reliant on Steph Curry. Brigdes, Ayton and especially Chris Paul have all shone for the Suns as they will be buoyed by that second quarter performance.
With 2 seconds left, Paul drops a sublime triple to scoop 16 points for the Suns as we break for the interval. A tremendous half of basketball between two teams at the top of their game.
GSW 58-62 PHX
What a scoop shot from Chris Paul.... 13 points so far from CP3 tonight
GSW 58-59 PHX
Just when you start to question Steph Curry, up he steps with a wonderful triple to put his team back in front.
GSW 56-54
Curry misses a triple and it's been a quiet quarter from the Warriors mercurial talent in this second quarter
GSW 47-50 PHX
Phoenix 23-13 in this second quarter... a different showing from the Warriors in the second quarter
Time out as Golden State start to see the game slip as Chris Paul and Deandre Ayton start to combine wonderfully for the Suns
GSW 45-49 PHX
Phoenix take the lead for the first time tonight as Ayton puts the home side ahead
GSW 42-45 PHX
Booker helps the Suns to grind a way back into this contest with a solid defensive display. Booker starting to perform now.
GSW 42-41 PHX
Curry gets his first points of the second quarter with a solid triple
GSW 42-34 PHX
Warriors call a time out...
We've seen little from Devon Booker so far tonight with the PHX No. 1 now back on the court as the Suns move to within 5 of Golden State
GSW 30-34 PHX
Warriors playing with the same high intensity in this second quarter as we saw in the first. Two personal fouls now from Weatherspoon as he pushes Chris Paul.
GSW 37-29 PHX
Back underway at the Footprint Center...
The end of a frantic first quarter and GSW lead with 11 points so far from Curry
GSW 33-27 PHX
Phoenix clawing their way back into the game with Chris Paul on point with two free throws
GSW 30-23 PHX
Warriors in possession as Curry takes a breather
GSW 28-21 PHX
Plenty of Warriors fans present tonight in the Footprint Centre with plenty of applause for every Golden State score
GSW 26-19 PHX
Frantic start to the opening quarter with both teams performing well offensively
GSW 24-19 PHX
Curry is now just 5 triples away from 3,000 for his career
Phoenix call a time out
GSW 20-14 PHX
Curry is now down as the play is halted, the 33-year-old GSW player in a clash of heads with Booker.
GSW 18-12 PHX
4/4 free throws from Steph Curry who is already stamping his authority on this game
Strong start from the Warriors with a triple and two free throws already from Curry.
GSW 12-8 PHX
Warriors opening the scoring with a fantastic atmosphere at a packed Footprint Center ... 2/2 for GSW.....
GSW 8-5 PHX
Booker starts for the fourth consecutive game after missing seven games following a hamstring issue. All set in the Footprint Center....
The attention now switches from Milwaukee to Phoenix as the top two teams from the NBA currently go head-to-head
Final score: Celtics 113-117 Bucks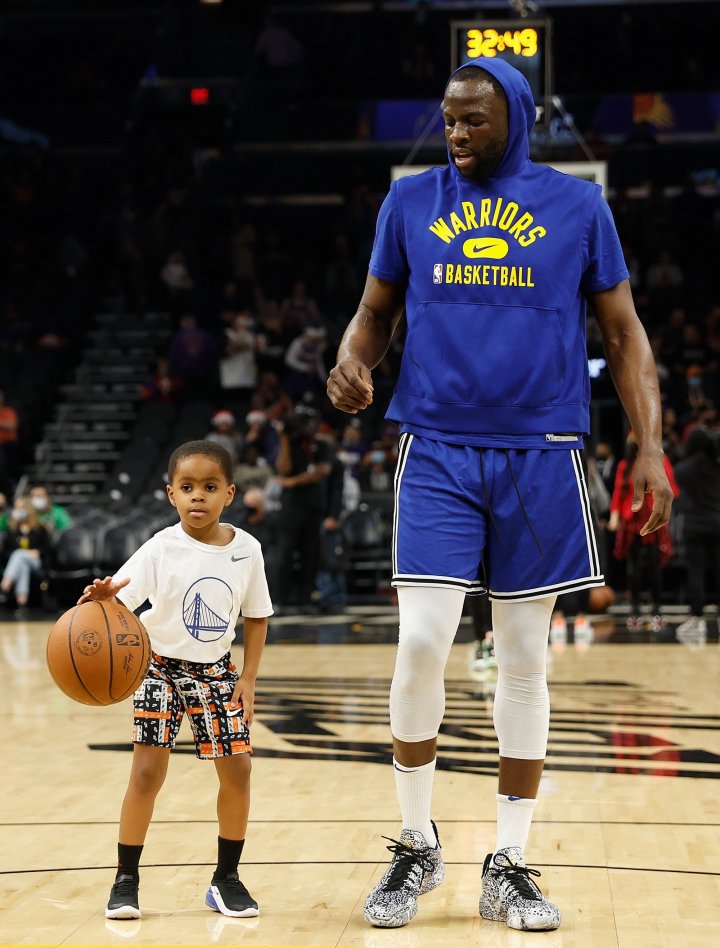 Draymond Green #23 of the Golden State Warriors warms up alongside son, Draymond Green Jr. before the NBA game against the Phoenix Suns at Footprint Center on December 25, 2021 in Phoenix, Arizona.
We'll be underway in Phoenix as soon as the Celtics-Bucks game ends....There's 7 seconds left in that game with the men from Milwaukee set to snatch a dramatic win.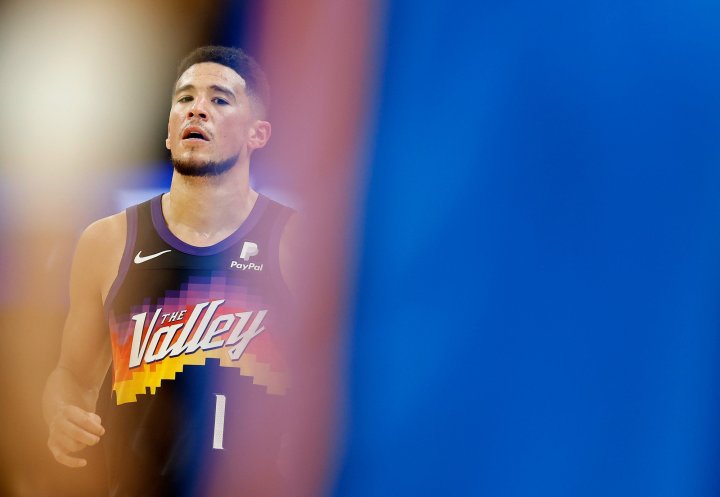 Suns to look to Booker
Devon Booker is the Phoenix Suns top scorer this season with a 23.3 PPG rating.
GSW absentee list
Andre Iguodala (right knee soreness) is a doubt. Damion Lee (health and safety protocols), Andrew Wiggins (health and safety protocols), Jordan Poole (health and safety protocols), Klay Thompson (right Achilles tendon repair) and James Wiseman (right knee meniscus repair) are out.
Suns absentees
Dario Saric, Frank Kaminsky and Abdel Nader are ruled out for Phoenix tonight through injury.
NBA form teams
Going into tonight's game, The Warriors are (26-6) and missed out on the playoffs last season. The Suns did progress to the finals but were out-muscled by champions Milwaukee Bucks. The franchise from Phoenix are (26-5) for the season so far.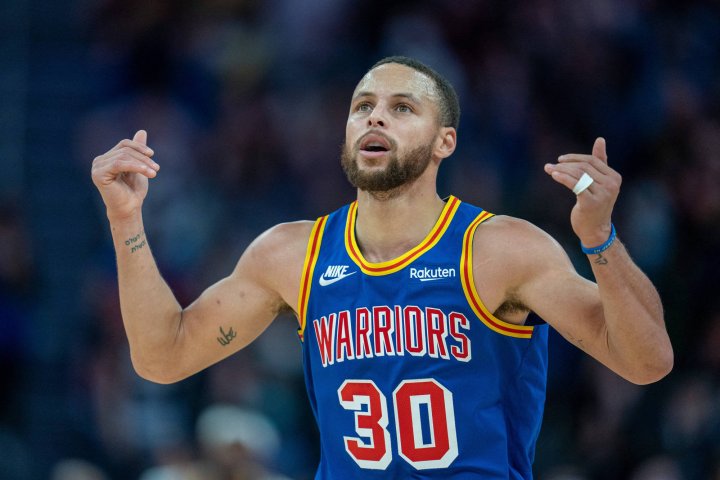 All eyes on Curry
All eyes inevitably at the Footprint Center tonight will be on Step Curry with the 33-year-old currently holding the season record for three-pointers with the Warriors point-guard having racked up 162 points from triples this season to date.

Pacific Division standings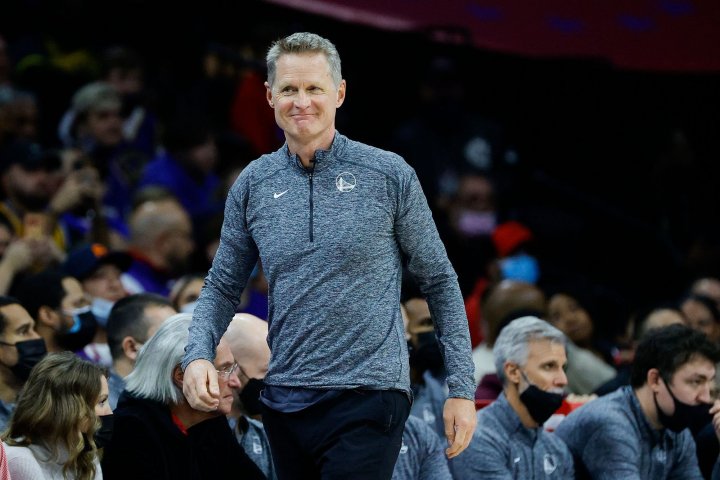 Steve Kerr on playing on Christmas Day
Kerr: "Generally, I like playing on Christmas. It's exciting," he said before Thursday night's 113-104 home win against the Memphis Grizzlies. "I love playing at home on Christmas. That way you can still have a good family day Christmas morning with the kids and then go to the arena later. It's tough being on the road for Christmas, but it's part of being in the NBA.
NBA Christmas Day schedule
Tonight's Warriors-Suns match-up is one of five games taking place on 25 December and probably the most attractive game of the bunch featuring the leaders in the Western Conference (Suns) and second placed side (Warriors).
This will be the third meeting between both teams this season to date with one win a-piece. On 1 December Phoenix won out 104-96 and just three days later the Warriors secured revenge with a 118-96 victory.
Tip-off at the Footprint Centre is at 17:00 ET/14:00 PT or 23:00 CET.
Hello and a warm Christmas Day welcome to the key match-up of the five games today as the best two sides in the league go head-to-head in Phoenix as the Suns welcome the Golden State Warriors.